Everton vs Brighton & Hove Albion
Friday, 31 December, 2021
Match Preview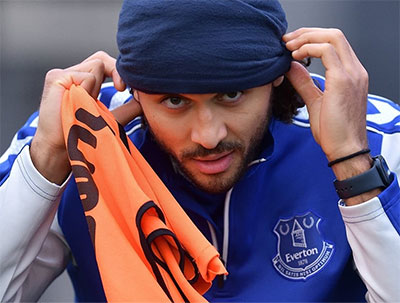 Everton FC
After their festive programme was almost completely wiped out, Everton are in action for the first time in 2½ weeks as they host Brighton & Hove Albion at Goodison Park on Sunday.
The postponement of the matches against Leicester, Burnley and Newcastle because of injuries and an increase in positive tests for coronavirus, either at Finch Farm, in the opposition camps, or both, has allowed some of Everton's other injured players to regain their fitness, none more so than Dominic Calvert-Lewin could be back in the starting XI for the first time since August.
The England international has been sidelined with, first, a toe problem and then a serious thigh muscle injury since the last time these two sides met on the south coast 15 games ago but he has been back in full training during the Blues' recent Covid-enforced hiatus and is fit to play.
Manager Rafael Benitez suggested during his pre-match press conference that Calvert-Lewin could start but questioned whether he would have the match fitness to last the full 90 minutes after so long out.
Article continues below video content
"Dominic is training with the team," Benitez said. "One thing is match fitness, which you can improve playing games. Match fitness, we will see. Maybe he scores three goals in the first half and we don't need to worry about his match fitness!
"He's really happy, he's ready to play and to score goals."
The unexpected break in the fixture calendar since the stirring 1-1 draw at Chelsea means that Benitez will have more options than was the case at Stamford Bridge on 16 December.
The Spaniard wasn't forthcoming with which players will be available — Fabian Delph and Jarrad Branthwaite, for instance, could be missing due to Covid-19 — but Tom Davies was among those pictured in full training at Finch Farm today.
The midfielder has been out of action for a while now but looks likely to add to the manager's options.
"We cannot give you names, and we cannot give numbers [but] in terms of Covid, we have less problems and, in terms of injuries, we are bringing players back," Benitez explained.
"In terms of other players that were injured, little by little they're coming back. We don't want to take a risk with some of them, but they're nearly there."
That could be an allusion to the likes of Seamus Coleman and Allan who were named on the bench as emergency options despite carrying knocks but Richarlison (calf) is definitely out as he, like Yerry Mina, remains a way off and though Andros Townsend is keen to feature, his foot fracture will need a bit more time to heal. New signing Vitalii Mykolenko will not be eligible to play.
For Brighton Potter, Graham Potter could have both Jürgen Locadia and Leandro Trossard available after the latter was able to train today and but Lewis Dunk looks likely to be out of action until late January, and Jeremy Sarmiento faces an even longer lay-off following surgery on a hamstring.
The Seagulls' ability to consistently score goals remains a problem but they are also a difficult side to beat. They started the season in flying form and three straight wins before Everton ended their 100% record with a 2-0 win at the Amex Community Stadium and they have found victories hard to come by since, picking up nine draws overall, including three in their last five games.
Like Everton, their most recent game was a 1-1 tie at Chelsea but their 2-0 victory over Brentford on Boxing Day was the only time they have picked up all three points since mid-September.
For Benitez, much will depend on how much belief and momentum his side can carry into the game from the draw against Chelsea, not to mention the potential impact of having Calvert-Lewin back in the side.
Even when the striker was fit and firing at the start of the campaign, the Blues found it hard to dominate games and dictate the tempo and with Brighton being such a possession-focused outfit, it could be another case of Everton waiting for their opportunities on the counter-attack or relying on Calvert-Lewin's presence as the target man for more direct play and set-pieces.
Certainly, if they can pick up what would be just a second win in 12 matches, it would get supporters looking up the table in hope for the second half of the season rather than nervously over their shoulders at the relegation zone below.
Kick-off: 2pm, Sunday 2 January 2022
Referee: John Brooks
VAR: Stuart Attwell
Last Time: Everton 4 - 2 Brighton & Hove Albion
Predicted Line-up: Pickford, Coleman, Holgate, Keane, Godfrey, Allan, Doucouré, Gomes, Gordon, Gray, Calvert-Lewin
---
Reader Comments (94)
Note: the following content is not moderated or vetted by the site owners at the time of submission. Comments are the responsibility of the poster. Disclaimer
Andrew Merrick
1
Posted 31/12/2021 at 18:10:57
If he's fit and raring to go, give him and dobbins 45mins each, happy new year Dom
Mike Gaynes
2
Posted 31/12/2021 at 18:15:47
Nice New Year's gift!
Brent Stephens
3
Posted 31/12/2021 at 18:17:01
Good news. We've really missed him. Start him and put the opposition under pressure from the start for a change.
Niall McIlhone
4
Posted 31/12/2021 at 18:55:42
A big plus, especially with Richy being out. Over to Gordon and Gray to provide the ammo. Welcome back DCL, I also hope Allan is fit to play alongside The Duke.
Ray Smith
5
Posted 31/12/2021 at 18:56:09
Andrew 1
I just hope Dobbin doesn't do a Thierry Small on us and move on.
If Rafa is (supposedly) taking the reins on transfers, get Dobbin signed up.
Walsh & Brands made a pigs ear of recruitment, so let's see what Rafa is made of!!!
David Pearl
6
Posted 31/12/2021 at 20:06:01
Great news. We probably played one of our most complete games of the season at Brighton so lets do the double.
Happy New Year to all blues everywhere. Tonight l will be partying watching Peter Rabbit 2.
Mike Hayes
7
Posted 31/12/2021 at 20:08:20
Good news let's hope 2022 sees us hitting the ground running FFS we deserve some bastard luck - hopefully 2022 sees Kenshite gone and Moshiri kicking some arse and shaking the club up💙UTFT ETID COYB💙
James Flynn
8
Posted 31/12/2021 at 20:17:17
Rafa on this next window:
", , , , , despite the injury list still being a lengthy one Benitez will not be making significant purchases in January – although the club are expected to bring in Dynamo Kiev left-back Vitaliy Mykolenko for £18m with Lucas Digne likely to be offloaded after reportedly falling out with the manager.
'We are working hard. We are trying to find some targets to improve the team. Everybody knows how difficult January is,' Benitez said ahead of the visit of Brighton on Sunday.
'Everybody is a little bit worried about Covid, no-one wants to spend too much money. That is complicated. I am quite confident we will do two or three things. We are in contact with clubs but it's not just me – the board are (also) looking for the right options.'
'Not everybody has a lot of money to spend so we have to be careful when we buy, sell or loan players. I knew what we were looking for in August, we are working to find the right players for the present and the future.'
'We are trying to be sure we have chances to improve. What can (the fans) expect? Two or three players, and players who want to be here.'"
Derek Knox
9
Posted 31/12/2021 at 20:35:54
David P @ 6, All the Very best to You too mate !
As far as watching Peter Rabbit 2, (hmm) wasn't he in Debbie Does Dallas ? :-)
Here's both hoping the game goes ahead, and we can get all three points, which will be creditable if we do, as I have watched Brighton the last two games, and they look a decent side. Also hoping for some news on the transfer front LB, RB and a Midfield/Striker. That's probably hoping for too much but we will see.
David Pearl
10
Posted 31/12/2021 at 20:50:38
Derek, sorry my mistake l actually meant Debbie Does Dallas 2. Easy mistake to make.

All the best, Derek, hope you see some goals tomorrow.
Mike Keating
11
Posted 31/12/2021 at 21:04:32
Can't make it - in self isolation so put ticket on the resale platform but it don't work. You have to use the phone!
Anyway hope to see Calvert-Lewin and Dobbin make a show.
Happy New Year all ToffeeWebbers
UTFT
John Keating
12
Posted 31/12/2021 at 21:40:20
The sooner Townsend can get on the pitch with Calvert-Lewin, the better. If Calvert-Lewin is fit, get him starting.
Tom Bowers
13
Posted 31/12/2021 at 21:51:37
We need to turn the corner and what better way than a New Year and the return of Calvert-Lewin. I hope he is 100% and doesn't need a bunch of games to find his touch. Certainly against the Seagulls we need some of the lads back who can supply him.
Jay Harris
14
Posted 31/12/2021 at 23:14:57
We could have done with Richarlison and Calvert-Lewin in this one but let's hope Gray, Townshend and Gordon are fit as they do a lot of their work on the flanks.
Be interesting if Digne is asked to play as he would be a good foil for Lamptey.
They have been playing well but we are due a bit of luck and 3 points.
Happy Blue Year for 2022.
Andy Crooks
15
Posted 31/12/2021 at 23:23:40
David Pearl, wishing you and your back a happy new year.
Stephen Vincent, the best to your knee?
Derek K, Everything? Hope you had a good drive today and get to the game on Sunday.
For anyone who bets,I think we will win a few games in a row.
Happy new year. Just going to watch the "White Heather Club"!
Paul Kernot
16
Posted 31/12/2021 at 23:34:21
I've watched Brighton a few times recently and while they're a solid, well drilled side (several on here wanted Potter as our next manager), they've been finding it hard to score for a good while now. Hope I'm not putting the mockers on us but I think we can scrape a win in this one.
David Pearl
19
Posted 01/01/2022 at 00:15:38
All the best Andy Crooks, hope you get over again soon.
Tony Hill
20
Posted 01/01/2022 at 00:40:21
Paul @16, they are the side who have most comprehensively outplayed the RS this season, the second half of the Anfield game was a joy to watch. I think they have a really good, one-touch style but they never seem to do well at Goodison.
Let's hope that last bit continues.
Alan J Thompson
21
Posted 01/01/2022 at 02:16:31
But no word on Rondon? Small mercies.
Derek Knox
22
Posted 01/01/2022 at 02:46:17
Transfer window is now officially open. We haven't signed anyone yet what are they doing, dragging heels? :-)
Kieran Kinsella
23
Posted 01/01/2022 at 05:25:55
Derek, don't worry – Kenwright has ring-fenced the Arteta money…
Michael Pennington
24
Posted 01/01/2022 at 07:33:35
Pickford Coleman Keane Branthwaite Godfrey Allan Doucouré Gordon Townsend Gray Calvert-Lewin
4-4-1-1
Score: 2-0
Bob Parrington
25
Posted 01/01/2022 at 07:40:31
Hopefully we get Patterson. We need some Scottish Grit in the side. Don't like the talk about Barkley. Glad I didn't go back to Dunlop in Wrexham when they offered me my old job back after 12 months away in Newcastle back in the early 70's.
Best look forward and bring in the inevitable replacement for Digne and a classy (but hard working) midfielder. Use Dobbin up front and Simms, too to rest DCL. Strategy shouldn't be too expensive. FFA etc
Danny O'Neill
26
Posted 01/01/2022 at 07:49:00
If Patterson is the right quality then I hope he's the solution.
Personally I don't care for where a player comes from. If he's good enough, committed and works hard, he can come from anywhere as far as I'm concerned.
I've not seen or taken too much notice of him so I'll take others' word on him.
Kunal Desai
27
Posted 01/01/2022 at 08:37:16
Wonder if the three players we bring in will be Mykolenko, Patterson and Longstaff.
Colin Glassar
28
Posted 01/01/2022 at 09:59:08
Massive headache this morning, and I only drank a bottle of Port and some white wine. Hope you all had a good night.
Kunai, those three would be ok but I'd like to add a bit of experience with Fernandinho and Lingard. Even at 35/36, Fernandinho bosses the midfield with his athleticism and experience. Lingard for his goal scoring skills, work rate and bubbly enthusiasm.
I wanted Thiago Silva before he went to Chelsea and was laughed at on here. Too old, many said. Too old? He's one of the best defenders in the prem right now.
Gary Hughes
29
Posted 01/01/2022 at 10:05:09
Vitality Mykolenko confirmed as signing.
Joe Digney
30
Posted 01/01/2022 at 10:05:18
Mykolenko confirmed just now, hopefully Patterson to follow within the week, seems as Benitez wants the business done early.
Happy new year!
Danny O'Neill
31
Posted 01/01/2022 at 10:10:12
An interesting dynamic compared to the Moyes years (no insult to Moyes there).
We wake up on day one to news of a £20m signing rather that sitting there on deadline day with unused party poppers.
Doing business early shows intent.
Colin, I speak from experience with regards to Port (Sergeant's Mess Dinner nights). The problem with Port is you feel fine as you toast the Queen, the Colonel in Chief and whoever else. It's only when you stand up to leave the table that you realise the damage has been done!
Rob Halligan
32
Posted 01/01/2022 at 10:14:24
Happy new year to everyone!
Ten hours into the transfer window and we've already signed someone. Is this a record? Meanwhile the deluded Geordie 🔔ends are going ape shit on their forums because they haven't signed anyone yet, and they think they are going to sign anyone and everyone! Obviously, they will make signings, but not the calibre of players they want.
Love this quote from Mykolenko……….
I am excited about the opportunity of playing in front of our supporters at Everton. I have seen the last few games at Goodison Park and they were unbelievable.
"They are incredible fans to whom I feel great responsibility."
Brent Stephens
33
Posted 01/01/2022 at 10:27:33
Myko in. Digne surely to go. Clinical.
Rob Halligan
34
Posted 01/01/2022 at 10:31:21
Newcastle apparently interested in Digne, Brent. Rip them off to the tune of £50M I say. 😀😀😀
Derek Knox
35
Posted 01/01/2022 at 10:34:20
Agree Rob, although he has been linked with us, for what seems ages, didn't think it would happen this quickly. Obviously Digne is on his way out, but to who ?
If we can tie Patterson up as well, it will be a major boost, but according to Rafa, although he kept his cards close to his chest, hinted that he wanted at least A N Other. Don't know who he plays for, but hopefully we will find out sooner rather than later. :-)
Colin Glassar
36
Posted 01/01/2022 at 10:37:15
Welcome aboard, vitality. Make us proud. Just need a right back now - Patterson? Midfield enforcer - Fernandinho. And a goal scorer- Lingard? And I'll be satisfied with this window.
Danny, Port has always been my favourite Christmas tipple as it was the only drink my dad (ex-army) allowed us on Christmas Day. It was either Port or mum's eggnog (snowball I think it was called).
Rob Halligan
37
Posted 01/01/2022 at 10:38:35
Won't be Lingard, Colin. Mickey Quinn reckons he should go to Newcastle.
Brent Stephens
38
Posted 01/01/2022 at 10:44:08
Rob "Newcastle apparently interested in Digne, Brent. Rip them off to the tune of £50M I say."
Me too, Rob. After 15th Jan! Sod's Law and all that.
Colin Glassar
39
Posted 01/01/2022 at 10:48:49
Rob, I've always liked Lingard. Yes, he can be a bit of a nobhead on social media but his enthusiasm and work rate is infectious. Most of our players are dour, miserable sods so a bit of pillow shagging, and other high jinks, might just be the tonic to bring them out of their collective comas.
Do you think the red mancs would accept Iwobi as part of the deal?
Rob Halligan
40
Posted 01/01/2022 at 10:49:27
What's on the 15th Jan, Brent?
Danny O'Neill
41
Posted 01/01/2022 at 11:14:02
Lingard is an interesting one.
As he proved last season at loan at West Ham, he can be an impact player.
I was really surprised that he is 29 though. He seems to have been "up and coming" for years.
I'd go with the Newcastle theory. They will dress it up as a marquee signing and be pumped by United for the privilege.
But that said, he will bring goals and experience. For Everton, I'd take a punt on a loan or shorter term contract.
Clearly a player that reached a level but not his true potential?
Kunal Desai
42
Posted 01/01/2022 at 11:16:55
Colin, I think Lingaard on loan until end of the season would be reasonable and a short term fix. In the summer we need to bring in another midfield enforcer, i'd like to see someone similar to Tielmans brought in. We desperately desperately lack midfield creativity and cannot solely rely on wingers to provide assists.
We haven't replaced Rodriguez and we'll also need to replace the Icelandic fella. So possibly two creative midfield reinforcements in the summer.
Brent Stephens
43
Posted 01/01/2022 at 11:21:47
Rob, sorry, I meant 15th FEB!! N'Castle!
I know, transfer window dates etc...
David Hallwood
44
Posted 01/01/2022 at 11:28:08
Just seen the latest training vid. No Richie, Mina Townsend Braithwaite oh and no Delph.
Delph injured? Surely not! The club must be counting the days down when they can get him off the wage bill.
Neil Copeland
45
Posted 01/01/2022 at 11:36:08
Happy New Year to all!
Derek #35, are you going to the game tomorrow?
Good to see us pulling our finger out regarding a signing. Not seen the lad play though so hoping he fits in okay.
I've watched Patterson a few times and he looks a real prospect, very good at getting forward. Well worth a punt I think.
Just hoping we don't throw a load of money at Coutinho or Barkley, would prefer Lingard to either of those 2. I see we are still being linked with Maitland-Niles, can he play in an attacking midfield position?
It looks like Digne will be off and perhaps Holgate too if the barcodes rumours are true. Does anyone think that there is mileage in the Tosun to Besiktas rumours?
Steve Shave
46
Posted 01/01/2022 at 11:41:03
I'd defo take Lingard on loan but I suspect they will want a fee of around £10-15M as it's the last 6 months of his contract. He brings something a bit different.
I am happy with Mykolenko if we can now get a decent fee for Lucas Digne, if we end up loaning him out I will be pissed. Now for Patterson, really like the look of this lad. The above 3 signings and the shifting of Holgate and Digne would be good business this January IMO.
Tony Abrahams
47
Posted 01/01/2022 at 11:46:16
If Lingard only has 6 months left on his Man Utd contract, then I can't see him going anywhere, unless he's allowed to leave on loan.
Colin Glassar
48
Posted 01/01/2022 at 11:50:04
Hopefully, Tosun, Holgate, the unmentionable, Iwobi, JJ, Delph and (sadly) Digne will leave this month freeing up money for some real players to come in.
Billy Roberts
49
Posted 01/01/2022 at 12:11:26
Colin @48,
I think we all need to hope Iwobi is the player of Afcon but is he going or been selected by Nigeria?
Tosun had a decent enough start to his Everton career but has to be, pound for pound, the biggest waster; I can't think of another player who has basically sat on his contract for so long. A combination of the Palace injury and piss-take offers from every Turkish club (do they do anything else?) didn't help admittedly.
As for Sigurdsson? I don't know under what circumstances he would go in this transfer window? Outside factors maybe? But that seems to have no foreseeable conclusion.
I would like us to keep Jonjoe Kenny, but Delph?? If we postponed the next 10 games, he would still be struggling to be fit.
Holgate is an absolute mystery to me how such a promising career has just fallen off a cliff. Only those with a professional career in playing or coaching could explain that to me? Again, though. only teams who actually haven't been watching Holgate would put up an offer to tempt us.
Steve Brown
50
Posted 01/01/2022 at 12:16:10
Iwobi to Newcastle as their key-note attacking signing – £50 million will do it!
Paul Smith
51
Posted 01/01/2022 at 12:24:49
Wonder if Digne wants out ? He's seen enough of the dysfunction and Rafa will oblige.
Maybe Rafa has said, "Give me a chance to change things." (Big task but he has some control.) And Digne doesn't have the faith that he can, hence he's being sold.
I find it strange. Up until 6 weeks ago, he was the last person I thought we would sell.
Digne's form has been poor but there's a quality player in there with a level of consistency that's hard to find.
All speculation obviously.
Tony Abrahams
52
Posted 01/01/2022 at 12:59:18
Whatever the situation with Digne, I don't see him leaving until the end of the window, unless someone really wants him, because I think we have done things back to front, by bringing in his replacement before we have gotten him out the door.
Steve Brown
53
Posted 01/01/2022 at 13:10:17
Surely the priority remains a right back, as it has done since March 2017 when Seamus broke his leg. It is incredible that we have gone through 9 transfer windows without that being addressed.
Chris James
54
Posted 01/01/2022 at 13:11:07
First signing of the window - Ukrainien Digne replacement. Guessing he'll get a run-out in the cup?
Billy Roberts
55
Posted 01/01/2022 at 13:11:18
Tony @52
I think for once Everton have done this the right way.
Bring his replacement in and let the interest in Digne build as opposed to taking the first offer and then not only are we desperate to find a replacement the selling clubs know we have money burning a hole in our pocket and are ripe for being mugged off.
I know this is being simplistic but any change to our transfer strategy/ approach has to be welcomed.
Our recent history tells the story...
Sigurdsson, Bolasi, Tosun( again), friggin Iwobi!!
What is your take on Holgate? I'm interested to know, as well as other TWebbers theory on his sudden demise, of course.
Raymond Fox
56
Posted 01/01/2022 at 13:13:59
I fear Digne will be off, he's probably fed up with us teetering on the brink all the time. We won't have trouble selling him. I'm sure he probably knows where he will be next.
Billy Roberts
57
Posted 01/01/2022 at 13:25:15
Steve @53
Professional directors of football or managers would call it negligent.
It is. And for all the good work Brands done in getting rid of the likes of Mirallas, Schneiderlin etc this lack of competition for Seamus was a clear failure by him.
This farce as you say has been rumbling through 9 transfer windows.
Dale Self
58
Posted 01/01/2022 at 13:32:56
Digne is class but he's too old and too in demand to commit to a rebuild. And we never had the MF to complement his skills. Given both sides' positions we just need to do the business and avoid drama. And no extras, just sell off and reup at RB.
Bobby Thomas
59
Posted 01/01/2022 at 13:34:30
If Digne is so good then why has he been happy to cruise at a mid table side that is - lets be honest - going nowhere fast? He will soon be 29 yrs. His career will be over in the blink of an eye, without playing regular european football or winning anything.
If he had anything about him and teams such as Chelsea or Juve have been interested then should have banged in a request at the end of his second season and moved onto better things. Instead, he's been happy to cruise unchallenged, not progressing and playing some extremely average football on a very favourable contract.
Digne represents everything that is wrong in the Everton dressing room. For many years, there has been a weak, supine, shithouse culture and players like him - a supposed senior pro and vice captain - are responsible for it.
Its the right time to sell. He is ageing in attacking full back terms - only the downside comes now. Signing Mykolenko and a right back with the Digne fee is exactly the kind of business we should have been doing the last 6 years.

Jim Lloyd
60
Posted 01/01/2022 at 13:37:32
Billy (55) I agree with you. I think that if we fancy this lad, bring him in don't faff around and perhaps lose him. If (a Big IF in my view) Digne wants to stay and fight for his place, that can only be good. It gives the manager options.
I think he's had a poor couple of seasons after his first season. His defending isn't good and his forward play has been found out and so far this season he's been average at best.
Now we can look to the future with this signing and if we sell Digne, then that will give us more funds to strengthen the team. Hopefully, we might bring in a right back early on. You're right, Billy, to many last ditch signings of players that are flops.
As for Holgate, I think he believes he's so good, he doesn't have to concentrate. I don't know if he'll ever get his head right and would hope that we sell him as well.
Jim Lloyd
61
Posted 01/01/2022 at 13:43:52
Bobby, just read your post...pinned weaknesses in the club spot on. I think we're witnessing Benitez changing that culture you've identified.
Tony Twist
62
Posted 01/01/2022 at 13:52:15
Left back in, good, tick, next, right back in, that would do for me. As long as the defensive backs are solid we will become a much better team. Manager needs to up his game and remove that chip off his shoulder (a weakness of an awful lot of managers not just with benitez to be fair) and ensure a number of youth get ten / fifteen minutes play time in the first team each game. It was in competency by Brands to not bring in a right back and also to rid ourselves of two left backs, let's hope Benitez does the sensible things well then we can honestly challenge for europe. If he doesn't change then it could well be relegation if Newcastle and Burnley finally get their act together.
Billy Roberts
63
Posted 01/01/2022 at 13:54:36
Jim @60,
You are possibly right with Holgate, he has done a long-term injury to that cruciate ligament that sits between the ears. It has been known to snap under delusions of grandeur!!.
Seriously though, it has been noted by lots of different posters on here... an arrogance. It's a fine line I know, it seems he is on the wrong side of it.
Jim Lloyd
64
Posted 01/01/2022 at 14:05:41
Billy, I'd like to see him make it and maybe Benitez can straighten him out. He's still youing but I think that aspect you mentioned re the cruiate ligament! seems to be holding him back. KLet's hope he makes it, as he's a good athlete. Maybe too much money too soon, is the problem. It's a heavy load to carry, but i#ll help him out with that burden if he wants :)
Derek Knox
65
Posted 01/01/2022 at 14:10:51
Have heard a strong reliable link, to getting not only Patterson from Rangers, but Glen Kamara too, with the latter probably a loan with a view to buy !
Jim Lloyd
66
Posted 01/01/2022 at 14:15:48
Derek, there was a bit on Newsnow Everton in the Glasgow herald or something, mentioning two players...but no page opened up when I tried it. hope it's true about Patterson but don't think I've seen Kamara play (position?)
Ashley Roberts
67
Posted 01/01/2022 at 15:25:31
Glad that the Mykolenko transfer has happened early. Puts Benitez in the driving seat as to what to do with Digne. I would like for him to stay and fight for his position. We really need 2 players for each position and Digne has coasted because he had no competition.
I would also like to see Lingard come on loan. He won't sign for anybody in January as he will run down his contract at Man Utd to get a big pay-out wherever he ends up. Lingard would be my choice over Barkley, Coutinho or Ramsey who would either be very expensive from a wage perspective or, in Barkley's case, just not good enough.
Also, Patterson would be a good punt. However, I like the system that Chelsea and Spus play with only 3 at the back. This would mean he wouldn't get a game here either.
Tony Abrahams
68
Posted 01/01/2022 at 15:37:05
That makes a lot of sense, Billy R, but I think that the player might act the fool now, unless he gets exactly what he wants. With us being very close to overstepping FFP, I can't see a big rush of clubs wanting to pay top dollar for the player either. But hopefully what you say works in our favour and we get enough money out of Lucas Digne to sign a couple more.
Mike Gaynes
69
Posted 01/01/2022 at 16:01:50
Great tip, DK. I haven't seen Kamara play in years... any good? What would he bring to our midfield?
And can he Finnish in front of goal?
Derek Knox
70
Posted 01/01/2022 at 16:02:36
Jim @ 66,
Glen Kamara is a midfield player, 26 years old I believe. He is actually listed as being Finnish and has played for them several times. I think he started at Arsenal in the Junior Academy set up. Not sure how good he is now, but has appeared okay when I've seen Rangers on TV.
John Keating
71
Posted 01/01/2022 at 16:12:21
Kamara info is a bit of a surprise as I did hear Slippy G was looking at taking him to Villa.
Peter Mills
72
Posted 01/01/2022 at 22:21:32
I went to watch Prescot Cables v Marine today, supporting the Mariners. It was a tough, hard game in which my team, top of the league but having played many matches, looked tired, and they missed a crucial first half penalty.
They dug deep, and grabbed a winner with 10 minutes to go. It brought back memories of Whittle at West Ham, Spurs and Stoke, Gray at Sheffield Wednesday, and to a lesser extent Cahill at Man City, Fellaini at Bolton. Great days when you fight for the win.
That is my aspiration for the Blues in 2022, fight fight fight with all our might. Is it too much to ask for? No, it's the minimum.
Minik Hansen
73
Posted 01/01/2022 at 22:43:42
It's obvious it'll be too early to start Mykolenko. Will he even be on the bench? Happy days with a new player and injured players getting back.
John Boon
74
Posted 01/01/2022 at 22:58:18
I think it is a shame when supporters dump on a player when he is likely to leave.
Digne has been an excellent buy for Everton and he still has lots to offer. Part of his problem is that he set a very high bar for himself when he came. He did live up to expectations, despite the fact that he has not played as well this season.
He does not seem to be vindictive and, whatever his problem has been with Benitez, he has maintained a dignified silence. I would not be surprised in the least if he rediscovers his form if he moves to a new team. Just an opinion.
Brian Williams
75
Posted 01/01/2022 at 23:06:19
Mykolenko's not eligible to play tomorrow.
Jay Harris
76
Posted 02/01/2022 at 04:32:21
Good point, Brian, although if we were scheduled to play on Monday like Man Utd, he could play.
Just shows what a joke this Premier League is.
Darryl Ritchie
77
Posted 02/01/2022 at 06:36:38
I very strongly doubt that we will see Digne in an Everton shirt again. Whatever happened between him and Rafa was enough to get him benched and out the door.
Very serious words were said… and I don't think anybody has apologized to anybody.
Jim Lloyd
78
Posted 02/01/2022 at 08:45:12
In my view, whether there were words or not, I think Digne has not had a season anything like his first. He's weak in defence and his surging runs up the wing appear to have been found out.
I think Godfrey has been more effective (and he doesn't mind mixing it at all!) at both defending and making forward runs.
So to have him, Mykolenko, hopefully Nkounkou next season, would leave us with three good, left-sided players and, if Digne is sold, some money to spend... I sound like Mr Micawber but every penny we can get is so important.
Brian Murray
79
Posted 02/01/2022 at 09:08:32
As for Holgate. Never mind taking away his locker. I'd confiscate his chewies. Might get a decent price for him this window to help with the Rangers lads fee.
Danny O'Neill
80
Posted 02/01/2022 at 09:10:47
Hopefully see some fight combined with quality today Peter.
I nearly saw my first fight of the day at the entrance to platform 15 at Euston when the ticket person was trying explain to 4 Brighton fans that, firstly they needed to show their rail card or download the App. Secondly, that the 16 - 25 railcard was not for over 40s with carry outs from Sainsburys.
Could be a long day for them. I hope they caught the train though.
Danny O'Neill
81
Posted 02/01/2022 at 09:37:29
I know what you mean Brian. I know we should only judge players on their footballing ability and performance, I just don't know how you can play football chewing gum.
As I watch Villa a bit, Tyrone Mings is the same.
And don't start me on the sock thing. Every team seems to have one now.
Robert Tressell
82
Posted 02/01/2022 at 09:50:42
John # 74, if Digne gets a move to a Champions League club then I also expect he will perform well. Playing for trophies brings back some motivation which he's gradually lost playing for us. If he goes to Newcastle then it's for money and I can see him being patchy for them as he has been for us.
He's a good player but he's been here a longish time now and lost his oomph.
Danny O'Neill
83
Posted 02/01/2022 at 09:52:42
As always, a very wise footballing assessment regarding Digne Robert.
Rob Halligan
84
Posted 02/01/2022 at 10:01:25
I've got a feeling that Digne will play today. Seeing as Mykolenko is unavailable to play,and Seamus maybe not fully fit, I'd move Ben Godfrey over to right back and put Digne at left back.
Jonathan Tasker
85
Posted 02/01/2022 at 10:11:16
Don't know if anyone else noticed but yesterday Brighton were favourites with the bookies and today we are. I wonder if bookies have heard that maybe some key Brighton players out with Covid perhaps?
Digne is good going forward but a poor defender. The club may as well cash in on him.
Darren Hind
86
Posted 02/01/2022 at 10:37:30
Bookies couldnt split the sides some had us 13/8 and them 7/4 yesterday, but all have us slight favorites today.
That'll have more to do with the money which has gone down than any rumours about covid Dont see too many people lumping on either team to make any drastic change.
I'm Hoping somebody shows a bit of interest in Allan. Cant see it happening though, Anyone watching him and the number of goals he is coughing up would run a mile.
George McKane
87
Posted 02/01/2022 at 10:48:50
So it's a New Year Sunday morning and here in New Brighton - - looking out of the front window - - the Sun - -golden round - - in the middle of the sky - - a magic lantern lighting up the City and The River - - touching the tops of the buildings and lining the River like icing on a marvellous Christmas Cake -- the River given a golden glow - - A Symphony in Gold and Grey - - I turn back to my writing room - - on my wall new gifts - - three beautiful prints of Sumerian Gods and The Tablet of Gilgamesh - - The Beatles smile as I walk past back to my room to write to you - -now- - just now - - this moment -- as you are reading this - - close your eyes - - bend your left leg - - imagine you are Elvis (a Life Long Evertonian) - - and sing in your head - -together in your best Elvis impersonation -- everyone can do Elvis:
"And when those blue snowflakes start falling
That's when those blue memories start calling
You'll be doing all right
With your Christmas of white
But I'll have a blue, blue, blue, blue Christmas
You'll be doing alright
With your Christmas of white
But I'll have a blue, blue, blue, blue Christmas"
I have missed Everton and going to the match - - I had to miss some games - - and then the postponements - - and so to NOW - - Sunday - - in the grace - - I am ready for a New visit to The Dark House and to Goodison - - for the first time in a long while I can have a pint today - - when I walk in TDH around 12.00 today - - and a friend will ask "what are you having" - - I will say " Golden" for the first time in a long while - - I will hold the glass up and drink as if from The Grail Chalice allowing the golden nectar to flow right down into my soul and to light up my spirit - - no "neggo waves" from me today - - "cosmic posso grooves all the way" - - so, for now, I am sitting at my desk in my top writing room - - music in the background - - a bit of Van for now:
"And we'll walk down the avenue again
And we'll sing all the songs from way back when, yeah
And we'll walk down the avenue again and the healing has begun
And we'll walk down the avenue in style
And we'll walk down the avenue and we'll smile
And we'll say:
"Baby, ain't it all worthwhile when the healing has begun?"
The Dark House and Goodison is for me a Healing Place - - A Sanctuary from life's pains and pressures - - a friend from TDH is currently dealing with pain and heartache - - and we speak about that outside - - today he will want to hear - - "what are you having/what's the team/did you see Chelsea game " - - he knows we care - - we love him - - our hearts feel some of his pain - - he is our friend - - we have shared life - - We Are Evertonians - - we often recall those days of winning and losing - - we laugh now at our telephone calls the morning of The Wimbledon Game - - Everton Binds Us - - It's Our Blood - - we can talk about Births Deaths and Marriages and all will be linked to a game - - I loved my sister Joan and she got married on the day we beat Cardiff 6 - 3 I think it was and I went to the wedding - - - life - - it is all encompassing - - today I will see all the old friends and at holiday periods some of the old guard from TDH who have moved away for differing reasons will suddenly appear and will immediately be asked "what are you having" - - I love it - - it is part of me - - having never been ill previously I have faced death 3 times in the past 2 years - - but I am now full of life - - I know how important - - beautiful - - vital - - family friends are for me:
I am sitting here at my desk and will have to move on shortly - - get ready and my wife Gosia will first pick up a friend of mine and take us to TDH - - driving in our Chariot under the Mighty River - - along The Old Road of now almost lost Churches and Pubs and Chippies -- the very sustenance of life - - memories of beautiful days past flowing through my mind - - everywhere I look a story comes into my head - -The Holy House - - Bob's Newsagent - - paper Boy there once to earn my match money - - Hanson's dairy - - milk lad - - St Ollies - - Father Winder - - passing Evelyn's Chippies - - Polo Mint always in her mouth - - pigs cheek in the window on a tray and tripe - - The Sass Bar - - pint of Spenso - - pretending it was beer - - Wessie Road baths - - first in on Saturday morning - - Rave On - - and there on the Golden Horizon - - TDH and behind framing it - - the Glory that is Goodison - - my soul and spirit lifting up to touch the Sun - - worries and cares immediately erased and hopes dreams and visions restored - - faith increased - - never lost but boosted by "this vison" - - we should never need things to be lost to know how much we love them - - today I will show my friends how much I love them - - they know it - - but it's good to show it - - We Are True Blue Brothers - - "Sunday in the afternoon
What have you got to lose?" :
"Everybody had a hard year
Everybody had a good time
Everybody had a wet dream
Everybody saw the sunshine
Oh yeah, oh yeah
Everybody had a good year
Everybody let their hair down
Everybody pulled their socks up
Everybody put their foot down
Oh yeah, oh yeah
Yeah, I've got a feeling
A feeling deep inside
Oh yeah, oh yeah"
I am going to have to move now - - so just for now I am going to close my eyes - - there you go - - I am thinking of "You" - - NOW - - sending absolute Cosmic Grooves right out of the window - - up into the sky - - warmed by The Sun - - floating up on The Astral - - dripping down into your soul - - lifting your spirit - - raising your soul - - and now just for YOU a little blow on my mouth organ - - there you go:
"the fool on the hill
Sees the sun going down
And the eyes in his head
See the world spinning round
Well on the way, head in a cloud
The man of a thousand voices
Talking perfectly loud
But nobody ever hears him
Or the sound he appears to make
And he never seems to notice
But the fool on the hill
Sees the sun going down
And the eyes in his head
See the world spinning round"
I am full of those cosmic grooves and "posso waves" and so I will go and pick up Dave and meet the gang at TDH and renewed by your thoughts and good wishes will go and watch MY Everton - - not The Managers or The Owners But MY/Your Everton - - it's OUR Club - - it is what we want it to be - - for me it's a place of above everything - - friendship and hope and pleasure - tinged with some pain - but what is life and how are we to measure life - - it is only by our own measurements - - me - - I am 10 foot Tall:
My best wishes to you all - - sent with Cosmic grooves and a Firm Handshake - - "God Bless Us All" said Tiny Time Cahill.
Danny O'Neill
88
Posted 02/01/2022 at 10:57:19
George, this hit me as I was nostalgically looking over Hale Shore as the train passed over the Runcorn bridge bound for Lime Street. Home is not far away, nor the eternal temple of my youth, where I am heading.
Not to mention the much looked forward to chips peas and onion gravy from the same people who served me at the Goodison Supper Bar when I was 14.
And lets not forget the 3 points. Have a great day George and everyone else attending or watching and kicking those imaginary footballs from afar. We're all one together. All for one, one for all.
Derek Knox
89
Posted 02/01/2022 at 11:01:26
Hoping as always for a win today, but having watched Brighton a few times this season, and more recently the last two games against Chelsea and Brentford, they should not be underestimated. They are a good side, and have a special player in Trossard, who we were linked with on several occasions before he moved. Another, not considered to be good enough ?
Then they have Lamptey, and Maupay who can be a menace on his his day, the Giant Dan Burn in defence won't be easy to get past or score against either.
I wonder if Vitaliy will be paraded in front of the Winner's Circle today before the match ? :-)
Hey great to see you ' back ' George ', can't make it today unfortunately, so probably would have met up with Danny, Jim Lloyd and Brian W and a few others at The Royal Oak. Hopefully be at the next Home Game though. Best wishes to all.
Barry Ferguson
90
Posted 02/01/2022 at 11:01:32
Shame Branthwaite is apparently out with Covid, as this was a good chance for Rafa to show "form not favourites" as the way forward. Hope he includes Kenny for this reason and the two young lads at least on the bench ahead of Rondon and Tosun.
Think Digne needs a 'shop window' game or maybe even a 'you're gonna have to fight Vitali' game instead…..
For me:
Pickford
Kenny Godfrey Keane Digne
Doucoure Allan Gomes
Gordon DCL Gray

Jim Hourigan
91
Posted 02/01/2022 at 11:14:40
I for one don't want Lingard, from what I see and listening to some Utd fans, he's great when the teams winning and on top, but disappears when the games a bit tough and he has to battle. They thought they had got rid of him to West Ham last year and few fans were upset - 10 years at a club and not able to get a regular spot under 5 different managers says it all.
No progress with fringe players who are not hungry and have made their millions and are just looking for a last pay day !!!
Clive Rogers
92
Posted 02/01/2022 at 11:39:12
Allan and Gomes together in midfield would give us a disastrous lack of pace.
Derek Knox
93
Posted 02/01/2022 at 12:29:44
Clive, a Portuguese Donkey, and a slow Brazilian, at least they could understand each other ? :-)
Tony Abrahams
94
Posted 02/01/2022 at 12:34:38
Brilliant George, some absolutely fantastic lines in today's sermon. Enjoy those beautiful pints of Golden, Goodison Pk, and your generations of built up companionship, today mate!
Coming towards Liverpool on the train, is always a great feeling for a scouser, who no longer lives in the place, in which a part of his heart will always belong, so have a great day Danny!
A tough game today, but Peter M, calls it best, fight for every ball, and we will win, otherwise another New Year, will begin with those cursed words that 99.9% of us have used at some time in our Evertonian lifetime. Enjoy the day everyone!
Charles Brewer
95
Posted 02/01/2022 at 12:50:44
Danny (80), what makes you think the people at Euston platform 15 were Brighton supporters?
1. They were starting a fight
2. They were trying to blag cheap tickets
3. They were clearly over 40 but trying to use 16-25 passes
4. They had a big carry out of cans of ale.
They were obviously True Blue Scousers!
Raymond Fox
96
Posted 02/01/2022 at 12:58:48
It's anybody's guess what the result will be, we are a decent price if you fancy us.
They are no mugs though and we seem to love to lose to these type of teams.
---
Add Your Comments
In order to post a comment, you need to be logged in as a registered user of the site.
Or Sign up as a ToffeeWeb Member — it's free, takes just a few minutes and will allow you to post your comments on articles and Talking Points submissions across the site.