Hull City vs Everton
Friday, 7 January, 2022
FA Cup 3rd Round Preview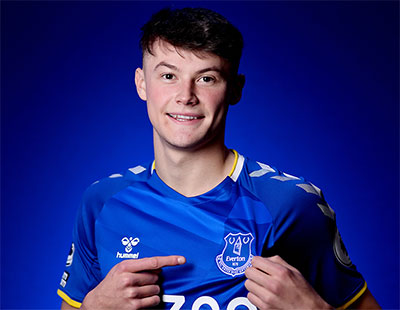 Nathan Patterson and Vitaliy Mykolenko are eligible to make their debuts but Rafael Benitez is waiting to assess their match readiness
Rafael Benitez says he has yet to make a decision about whether either of his two new signings will feature against Hull City this weekend when Everton enter the FA Cup with a tie at the MKM Stadium.
The club moved quickly when the winter transfer window opened by securing left-back Vitality Mykolenko from Dynamo Kiev and right-back Nathan Patterson from Rangers for what could end up being a combined £34m but Benitez said that their readiness is still being assessed.
"The first training session was just for them to settle down." Benitez said of the new boys in his press conference today at Finch Farm. "Yesterday the session was much better, [with] more communication with their other team-mates.
"Both players are fine. They showed that they want to do well. Are they ready? We will see. Today we have another training session and we will see how they feel.
Article continues below video content
"If you have to play them, they can play but, in terms of fitness, they've had 15, 20 days without training so we will have to consider all the aspects."
Benitez's presser was dominated by talk of Lucas Digne whom he says no longer wants to play for Everton after the pair fell out over the latter's role in the side.
Digne has been left out of the side for the past month and has been attracting interest from potential suitors in Italy and England but, in the meantime, his position has been filled by Ben Godfrey and Seamus Coleman.
Coleman was deployed awkwardly out of position against Brighton last Sunday, a game Everton lost 3-2, but it remains to be seen whether Benitez will opt for that formation against the Tigers from the Championship.
Elsewhere in the side, Dominic Calvert-Lewin is expected to be rested after he complained of tightness in his quadricep following his first appearance in four months in the defeat to the Seagulls. The striker ended up playing the full 90 minutes as the Toffees chased the game, a lengthy outing that was not in the manager's plans for the returning player.
---
Reader Comments (89)
Note: the following content is not moderated or vetted by the site owners at the time of submission. Comments are the responsibility of the poster. Disclaimer
Paul Hewitt
1
Posted 07/01/2022 at 21:50:43
Just play them. What have you got to loss,apart from your job?
Paul Hewitt
2
Posted 07/01/2022 at 21:50:43
Just play them. What have you got to loss,apart from your job?
Kevin Prytherch
3
Posted 07/01/2022 at 22:06:32
How did Rafa's new fitness guru not pick up that playing Calvert-Lewin from the start for 90 minutes after 4 months injured might not be the wisest idea?
So much for improving all areas of the club….
Paul Kernot
4
Posted 07/01/2022 at 22:16:01
As I said in another thread, play a back line v Hull of:
Patterson - Godfrey - Branthwaite - Mykolenko. Go on, Rafa, I dare you. As Paul says above, what does he have to lose?
We've won diddly for years anyway and surely that back line is our future anyway. Either they'll surprise you and be right up for it… or crap out as per usual.
The problem for Rafa is, if he risks it & we lose, he surely edges even closer to the exit door. A "damned if you do, damned if you don't" situation, at least partially of his own making, it has to be said.
Martin Mason
5
Posted 07/01/2022 at 22:22:00
This manager is going to take us down. He is a dinosaur and he was totally hopeless in the age of dinosaurs. In the modern era he could fit his total knowledge of the game on the back of a postage stamp. Seriously, I believe that he is destined to take us into oblivion and we have nobody at the club to see what is happening. We have an owner and Chairman that know nothing about the game. Everton may not survive relegation and relegation is possible, perhaps likely given the momentum and current form? The power struggle at the club is existential and BPB the greatest Evertonian ever could be the man that eventually destroys the club? Impossible? No, no club is too big and Everton as a club are incompetent now from top to bottom. The greatest fans in the Country? Yes and we can do nothing.
Jay Harris
6
Posted 08/01/2022 at 00:30:00
Martin
It's a good job you weren't on the Titanic.
You would have created panic before they even hit the iceberg and there would have been no survivors.
Michael Williams
7
Posted 08/01/2022 at 01:05:51
Do not play new or young players until they are ready. It does not matter if they can't play worse than anyone else. Let someone else play "worse."
It imperative that new players, especially younger ones, be given enough time to acclimatize to their surroundings, teammates, coaches tactics and expectations etc. They need to feel comfortable and confident when they play in order to succeed. These full-backs must succeed and we must give them the time they need and be patient as they gain experience in the best, toughest and most physically-demanding football league in the world.
Rob Dolby
8
Posted 08/01/2022 at 01:25:56
Michael - who plays left back tomorrow?
Godfrey, Coleman or the guy we just spent the best part of 20m on?
How will we know if players are ready unless we play them in an FA cup game.
Coleman has been slaughtered this year, we have just bought a new full back, why not play him?
You say new signings have to get used to tactics and formations. When full international players are struggling to carry out the managers instructions or understand tactics, when is the right time to blood new expensive signings.
Paul Kernot
9
Posted 08/01/2022 at 01:40:35
Michael/Rob.
I would agree with Michael's sentiment in league games, at least if & until we lose the next two when we're right in the poo, but I'm definately with Rob re tomorrow. If it's a shit show by half time, that's what the bench is for. If we actually have anyone to sit on it of course. Going back many years I remember the ref getting injured and we got a qualified ref out of the Goodison crowd to run the line. I'll bring my replica shirt just incase!
Michael Williams
10
Posted 08/01/2022 at 03:00:42
Rob,
It's a game in a tournament we are not going to win and most likely will not advance very far if we do win tomorrow. If either of our full-backs are not ready for tomorrow than I am fine if they don't play.
However, maybe some game time against a low-level Championship team would do Mykolenko some good. I am not at Finch Farm so I have no idea how ready either new guy is.
My point is that we must do all we can to make sure the new players succeed. They are making a huge jump in their careers and in their personal lives. I am willing to give them the time they need to give them the best chance to come good. Who knows? Maybe Mykolonko won't need very long. I hope so.
Eric Myles
11
Posted 08/01/2022 at 07:07:03
Michael #7
"These full-backs must succeed and we must give them the time they need and be patient as they gain experience in the best, toughest and most physically-demanding football league in the world."
But how do they gain experience unless they play? And Hull are near the bottom of the Championship, so why not give them a no-pressure initiation into how the team plays? If they're no good, Rafa can always bring Leighton on at right-back and Seamus on at left-back.
Kunal Desai
12
Posted 08/01/2022 at 07:33:20
This game is a free hit, we are in a relegation battle and have big week ahead.
Priority has to be Leicester on Tuesday night, followed by Norwich away.
Derek Knox
13
Posted 08/01/2022 at 07:43:16
So we haven't a clue what team will be played at Hull FC till just before kick-off. I would have thought that the new lads should play at some point or at least from the off. Both being young, I can't see them being that unfit even though allegedly they haven't trained for a fortnight.
Both must have had a good idea that a transfer was imminent so would have trained even if on their own, so they would pass the medical and be available from the off.
Rob Halligan
14
Posted 08/01/2022 at 07:50:35
Derek, at the moment I haven't got a clue how I'm getting there. 😬😬😬. There are problems with trains this morning and also this evening, so looks like we could be going by car.
Neil Lawson
15
Posted 08/01/2022 at 07:51:54
For Benitez, the options are:
(1) pick a "strong" team and lose. Out tomorrow.
(2) Pick a "weakened" team and lose. Out after Tuesday.
(3) Win the game with either (1) or (2). Spend tomorrow on his knees thanking the Lord for a small miracle and for his good fortune in the penalty shootout.
Robert Tressell
16
Posted 08/01/2022 at 08:07:58
I think Dinamo Kiev's own manager said Mykolenko might be best at left midfield to start with.
So maybe introduce him that way with Godfrey behind as orthodox left-back.
5-3-2 or 5-2-2-1 might also work but we generally look hopeless in this formation.
Whatever, we must be prepared for a battle.
Rob Halligan
17
Posted 08/01/2022 at 08:15:16
Well, after much deliberation and faffing about, it's the car.
Luke Welch
18
Posted 08/01/2022 at 08:16:52
Not going to be an easy game today and Hull will definitely fancy their chances of creating an upset. So, does Rafa pick the usual suspects that show a constant lack of effort or desire? Or does he put the new signings in with a mix of youth players? I think I know the team I would rather see.
Tony Everan
19
Posted 08/01/2022 at 08:18:18
We've only played one game since 16 December, in 25 days, so the players should be fresh as a daisy, revitalised and rearing to go, full steam ahead. Their batteries have got to be on full charge now, with Lithium+ ions leaking from their ears.
No way should we be resting anyone, why? It's time to roll the sleeves up get out there and perform. Play the strongest team, get the win and get some confidence flowing back. This is no time to be conservative, that would cause its own problems. Pick our best available 11.
Get the new boys blooded in, this is a great match to bring them up to speed and to gel them to the team. Get the highly promising young back four playing together, it could be a game-changer for the club.
We need to grab this opportunity to let go of the hesitant, defensive, fear-ridden mindset that has infected the team. This younger team will get onto the front foot and be more willing to attack and take the game to the opponents rather than us be the inevitable supplicants.
It will give the team and Everton FC itself a whole new feel and identity. One with energy, passion, belief and fight. Renewed hope for the future based on young hungry players, who are delighted to be wearing the shirt. It will give the supporters a real lift too if they turn in a great performance.
Pickford
Patterson Godfrey Branthwaite Mykolenko
Allan Doucoure Gomes
Gordon Calvert-Lewin? Gray
If Calvert-Lewin isn't fit enough, then I'd rather have Simms than Rondon.
Anthony Flack
20
Posted 08/01/2022 at 08:27:39
Is Iwobi at the Afcon?
Ian Jones
21
Posted 08/01/2022 at 08:29:37
Michael @ 10
'It's a game in a tournament we are not going to win and most likely will not advance very far if we do win tomorrow'
That's the spirit!
Appreciate your reasoning and your comments, but in recent years, since we were last in the final, teams like Aston Villa, Hull, Stoke, Wigan, Watford, Portsmouth, Crystal Palace have reached the final.
Only one winner amongst them but it would be great to put the strongest team out and take the competition seriously.

John Keating
22
Posted 08/01/2022 at 08:31:23
Calvert-Lewin has to be saved for the Leicester game. Branthwaite is still suffering from a hamstring problem. We have to find out before the Leicester game how these two young lads shape up:
Pickford
Patterson, Keane, Godfrey, Mykolenko
Doucouré, Allan, Gomes
Gordon, Simms, Dobbin
Mick O'Malley
23
Posted 08/01/2022 at 08:32:29
Benitez reckons there was nothing wrong with the formation against Brighton so he didn't see our aging right-back struggle at left-back… this fella is one stubborn gobshite. Didn't he see the midfield two getting passed around? He just won't admit he's wrong.
Michael Williams @ various, you say we won't win the cup anyway… we won't win the league so a cup is our only chance of any glory.
I hope he picks both new players and the strongest side possible. If we go out tonight, this sad excuse of a manager has to go. I absolutely despise him and his arrogant attitude, Benitez out!
Tony @19. I totally agree with that side and I'd rather have a dose than Rondon.
Luke Welch
24
Posted 08/01/2022 at 08:41:03
Of course, put the strongest team out, but I think the problem is that on paper it seems obvious what that team looks like. However, the reality is that team has constantly failed.
Ben Godfrey, from what I have seen, is not a natural centre-back and there must be someone in the academy to challenge Gomes and Allan.
This game seems like a good one to see what the future could hold, to play on the front foot with pace and endeavour.
Dale Rose
25
Posted 08/01/2022 at 08:45:59
John #22.
Interesting team. Ideal for this game.
David Bromwell
26
Posted 08/01/2022 at 08:58:28
Yes I agree with Luke and although I think Godfrey is a very good player I too don't see him as a centre back. Bizarrely I think his best games have all been at left back, when he has been played " out of position ". To my mind he should be played as a defensive midfielder just in front of the back four. This would go some way to solve our light weight mid field problem but leave us short at the back if Branthwaite is still injured. One way and another this is looking like a tricky fixture.
Eddie Dunn
27
Posted 08/01/2022 at 09:17:26
Anthony @ 20, Iwobi is with the Nigeria squad.

Nick Page
28
Posted 08/01/2022 at 09:20:42
I'm going for Hull 3-1 Kenwright FC
But it's ok as Sharpey is a NED now, strategic review over, problems solved.
Ajay Gopal
29
Posted 08/01/2022 at 09:23:52
I used to hate Moyes for being overly cautious with his team selections. But in hindsight, he handled Baines' introduction into the Everton team perfectly. He played Lescott at LB while sitting Baines on the bench for almost the entire season. And Baines turned out to be one of the best LBs for Everton ever. Not saying Benitez should follow the exact same path, but I am in agreement with Michael (7) - give these 2 new full-backs the best opportunity to succeed. This season is already a write-off - most of us would be happy if we stave off a relegation battle and end up mid table if it means that we have laid the platform for a more competitive team next season. Both Mykolenko and Patterson should gradually be groomed and eased into the 1st team. If they are both regular starters by the end of this season, that would, in my books be good progression.
For the Hull game, I would be very surprised if Benitez went gung-ho and played both new full-backs from the start. Probably, Mykolenko may start at LB and Kenny at RB with Patterson getting some time later if the team is leading.
Tony, I don't think Branthwaite is still ready to play because I did not notice him in the training video put out by the club yesterday (surprisingly, Digne was training normally with the rest of the team!).
Pickford
Kenny Godfrey Keane Mykolenko
Doucoure Gbamin (or Gomes) Allan
Gordon DCL Gray
SUBS: Patterson, Coleman, Holgate, Gomes, Rondon, Dobbin, Simms
David Dumphy
30
Posted 08/01/2022 at 09:24:42
Been watching Everton since 1980. the only thing left is the fans.

Mick O'Malley
31
Posted 08/01/2022 at 09:33:52
Nothing in that press conference yesterday about tactics or squad availability, how he was going to arrest the slide towards the bottom or how we are taking the cup seriously, no just another egotistical load of nonsense and a character assassination on Digne, but he won the CL 16 years ago so he is defo the man for the job, Benitez out!
Danny O'Neill
32
Posted 08/01/2022 at 09:36:10
Rob, you're marching across the M62 then. Past the White Rose of Yorkshire and Red Rose of Lancashire stones on the "border". Past the Farm House, which, according to folklore, the owner refused to sell when they built it, so the motorway splits, leaving it as an island in the middle between the east and west lanes.
Bring back the 4th round and us being one step closer to Wembley.
And Europe.
Eddie Dunn
33
Posted 08/01/2022 at 09:36:44
Being positive (for a change), this game is a big opportunity.
Go there and win by three goals and the team will have some confidence for the important PL games next week.
We will see how "together" the team is.
The arrival of the new lads is bound to help the morale, and Rafa has made it clear that it is his way or the highway.
I noticed the training video showed all the lads applauding each other before their warm-up run yesterday, so perhaps the squad is in better fettle than we think?
As for Digne. I have been as frustrated with him, as he has been with the tactics of late.
Last season, he was no longer taking free kicks, and I wondered if he had an underlying foot problem.
His main contribution has been his assists. Defensively we have always seen him struggle positionally. I can recall Coleman having to switch right across the backline to clear balls while Luca was still jogging back.
Chelsea won't take him - I think he will go abroad.
Onwards and upwards.
Today we could see us turn the proverbial corner.
On the other hand. If we lose, then morale will be shot and I expect Rafa to be removed.
Plenty at stake.
Anthony Flack
34
Posted 08/01/2022 at 09:44:51
Docoure was shocking against Brighton I'd probably start Gomes
Peter Neilson
35
Posted 08/01/2022 at 10:10:23
The myth(?) I was told as a child was that the M62 farmer was the inspiration for The Beatles Fool On The Hill. Right or wrong another generation now knows this gem.
Rob Halligan
36
Posted 08/01/2022 at 10:13:55
No problem Danny. See you at Wembley. And if I happen to have a spare ticket, and you're struggling to get one, don't worry, you'll be top of the list!
Ian Bennett
37
Posted 08/01/2022 at 10:21:32
Pickford (he play Begovic)
Patterson (he will play Coleman)
Mykolenko (he will play Kenny)
Godfrey
Keane
Allan
Doucoure
Gomes (he will play holgate)
Gray
Dobbin (he will play the tree)
Gordon
2 losses in the a couple of days, and he's gone. You cant be losing to bottom of the championship during one win in 12.
Steve Little
38
Posted 08/01/2022 at 10:29:42
Sometimes typos are very prescient. We could certainly do with adding Vitality to the side.
Denis Hignett
39
Posted 08/01/2022 at 10:42:36
Just don't play Holgate!
Dave Williams
40
Posted 08/01/2022 at 10:47:37
It all depends on how the young lads have shaped up in training. Do they look ready or are they a bit tentative? The sooner we can play them both alongside Branthwaite and Godfrey the better. Godfrey will be a fine CB once he is given a run in that position alongside a regular partner with two full backs with height, pace and aggression. As a former CB myself I would hate to play with Seamus and Digne as they are both vulnerable to pace, to the high ball over their head and Digne in particular is slow to recover his position after venturing forward( which is surely why Rafa wanted him to play deeper and caused the dispute between them).
Some have said this game is a free hit which I can understand in terms of there being no points at stake. That said if we lose it will pile more pressure on him- he will be blamed for not playing the new lads or if he does, he will be blamed for playing them too soon after signing them.
I think we need Ben in central defence and I'd play Keane to use his experience to settle the full backs down- Keane should enjoy playing against a lower division attack likely to be direct in their approach. I'd gamble on the new boys because we need them ready for the league games next week and the alternatives would give us a very shaky defence. Simms did very well against championship defences last season and Gordon is on such a high that he has to start. I'd like to see Onyango given a decent run out maybe later when we are a few goals up( well I am allowed to dream aren't I??!!).
Pickford
Patterson Godfrey Keane Mykolenko
Allan Doucoure Gomes
Gordon Simms( or Dobbin) Gray
Barry Hesketh
41
Posted 08/01/2022 at 11:03:05
We won't suffer from any controversial VAR decisions today, as Hull doesn't have the facilty, so we'll have to hope it doesn't have the same conclusion that was seen at Millwall a few years ago, it's all down to Andy Madely today. If the scores are level at 90 minutes there will be Extra-Time, followed by penalties if required.
Hopefully whichever players are sent out, they'll show enough to get through, but my spidey senses say we're in for another roller-coaster match, and the issue will be can we convert the few chances that we are likely to create and more importanlty can we keep a clean-sheet.
Remember when the FA cup used to get us all excited, now it fills quite a lot us with dread.
Steve Shave
42
Posted 08/01/2022 at 11:20:11
Myself and others have wanted to see a youthful backline for a while - given how shit our defence has been this season. What better opportunity to play Patterson, Godfrey, Brainthwaite and Mykolenko together? See if they stake a claim, show Keane, Holgate and Coleman what they have been missing this season.
A risk, yes, but I bet the hunger and desire would be there though and my word have we been missing some of that these past years. Go on Rafa, please!
Steve Shave
43
Posted 08/01/2022 at 11:28:52
Dave @40,
I like that line-up too!
Kim Vivian
44
Posted 08/01/2022 at 11:36:18
I'm simply hoping, whoever plays, that we just come out and at them, eyeballs out, like we seriously want to win. Bang in a bagful - 3 or 4 - and stick one on all the media who are hoping and praying for an upset (I won't say giant killing because that is overstating it a bit from our point of view.)
So - 4-0 this evening, and I don't mind if Hull can grab a consolation.
COYFTs
Anthony Flack
45
Posted 08/01/2022 at 11:38:56
Doucouré was shocking against Brighton. I'd probably start Gomes.
Len Hawkins
46
Posted 08/01/2022 at 12:05:08
I'd play the new lads – when is a good time to play them?
Kendall came from Preston where he had been a revelation at 17. It took him ages before we started seeing the player we all came to love. Joe Royle, 16 when he was brought in... if they are good enough then they are old enough.
We all have our own theories but it is down to Benitez and, after all, the youngsters and newbies can't be any worse than our first team "stars". If you were training with the first team and watching some of the dross from the sidelines, it's no wonder they clear off if they can't get in this team.
Gary Willock
47
Posted 08/01/2022 at 12:09:26
In the absence of Branthwaite, the team that Dave @40 suggests is the one I'd like to see as well. Reckon it's most fans' desired set-up, so Rafa won't do it, so he can show who's 'in charge'.
Reckon it's more likely to be:
Pickford
Coleman Holgate Keane Godfrey
Allan Doucouré
Townsend Gordon Gray
Rondon
Townsend will go off after about 70 minutes, 40 minutes after he started struggling with the injury he shouldn't be back playing from. Gomes and Kenny will come on, with one of the new boys added only in the unlikely event we're cruising.
Hope I'm wrong… but one way or the other, Rafa will again frustrate us and puff out his chest knowing the number he's done on Moshiri leaves him safe regardless.

Bill Griffiths
48
Posted 08/01/2022 at 12:31:01
I'd go with the same side as Dave other than I'd start with Jon jo and bring on Patterson later on.
Think we'll win by the odd goal, COYB.
Derek Knox
49
Posted 08/01/2022 at 12:38:34
Rob, 14 & 17, Safe Journey mate, going by car, that's a pint out of the window before or after ! Be our talisman today !
Barry Hesketh
50
Posted 08/01/2022 at 12:53:03
As a backdrop to today's important FA Cup tie, 'Toffee for Tea' sets out his thoughts on Moshiri's time as owner of Everton Football Club, I'm sure there will be plenty more of these type of blogs as Moshiri's sixth anniversary approaches.
"Your honour and members of the jury, I call on you to find Mr Moshiri guilty as charged of dereliction of duty as owner of Everton Football Club. I call on you to demand that he sell up and leave Everton Football Club as quickly as possible, before the damage he is causing such a great institution becomes terminal."
Dale Rose
51
Posted 08/01/2022 at 13:03:15
We will win this 3 nil.
Peter Carpenter
52
Posted 08/01/2022 at 13:11:23
Just got a whisper about the team news. Begovic in goal, Pickford at left back, Calvert-Lewin dropped for failing to stand to attention in front of the new double life-sized portrait of the Dear Leader which was installed at Finch Farm yesterday.
Alan J Thompson
53
Posted 08/01/2022 at 13:21:08
Both these full backs have represented their country so a game against Hull shouldn't be too much for them. Or where they just in their national squads until ready to take on Brazil?
Derek Knox
54
Posted 08/01/2022 at 13:29:16
Barry, good article and thanks for posting the link. The trouble is in our very odd set up, I would have no qualms with Moshiri should he sell up, but for BMD !
Assuming a new Buyer/Owner came on board, would everything just carry on as is/was, with regard to BMD ? I know we would all (well, nearly all) embrace a Board reshuffle, (about as much use as an Ashtray on a Motorbike) like 'Manna From Heaven' by the Israelites !
The Transfer List made an interesting reminder of just how profligate the Club has been, out of all the Players listed very few have been worth it (in today's crazy World of Fees) notably Pickford, Richarlison, Branthwaite and Mina (when fit) and more recently Demarai Gray and Townsend (free), the rest is made up of donkeys and below par journeymen. I suppose you could argue that, (ignoring the Fee) Sigurdsson until recent events was a decent (ish) player.
Jay Wood
[BRZ]
55
Posted 08/01/2022 at 13:31:05
Whatever this game is it most certainly is not a 'free hit'.
It is absolutely a 'must win' game.
For the club. The owner. The team. Individual players. And us, the fans.
Lose this and the manager is deep, DEEP in the do-dah.
Peter Neilson
56
Posted 08/01/2022 at 13:37:49
Jay, sadly that's what it should be but I think it's only a must win game for us, the fans. The club and Benitez will continue tomorrow as is, regardless of the outcome. Here's to a win and in the hat for round 4.
Ian Pilkington
57
Posted 08/01/2022 at 13:38:32
Danny@32, Peter@35
The M62 carriageway was split at Stott Hall Farm due to the topography; there is a similar section on the M6 between Tebay and Shap.
The farmer simply stayed on when the motorway was built and his descendants still live there.
"The Fool on the Hill" was recorded in 1967,
well before construction work began.
Geoff Lambert
58
Posted 08/01/2022 at 13:41:13
I would much rather bed them in against lower league opposition than an important premier league match.
If Coleman or Godfrey or god forbid both get injured today they will be thrown in at the deep end on Tuesday.
Michael Williams
59
Posted 08/01/2022 at 13:43:17
Ian 21 - :We should put the strongest team out there possible and take the competition seriously."
As I mentioned above I leave open the possibility that Mykolenko may benefit from a run-out this week, maybe even a start. What more do you want?
What I'm not willing to do is say the new ones must start. If there ready then sure. Why? Because we need to start thinking like a real organization. It's more important to put the development of players over this FA Cup game. Part of helping a player achieve success is putting them in a position to succeed.
Look at the flip-side. What if they are not ready and they start? What if one of them gets chewed up and spit out - costs us a goal? All of a sudden you have a youngster, in a new country and club, low on confidence, That takes even more development time and kid gloves to work back from.
We don't know if the players are ready? We don't know if the new players think they are ready. Let's take the time to develop these players the right way start getting it right. And let us all be patient when they make mistakes, even big ones, because they will.
Peter Neilson
60
Posted 08/01/2022 at 13:50:29
Ian thanks, I know the Beatles link is wrong just been passed down in the family for 50 odd years. Can't beat some urban myths. Gets repeated every time we pass it.
Eddie Dunn
61
Posted 08/01/2022 at 13:50:56
Jay- I also think it is a must win. The problem is, does Rafa consider this game a way to get some momentum back, and thus field his strongest eleven. Or despite his press conference musings on the fans and the club wanting a win, does he really rather prioritise the Leicester game instead?
If he fields a weakened side and we lose, then even more pressure will load on the Leicester match.
I would go for the win.

Sam Fitzsimmons
62
Posted 08/01/2022 at 13:51:24
Michael Williams 59, most sensible post of the day so far.
Peter Carpenter
63
Posted 08/01/2022 at 13:54:35
Olise of Palace. What a good player. He's the kind of player we should have signed.
Dave Abrahams
64
Posted 08/01/2022 at 13:58:27
Dave (40), not a bad selection and I'd play Keane as you suggest but if you expect him to settle the new players in I think you are expecting far too much, at twenty eight years of age, an English international, he still needs someone along side him to help him settle down.
Dave Abrahams
65
Posted 08/01/2022 at 14:00:35
Sam (62), I second that to go along with a few posts that Michael has sent in recently.
John Keating
66
Posted 08/01/2022 at 14:02:29
If Mykolenko and Patterson are not able to be picked to play against Hull then we're up shit creek.
He certainly can't pick Coleman today and a few days later against Leicester, so it'll be JJK or Coleman for either one or both games.
Godfrey will then be LB for both games
Play the young lad's
I'd sooner have a 100% Dobbin playing creating havoc up front than Rondon
Geoff Lambert
67
Posted 08/01/2022 at 14:15:22
Is Branthwaite still injured?
Not showing him as injured on the OS!!
Matthew Williams
68
Posted 08/01/2022 at 14:16:55
I'm fearing the worst as our current Gaffer doesn't do cup ties and Hull will be up for this one in front of their home fans,add in the fact that it's being shown live on the Beeb too.
If we can get Gray and Flash on the ball as much as possible,then we have every chance of getting through this one,I'll still be watching through me fingers though and no doubt Picks will be a busy boy today!
COYB
Joe McMahon
69
Posted 08/01/2022 at 14:20:50
Mathew, we won't win the FA Cup, we never win anything anymore. I'm not celebrating Benitez, but you say he doesn't do cup ties. He's won the Europa Cup and the FA Cup. I don't count the fluky Championship League.
Jonathan Tasker
70
Posted 08/01/2022 at 14:21:53
We will win the FA Cup this season.
We will defeat Brighton in the Final.
Anthony Gordon will score the winner.
Mick O'Malley
71
Posted 08/01/2022 at 14:24:13
Michael Williams, do you want to watch Coleman blowing out if his arse again, both new players are internationals and must start if they can't handle a game against one of the lowest scoring teams in the championship then they may as well fuckoff back we're they come from, I for one never want to see Coleman starting again, he has been a liability this season
Derek Knox
72
Posted 08/01/2022 at 14:32:41
Irrespective of what team he selects, I don't get this prioritising aspect, in my book, (which doesn't count for a lot in the grand scheme of things) the Team should be going out to Win every game, no matter who the opposition is.
This playing for a draw, or damage limitation is a very negative, and an extremely dangerous attitude. Winning games does breed confidence, whether it is against top or bottom.
Will Mabon
73
Posted 08/01/2022 at 14:34:03
I tend to go with the mix it up a bit angle. Take a chance, break the spell. It worked recently, did it not. Against strong opposition.
Sam Hoare
74
Posted 08/01/2022 at 15:01:07
Olise looking tasty for Palace today. Might have got him and Livramento for £14m combined this summer and sorted out the right flank for a decade. Not that we had the money to spend but great bargains.
Ray Roche
75
Posted 08/01/2022 at 15:01:49
Jonathan, are you alright? There is a degree of positivity about your post that leads me to suspect that your ID has been hacked.
Jay Harris
76
Posted 08/01/2022 at 15:28:43
Leicester looking pretty formidable against Watford. As soon as I say that Watford just scored 2-1 at the moment.
Christy Ring
77
Posted 08/01/2022 at 15:46:49
I don't know if Benitez will start our two new full back's today, if not he should start Digne our only left back, the club is bigger than Rafa's ego. This is a game we need to win, he has to play three in midfield. He can't make the same mistake, by playing five at the back, which gave away our attacking threat against Brighton, which Peter Reid said, he couldn't believe. His tactics, team selection and substitutions have been one of the reasons we've won 1of 12, and ironically that win against Arsenal, he played an attacking team, Gomes came on turned the game, and he got 3min's against Brighton.
Tony Waring
78
Posted 08/01/2022 at 15:51:25
Sam (74) I echo your thoughts on Olise. Great pace and trickery and his left foot is desirable ! Great goal - where were our scouts when he popped up ?
Derek Knox
79
Posted 08/01/2022 at 15:54:09
Ray @ 75, I thought that too, I even checked to see if BMD ' not or never happening ' was true as well, but at the last recent check, the Dock HAS been filled in and progress is going well. Phew ! :-)
Jonathan Tasker
80
Posted 08/01/2022 at 16:01:52
Ray
I'm fine
Thanks for your concern
Billy Roberts
81
Posted 08/01/2022 at 16:06:45
Matthew Williams #68
Benitez doesn't do cup ties?
Besides the Uefa Cup twice, the FA Cup, The Italian Cup, The Champions league, then the one offs... Fifa World club Cup, the Italian super Cup, The uefa super Cup and the charity shield. you are absolutely spot on!!

David McMullen
82
Posted 08/01/2022 at 16:08:20
Come on let's win this blues no civil war we need to pull together.
Paul Birmingham
83
Posted 08/01/2022 at 16:10:10
This is a massive game foe EFC.
Play the best available starting 11, in their best suited positions, and beat Hull City.
Ray Roche
84
Posted 08/01/2022 at 16:12:52
Jonathan, glad to hear it👍🏻
Jay Harris
85
Posted 08/01/2022 at 16:19:20
David #82,
That is so apt st the moment. We do all need to pull together and stop this negativity. Let's rise from the ashes and worry about the manager later.
David McMullen
86
Posted 08/01/2022 at 16:23:24
We need a CI5 performance.
Alexander Murphy
87
Posted 08/01/2022 at 16:24:29
David
"Come on let's win this blues no civil war we need to pull together."
These last 27 years have taught ME that it's Blues like YOU that want jolliness.
I want success.
IF that's unjolly of Me then tough.
Are you really Bill Kenwright ?
David McMullen
88
Posted 08/01/2022 at 16:29:42
Oh Mr Murphy you could not be further from the truth.
From being brought up on 2 title successes and FA Cups I know exactly what I want our football club to be. I also know we need to be united to win games and maybe even win the cup. Thanks for the inference but Billy blue has more money in his kecks than I will ever have. Welcome to the party pal
"These last 27 years have taught ME that it's Blues like YOU that want jolliness."
Is the most laughable thing i've heard in my life!
Robert Tressell
89
Posted 08/01/2022 at 16:33:19
Michael #59. Very sensible comments. Whether a player succeeds is down to the club and the player. It'd be. Great to see our new signings but being chucked in at the deep end will work for some but not for others. They're not robots.
Also agree about Olise. Very gifted player and no surprise he's now performing for Palace.
---
Add Your Comments
In order to post a comment, you need to be logged in as a registered user of the site.
Or Sign up as a ToffeeWeb Member — it's free, takes just a few minutes and will allow you to post your comments on articles and Talking Points submissions across the site.