Transfer Deadline Day
Monday, 5 October, 2020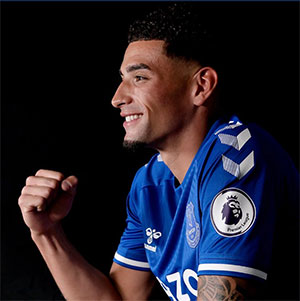 Ben Godfrey's move from Norwich was confirmed today
Everton saw two come in and two go out on what was a fairly eventful deadline day as Ben Godfrey completed his move from Norwich and Robin Olsen was drafted in on loan from Roma.
Godfrey's £25m move from Carrow Road was confirmed earlier in the day after he successfully came through a medical on Saturday and put pen to paper a five-year contract.
Then, after Jordan Pickford's latest blunder ultimately against Brighton on Saturday, Marcel Brands and Caro Ancelotti moved to address the goalkeeping situation by signing a goalkeeper capable of providing genuine competition for the England international.
Reported approaches for Roma's other back-up goalkeeper, Pau Lopez and Tottenham's Paolo Gazzaniga came to nothing, as did a move for Manchester United's Sergio Romero after the Red Devils reportedly refused to do business with a club they now consider rivals for European qualification this season.
That prompted Brands to move on to Swedish international Robin Olsen, also at Roma, and his arrival was announced right on the deadline.
Meanwhile, speculation around Theo Walcott's future ramped up in the morning with his former club, Southampton, eventually announcing his signing on loan with the clubs sharing his £110,000-a-week wages. Newcastle, Norwich, Burnley and Crystal Palace were all said to be interested as well but he waived certain bonuses owed to him by the Blues to return to the south coast.
Arrangements to terminate Sandro Ramirez's contract before it expires next summer ended with Huesca in his home country of Spain signing him on a permanent basis right before the 11pm deadline.
Bernard, meanwhile, emerged as a potential target for Roma, either on loan or in a £7m transfer, but ended up staying put, with the Liverpool Echo reporting that he was assured of his place in Ancelotti's plans this season.
Yannick Bolasie, already informed by the manager that he has no place in the first team this season, had been linked with a potential move to Greece or Turkey bur remains an Everton player, as does Muhamed Besic, although the domestic window for transfers between the Premier League and the Championship remains in place for the next 11 days.
Moise Kean's departure for Paris Saint-Germain yesterday meant that Brands had a potential vacancy in the forward line to fill but talk of Arkadiusz Milik and Fernando Llorente came to nothing. There have also been reports claiming interest from Everton in Bournemouth's Josh King who would likely relish the opportunity to return to the Premier League following Bournemouth's relegation from the top flight in July.
---
Reader Comments (430)
Note: the following content is not moderated or vetted by the site owners at the time of submission. Comments are the responsibility of the poster. Disclaimer
Paul Kernot
1
Posted 05/10/2020 at 05:48:04
Come on Carlo. Just a bit more magic. I know we can't really expect anything more than you've already done in this window but with Kean leaving and Pickford looking more like Coco the clown every week. Well, you know the rest.
Jamal Paktongko
2
Posted 05/10/2020 at 05:50:30
I think we can still use Besic as cover for CB. All he needs is game time and he will be at his level best.
And I am not worried about Allan getting injured anymore cause we have Davies.
What we really need now is a cover for Calvert-Lewin. Big mistake for us not to get Lookman back. The commentators were saying Fulham grabbed the initiative when Lookman came on.
We spent £25 mil on a talent that is inferior to Lookman when Lookman was already in our arsenal for free.
Also, how about getting Deulofeu back as cover?
Paul Hewitt
3
Posted 05/10/2020 at 06:22:14
Godfrey and a striker on loan. That's all I can see happening.
Paul Smith
4
Posted 05/10/2020 at 06:27:53
Echo reporting we are not looking to sign a striker today. Richarlison can play through the middle and Cenk Tosun is almost back in contention. Even mentioning Walcott as a possibility if he stays.
Brian Murray
5
Posted 05/10/2020 at 06:50:21
The next few hours will define our season and it will all be unravelled without a top or even adequate goalie. It would be a travesty.
Tony Hill
6
Posted 05/10/2020 at 06:56:55
Paul @4, that would be a heck of a risk. I actually quite like Tosun but could he fit in to Carlo's way?
Paul Smith
7
Posted 05/10/2020 at 07:05:13
I agree Tony seems a bit careless to me.
Andrew Ellams
8
Posted 05/10/2020 at 07:08:44
I actually think Tosun's style would fit well into the current formation as direct backup for Calvert-Lewin. He's definitely a penalty box striker.
Unfortunately I don't think he's got the quality we need.
Stephen Campbell
9
Posted 05/10/2020 at 07:15:13
Someone experienced like Troy Deeney from Watford would be great cover up front.
Tim Constable
10
Posted 05/10/2020 at 07:34:28
Jamal, I always liked Lookman and wanted him to be a success, but he has gone now and I'm not sure a return would good for him. I think he was always going to return to a London club.
Deulofeu is injured until November, he struggled to see out 90 minutes before his injury. It would be a risk taking him back now.
Andrew Ellams
11
Posted 05/10/2020 at 07:45:09
Jamal, who is the talent inferior to Lookman that cost £25million?
Lookman is another show pony who's not as good as he thinks he is. Football is full of them these days.
Kevin Prytherch
12
Posted 05/10/2020 at 07:46:58
Tosun always looked lost when trying to chase back and play down the wings. The general consensus was that his main attribute was finishing. In the current Calvert-Lewin role, his main job is finishing. Tosun might be decent cover.
When is he back from injury?
Sam Hoare
13
Posted 05/10/2020 at 07:57:31
Tosun was a decent striker before his injury. Not someone to run the channels necessarily but a good finisher.
Having said I'd take Josh King happily. He's quick strong and can play in any of the forward three positions. He gets goals too.
I expect it will be just Godfrey in today.
Steve Ferns
14
Posted 05/10/2020 at 08:01:22
King would only cost £10m. Surely we can find that?
Derek Knox
15
Posted 05/10/2020 at 08:10:21
I just wonder that if events, not only over the week-end, and our undefeated start will have any influence over decisions. They always say it's better to reinforce when you are in a strong position.
Have been reading that we may be interested in a Goalkeeper, possibly initially a loan deal, Pau Lopez. Also Milik and Llorente, who we are being constantly linked with recently.
Still harbour remote hopes that Romero and Lozano, could surprisingly appear before the Window closes. Still it will be exciting over the next few hours to see what does actually happen.
Neil Bowman
16
Posted 05/10/2020 at 08:10:25
Carlo said in the pre BHA presser that there might be a few surprises and I've heard Lorente and Lozano being linked so you never know...
Re Championship players, doesn't the internal market close on 16th? Maybe King et al later on as back up if one of the above doesn't come off today.
Andrew Ellams
17
Posted 05/10/2020 at 08:18:42
Yesterday Napoli were unable to play their game with Juve because the whole squad was locked down. It's going to be tough to do any deals with them today.
Ernie Baywood
18
Posted 05/10/2020 at 08:22:40
I would have thought there's a striker at either end of the age spectrum. ie a young fill in who can start to develop, or a veteran.
The alternative is to look for another winger / striker type who can either fill in or allow Richarlison to fill in.
I don't think we can expect Dom to carry the load all season on his own. Nor James and Richarlison for that matter. Iwobi and Bernard can fill in, and Gordon should get some minutes, but I stillthink we're one light in the attacking areas.
Honestly, whatever happens I can't complain about this window. But we always want a bit more right?!
Derek Knox
19
Posted 05/10/2020 at 08:23:21
Neil, there is some exception this time around between the Premiership and the Championship till the 16th as you mention but not sure if it is two-way. Would appreciate some clarity from those who know more about what the Rule is.
Robert Tressell
20
Posted 05/10/2020 at 08:29:03
Godfrey plus some loan cover up front would be great. Without the cover we are light. I wonder if they see Simms getting into his stride at U23s level and being raw but ready if called upon. He's clearly an excellent finisher and a big unit.
Tosun isn't a bad player, he's just limited. If faster, more mobile players are delivering the ball into dangerous areas then he will score goals.
As for Walcott, he doesn't look interested anymore. Can't imagine he's the answer (unless the question is who is our next departure?)
Neil Bowman
21
Posted 05/10/2020 at 08:33:49
Derek@19
From BBC...
The window officially closes at 23:00 BST on Monday, 5 October - though a domestic-only window will continue to run until 17:00 BST on 16 October.
Peter Bourke
22
Posted 05/10/2020 at 08:36:48
Jamal, the likes of Lookman and Delafou are simply know where near good enough for this New Everton squad. Everton under Ancelotti are way too ambitious to be going back to hot and cold performers like those 2. This is a new era and Evertonians have to get used to thinking Big!!
Neil Cremin
23
Posted 05/10/2020 at 08:38:06
I agree about Tosun, Didnt look impressive in the role he was asked to play but neither did DCL although he is more mobile. I think Tosun would be a trade of like for like in the current formation.
Still need competition in goal as I fear in tight games we are in serious risk of dropping points.
Martin Berry
24
Posted 05/10/2020 at 08:43:46
Remember what Carlo said to DCL, I want you in the box to receive the ball not chasing down the wings. This philosophy applied to Tosun could be very interesting as his lack of pace often gets mentioned. I think he could score a lot of goals for us as a poacher.
Another striker like Josh King would be welcomed along with Peresic on loan thanks
Fran Mitchell
25
Posted 05/10/2020 at 08:59:26
We can still sign from the Championship up until the derby, so not too concerned about today.
The likes of Walcott and Sandro should leave today. The others will probably drop into the championship.
In terms.of backup striker. If Ancelotti is content with Iwobi, Gordon, and Bernard as back up for Richarlison, then Richarlison can act as back up to DCL.
Rob Halligan
26
Posted 05/10/2020 at 09:02:11
Ben Godfrey signs five year deal!!
Martin Reppion
27
Posted 05/10/2020 at 09:06:06
We really need to concentrate on shipping out what we don't need and finding a back up striker.
I honestly think that getting rid is the hardest part.
Walcott and Bolasie have already accepted that they are retired and are just ekeing out the pension.
Only Besic needs to go somewhere for the sake of a career.
Sandro? Nuff said.
Rob Halligan
28
Posted 05/10/2020 at 09:06:07
Southampton want Walcott.
Chris Locke
29
Posted 05/10/2020 at 09:06:52
Today could be a great day for Everton. Irrespective of who we bring in yesterday's results coupled with plenty of teams having little or no points will hopefully cause more panic.
We have the chance to sell our panic buys and deadwood to the desperate.
However the rest of the season goes this, is the most I have enjoyed watching Everton and the Premier League for many a season.
Roll on the 17th!!!!
COYB
Brian Williams
30
Posted 05/10/2020 at 09:08:41
Derek #19
We can buy from, or sell to, Championship clubs after today's window (wait for it)... slams shut!
Craig Walker
31
Posted 05/10/2020 at 09:10:54
Would love us to get Josh King and an experienced, reliable goalkeeper: Pickford is shakier than an Argos wardrobe.
The main thing is to get rid of the deadwood. If we could get rid of Besic, Bolasie, Walcott and Sandro, that would be massive progress in just one transfer window.
I'm not getting carried away, yet but the excitement comes from what Carlo could do with two or three transfer windows and a bit or momentum. When players see the likes of James and the new stadium plans with Ancelotti at the helm, they'll want to come to Goodison. It's a far cry from us being excited because we've bought some big 6 cast-offs or over-the-hill has-beens.
Exciting times.
Paul Griffiths
32
Posted 05/10/2020 at 09:13:42
The squad is still very thin to challenge for Europe or hopefully even better. I'm hoping to see some goings and a coming or two today.
Benjamin Dyke
33
Posted 05/10/2020 at 09:16:13
It would be good to see Besic, Bolasie and Sandro off the books today but I don't think it's going to be easy. I'd still like us to get Zaha as he can add a bit of magic when he's at his best. It would be good to get a striker in, someone experienced but again maybe like others have said Tosun is an adequate deputy in the new way we play. If Walcott leaves on loan who is James deputy? Iwobi?
Jon O'Dell
34
Posted 05/10/2020 at 09:18:57
Can't help but think Carlo has another surprise up his sleeve.
Godfrey I think will be a great signing and provides some versatility as can also play in central midfield. Can see him being a good backup to Allan or Doucoure.
Pickford is my only concern and needs decent competition.
Before the season started by concern was the left-back position but Nkounkou looks class!
We still need a striker though. Zaha, King (or maybe hijack the Cavanni to Man Utd deal?)
Derek Knox
35
Posted 05/10/2020 at 09:20:21
Thanks Brian @29, I thought I had read somewhere that players could go from the Premier League to the Championship, but not the other way!
Jon O'Dell
36
Posted 05/10/2020 at 09:22:31
Just offer Bolaise, Walcott, Tosun and a wad of cash to Woy at Crystal Palace in exchange for Zaha.
Michael Barrett
37
Posted 05/10/2020 at 09:24:07
A top keeper is one of the most important positions in a team.
Over to you, Mr Brands...
Eddie Dunn
38
Posted 05/10/2020 at 09:25:35
Josh King has pace, great tricks and is versatile and would be able to work on the wing or through the middle. I've always liked him and if it is only £10 m (as Steve Ferns mentions) then it's a no-brainer.
As for Cenk, once he is match-fit then the coaches will have a good look at him, but that won't be much before Christmas.
Simon Smith
39
Posted 05/10/2020 at 09:30:14
Walcott to Southampton on loan is being talked about.
Christian Konttorp
40
Posted 05/10/2020 at 09:31:58
As a Norwegian, I could gladly see Joshua King in blue! Even I would prefer Haaland. 😉
Derek Knox
41
Posted 05/10/2020 at 09:33:27
Rob @26&27, bet you shed a few tears yesterday as those goals were going in at Villa Park!
Tears of joy and laughter, you weren't the only one mate. :-)
Pete Williams
42
Posted 05/10/2020 at 09:43:34
Eddie #39, Tosun has an ACL which can be tricky and, as with Gbamin, something else usually goes twang when they start proper training again.
I hope we get a keeper and a forward in. This Lopez sounds OK and Llornte has been mentioned a lot. If we don't get anyone, we'll be light in two important areas. Fingers crossed!
Rob Halligan
43
Posted 05/10/2020 at 09:47:46
Derek, I don't think I've cheered for 20 goals in one weekend!! Our 4, West Ham's 3, Spurs' 6 and Villa's 7!! Unbelievable weekend.
By the way, how you feeling mate?
Justin Doone
44
Posted 05/10/2020 at 09:48:06
We have a GODfrey at the back and bringing in an experienced King to help attack would make sense.
He's a Richarlison type player. Good energy, pace, team work, strong, creates and scores goals. Proven in the Premier League and can play all across the forward positions.
Perfect back up / replacement to cover injuries, rotate the forwards, provide competition to keep everyone on their toes.
Far better and more reliable than Kean, Walcott or Bernard who have all failed in the winger / forward roles.
Ajay Gopal
45
Posted 05/10/2020 at 09:52:41
I have a sneaky feeling that Everton will do a swap deal with Palace - Zaha for Bolasie plus £20 million. You heard it here first!
Sam Hoare
46
Posted 05/10/2020 at 10:01:29
Rodriguez, Allan, Doucore and Godfrey for around £60m. The same as Bolasie, Williams and Klaassen combined cost!
It's already been a fantastic window I think. A sensible loan or £10m for King would top it off but I suspect we may be done for the day.
Tony Everan
47
Posted 05/10/2020 at 10:01:32
I think we will get a forward in as has been said , Carlo has alluded to there being a surprise in store. This possibly means he has done some groundwork with a forward he knows or he has worked with.
Napoli will want to sell Milik rather than him going on a free so that's possible.
Llorente would only be a stop gap for a year, for back up and sub. 35 but he has some quality and scores. Probably the most likely to sign him for a year then maybe Milik on a free, pre contract signed in Jan. Would be cheeky business.
Josh King would surely jump at the chance, great to have that pace as an option for us starting or from the bench.
Lozano I think would love to come here too, so you can't rule out a loan with an option to buy next summer.
Walcott Bolaise and Tosun to Palace as makeweight for Zaha. Can't see Palace going for it though and we won't want to be spending too big. What about a loan for Zaha for a year with an obligation to buy? With one or two of our lads going the other way on similar arrangements.
Should be an exciting deadline day. It's fantastic we are in a strong position for a change and players will see Everton as a great move.

Derek Knox
48
Posted 05/10/2020 at 10:02:01
Hi Rob, Thanks I am back home now mate, but still don't feel right yet, I had to get out of there on a personal level to preserve what little sanity I may have left, and they needed the beds.
The Nurses were brilliant but the Doctors didn't seem to be singing from the same hymn sheets, and definitely NOT liaising with each other.
George McKane
49
Posted 05/10/2020 at 10:04:24
I love all things Everton, I love ToffeeWeb and the diversity of opinions.
Talking of diversity, there are some words that creep into our posts that, in my opinion, we should stop now:
Why do some people use the words 'rape' or 'rapist' in football comments? Very poor use of word...
And can we desist with the 'Woy' crap – I abhor skitting.
Let's just have "posso" comments on such times as these for Blues.
Jamal Paktongko
50
Posted 05/10/2020 at 10:05:54
I believe the way our midfield are playing, even Sandro and Tosun could start delivering goals. Maybe Carlo should test them.
I disagree on dismissing Lookman. I think he is a game changer and he is a good understudy for James.
Dave Abrahams
51
Posted 05/10/2020 at 10:06:32
We still need two or three players in. I'm hoping Lössl goes out, even on loan, so an experienced goalkeeper comes in.
Walcott, Besic, and Bolasie, along with three or four U23 players out, permanently or on loan.
I hope it is a very busy day for Marcel.
Rob Dolby
52
Posted 05/10/2020 at 10:08:29
Something doesn't add up with the Kean deal to PSG. If he can't get in our team, how is he going to displace Neymar and Mbappe to get first team minutes at PSG? Is it some kind of FFP dodge?
Is Simms ready to step into the first team squad? If not, we need to bring someone in to help up top.
Brian Murray
53
Posted 05/10/2020 at 10:13:33
Lössl is obviously neither use nor ornament... so loan or get rid, and any – and I mean any – competent tall commanding goalie is an upgrade. Great shout about Josh King as well.
Shane Corcoran
54
Posted 05/10/2020 at 10:18:04
Good Man, George. While not offensive, 'Manure', 'Spuds', 'Chelski' and all that shite seems a little schoolyardy for me.
Geoff Trenner
55
Posted 05/10/2020 at 10:21:20
Rob, perhaps Neymar or Mbappe are coming to Everton!
Brent Stephens
56
Posted 05/10/2020 at 10:23:12
Yes, George #49.
Derek Knox
57
Posted 05/10/2020 at 10:27:23
Hi George @49, you reminded me there of my being somewhat worried in Hospital, I remember getting wheeled past a door with a nameplate on it, Psycho the rapist! :-)
Ajay Gopal
58
Posted 05/10/2020 at 10:27:33
Koeman owes us big time... how about getting his help to hijack Man United's move for Dembele? Now, that would be a real coup.
I don't see any of our competitors helping our cause by selling or loaning out players to us. That is why talk of Sergio Romero coming in on loan is fanciful, IMO. I think that is what happened with Tomori – Lampard sees us a direct competitor, and decided he would not loan him to us.
So, Brands, having learnt lessons from the Zouma fiasco last summer, acted decisively and brought in Godfrey. If we don't sign anybody else, I would still be very happy with the business. We all want more – a cover for striker, a right-sided midfielder, a right-back backup, a goalkeeper to provide competition to Pickford, but we got to remember – Rome was not built in a day. It will take 2-3 more transfer windows to whittle down the squad.
As Jose Mourinho says, he is happy to work with a squad of 22-23 outfield players. Right now, I believe we are at 31-32, way too high for our own good. Plus, we are not playing in Europe this season.
I predict a lot of exits happening in the next 2 weeks to Championship or League One teams – players like Baningime, Onyango, Adeniran, Pennington, Connolly, perhaps Simms as well, and a couple of others.
Jim Bennings
59
Posted 05/10/2020 at 10:27:37
I can't see Josh King coming to play second fiddle to be honest even though I would love him here.
Llorente for the season seems to be more logical, 35 but experience crucial and would offer some quality off the bench.
Most likely we will see the Roma keeper on loan to challenge the juggler in goal and maybe a year away for Walcott at Southampton.
Let's wait and see.
David Ellis
60
Posted 05/10/2020 at 10:28:36
I think we need cover for Calvert-Lewin. Obviously Richarlison can play there but then we lose him from his best position. If both Calvert-Lewin and Richarlison were injured, we'd be in big trouble. Tosun would be okay as back-up but he's out for a few months. I don't know about Simms but no-one seems to be pushing any of the youngsters as being ready in that No 9 position.
An old-timer for a one-year deal would be fine as cover up front. Same in goal... a Pat Jennings like signing (in the '80s) would do the trick whilst we look for a long term solution to the Pickford conundrum.
Justin Doone
61
Posted 05/10/2020 at 10:32:32
Zaha is a good player and has definitely become a more consistent player over the last 3 seasons.
But I'm uncomfortable going after a player that would demand a big fee, big wages and has many question marks over his attitude, maturity and work rate for the good of a team.
I would prefer King who has proven to be a team player but appears to have a better attitude and decision making using his ability and skills on the ball at the right time.
There are other players out there of course. Olly Watkins has proven good young players from the Championship can adapt quickly to the Premier League. He reminds me of Calvert-Lewin only a better dribbler of the ball.
Paul Griffiths
62
Posted 05/10/2020 at 10:36:22
George @49 – glad you're on the mend, mate, and I fully endorse your comments. Pozzo waves worked in the semi in 1985 and will surely work again!!!
Stephen Vincent
63
Posted 05/10/2020 at 10:37:56
Jim #59, you make Pickford sound like a Batman villain "The Juggler".
Agree that Josh King is unlikely but would make more sense than Llorente who is just a slower, older version of Calvert-Lewin. King would at least give us a change of style off the bench.
Ray Roche
64
Posted 05/10/2020 at 10:38:02
David @60
I don't think Jennings ever played for us. Wasn't he just cover, if needed, for the Cup game?
Dave McDowell
65
Posted 05/10/2020 at 10:38:27
Ajay, unfortunately Bolasie plus 20 mil would only get us Zaha's left leg.
I'm expecting/hoping/praying for FWD, GK & RW.
Maybe Llorente on a 12 month deal with 1 year option as Carlo thinks he could do a job. He has Prem experience, just his age is the issue but as back up/impact forward he might be a short term solution.
Romero on loan has been muted for sometime.
RW - I'm hoping this is the deadline day joyful surprise.
James Marshall
66
Posted 05/10/2020 at 10:45:51
I still have a sneaking suspicion we'll be in for Milik before the day is out - reports now saying it's either us or Fiorentina
Kevin Prytherch
67
Posted 05/10/2020 at 10:57:52
Anyone think that, if the £10m for Godfrey is true and the Rodriguez on a free is true, Usmanov might have slipped a few backhanders somewhere so we still meet FFP regulations?
We seem to have suddenly got very smart in negotiating good prices!
Brian Williams
68
Posted 05/10/2020 at 11:07:29
Norwich have announced that what they've received for Godfrey is their record transfer so £10m is wide of the mark.
Tony Everan
69
Posted 05/10/2020 at 11:11:38
Kevin 67 , I've been thinking that too.

I think it comes under the heading of 'creative accountancy'.
Tony Heron
70
Posted 05/10/2020 at 11:13:10
I keep reading comments about Carlo's brilliant dealings in the transfer market, but surely it's Brands we should be praising. I'm not sure how the modern football management works in relation to transfers but I thought it was the job of the DOF to find and reccomend players who are available? Or does the manager say I want him, and then leaves it to the DOF to do the business?
John Reynolds
71
Posted 05/10/2020 at 11:17:04
The glaring need is for a decent, calm, reliable goalkeeper. He doesn't have to be the greatest shotstopper or the finest with the ball at his feet, just someone who goes about his job professionally without causing panic attacks in his defenders and every fan watching. One who doesn't commit a monumental error or misjudgement in pretty much every game.
Alex Gray
72
Posted 05/10/2020 at 11:17:20
Read a few sources saying no striker incoming. Surely thats risky with just dcl and richy as our only strikers?
Anyone got any crazy links? I can see us getting a keeper on loan and walcott, bolasie, sandro and besic all being loaned.
Chris Williams
73
Posted 05/10/2020 at 11:20:25
Some talk of agreement for Sandro's contract to be terminated.
Christy Ring
74
Posted 05/10/2020 at 11:22:17
Good to see Godfrey has signed, especially as he's a leftsided centreback. We still need cover upfront with Kean gone, and a winger with Wallcott on his way. I hope Carlo signs an experienced keeper, Pickford's confidence must be shattered.
Steven Astley
75
Posted 05/10/2020 at 11:25:12
Don't get the calls for Josh King. Not good enough in my opinion. Certainly no better than Kean or even Niasse!
Tony Everan
76
Posted 05/10/2020 at 11:25:39
Derek, George, hope you are both feeling a bit better, at least the football is a great tonic at the moment.
And George, with regards the use of the word 'rape' I wholeheartedly agree. Often people are searching for an expression but I think this is a word that cannot be used in any old descriptive way.
Bill Gienapp
77
Posted 05/10/2020 at 11:26:28
Jamal (2) - you're still going on about Lookman? Ask yourself *why* he's on loan at Fulham in the first place - it ain't because he was setting the Bundesliga on fire. Also, he didn't want to be here, so frankly there's no point dwelling on it.
Bill Gienapp
78
Posted 05/10/2020 at 11:28:45
Steven (75) - I'm pretty sure Josh King is better than Niasse.
Bobby Mallon
79
Posted 05/10/2020 at 11:31:38
Live forum please
steve lew
80
Posted 05/10/2020 at 11:32:29
Well well well...Monday morning 7-2 and very little if any news story in the red echo...had it been the other way you wouldn't have been able to carry an echo for the pages of glory..so if we say nothing it didn't happen not one of my kopite mates ha ha ha..have responded to my concern for them the lesser spotted kopite has flown the nest
Mike Doyle
81
Posted 05/10/2020 at 11:34:41
No point in rushing around signing sub-standard players who cannot be moved on - surely the Koeman/Walsh & Allardyce years taught us that lesson.
Painful as it is to acknowledge, Klopp put up with sub-standard goalkeeper and centre half until the quality he wanted (Allison & Van Dijk) became available. We should do the same - and it will take Carlo & Marcel a few windows to do it.
Barry Rathbone
82
Posted 05/10/2020 at 11:35:15
Tony Heron
Player recruitment should be a like Sean Connery's hair piece in "the hunt for red october" ie you can't see the join. In this case betwixt DOF and manager
The relationship appears seamless the signing of James being a stand out example of a manager knowing a player and the DOF getting it done.
Long may it continue.
Brian Hennessy
83
Posted 05/10/2020 at 11:44:05
We have done fantastic business in this window but I will be shocked and disappointed if we have left Kean go out on loan without adding a back up striker.
David Nicholls
84
Posted 05/10/2020 at 11:46:14
I think a right winger (Lozano please) would give us another dimension. In games where we are expected to dominate but need to break-down a stubborn defence, we would be able to sacrifice either Siggy or Gomes and move James into a classic 10 role.
Ernie Baywood
85
Posted 05/10/2020 at 11:46:23
Now do I spend the next few hours with Sky Sports News on in the background or not?
Doesn't quite feel like that kind of Everton Deadline Day but they've been pleasantly surprising me of late.
Tom Bowers
86
Posted 05/10/2020 at 11:48:03
The frailty of Richarlison has me worried.
He goes down a lot under tackling and Everton don't have any real class back up. Cannot see Tosun doing much when he is fit and Walcott just doesn't have it anymore.
Unless Carlo get's someone in on loan sooner than later then it may compromise the season.
James Marshall
87
Posted 05/10/2020 at 11:52:54
No real backup for DCL and Richarlison up top feels like a risk now if you ask me. Kean was never going to cut it at Everton, for one reason or another and having let him go on loan leaves us light up front doesn't it? It only takes an injury, and we're very light up front.
Tosun is injured (and rubbish), Walcott is likely to go to Southampton by the looks of it so who do we have to play in our forward 3 in the event of injury? Have I forgotten someone? The lesser spotted Sandro!?
Derek Moore
88
Posted 05/10/2020 at 11:55:11
It's not fragility I worry about in the case of Richarlison. I'm more concerned with the cynical nature of opposition managers, who seem to operate a policy of getting their charges to take turns kicking our brilliant Brazilian up and down the park.
But a game missed is a game missed. Are Simms and Tosun really going to be part of the answer or do we need a last minute insurance policy? Given our start, I'm really hoping for the latter.
What a truly odd year.
Brian Williams
89
Posted 05/10/2020 at 12:09:12
If Kean was never going to cut it how is him leaving on loan leaving us light?
If you're going purely on numbers then yes, maybe, but if the lad was as useless as some make out then surely that's little loss?
After the window we've had, which being honest none of us truly expected to be as great as it has been, are some now being a little unrealistic?
Steven Astley
90
Posted 05/10/2020 at 12:11:44
Zaha for Bolasie plus £30m incoming ( I bet )
Dan Nulty
91
Posted 05/10/2020 at 12:12:04
I'm presuming that Carlo thinks we can play Iwobi or Gordon on the left and DCL or Richie up front.
I do think that leaves us light. Hudson Odoi on loan would give us extra pace on the bench, there must be a striker out there we could get hold of cheaply or on loan, I wouldn't like Llorente. Its a nothing transfer
James Marshall
92
Posted 05/10/2020 at 12:14:06
Brian - exactly that, we're light on numbers up front now. The part about not cutting it is merely an opinion, rather than a fact.
If Kean had stayed, he was at least cover for DCl/Richarlison, even if my opinion on him was that he wasn't likely to do that well - better him as cover than nobody I would suggest but that ship has sailed so who covers if one of our first choice 2 gets injured? Richarlison is already injured!
Sam Hoare
93
Posted 05/10/2020 at 12:14:08
Steven@75, Josh King is considerably more useful than Niasse! 50 odd goals in 160 games at Bournemouth is a very decent return with quite a few assists too.
He's not top class for sure but works hard and adds pace and crucially could play any of the front three positions.
Don't think its gonna happen today but would be a really useful addition if it did I think.
Craig Walker
94
Posted 05/10/2020 at 12:15:29
Rumours that we're in for Zaha with Bolasie going the other way. Anybody heard anything else on this? Would be ecstatic if this happened and we could get a keeper in.
Tom Bowers
95
Posted 05/10/2020 at 12:22:55
After what happened this week in Football nothing surprises me anymore.
Just crazy results all round and who would have thunk it, RS going out of the Carabao cup and then Villa ?????? with Barklay nailing them also. Too good to be true.
However, one thing is true our beloved Blues are top dogs for at least two weeks. Let's all hope this is for sure the start of a new dynasty.
Nick Riddle
96
Posted 05/10/2020 at 12:27:51
@David Ellis no.60. Pat Jennings isn't in his 80s yet. He's only 75. But on balance I don't think he's the goalie to put pressure on Pickford.
Andrew Clare
97
Posted 05/10/2020 at 12:28:40
Whatever happens we have probably had our best window of the Premier league era.

Craig Walker
98
Posted 05/10/2020 at 12:53:50
Walcott close to securing loan move to Southampton. It gets better and better.
Pat Kelly
99
Posted 05/10/2020 at 12:54:44
Can't see any truth in the Bolasie plus cash for Zaha. We can't afford another £30m outlay without some cash coming in. And let's be honest, who would take Bolasie.
Kunal Desai
100
Posted 05/10/2020 at 12:59:45
Bolasies worth about two pence. Can't see any truth in the Zaha deal. I'd like us to go for Benrahma. Him and Watkins and Brentford were immense last season
Colin Malone
101
Posted 05/10/2020 at 13:01:49
Nick Pope would be the icing on the cake.
Nick White
102
Posted 05/10/2020 at 13:15:22
Pat, is that true that we have no more money unless we sell? Not saying it isn't but the club haven't said that unless I missed it?
Colin Battison
103
Posted 05/10/2020 at 13:15:34
Zaha doing the rounds on a few at the min, personally I think he would fit into our team perfectly, can play anywhere across the front, would love this to happen, also gazzanigia from spurs
Andrew Ellams
104
Posted 05/10/2020 at 13:26:15
Thing with Zaha is who does he start instead of? I don't see anybody like him coming in today. Best you'll see is somebody to fill Kean's place on the bench.
Tony Everan
105
Posted 05/10/2020 at 13:27:35
Walcott off to Southampton for his medical. We are apparently paying half his wages, so in effect we are paying 2m to move him on. Good to get his ridiculous salary off the books.
Llorente looks like he is off to Sampdoria so that's one less to speculate about .
Sam Bowen
106
Posted 05/10/2020 at 13:33:33
Trying to get Romero or Gazzaniga now. Encouraging news
Sam Hoare
107
Posted 05/10/2020 at 13:34:48
Highly doubt there is truth in the Zaha stuff. Palace would not have time to replace their star player.
If Walcott and Kean go without replacement then I think Gordon and Simms can see that as a big vote of confidence.
Fran Mitchell
108
Posted 05/10/2020 at 13:38:24
Except maybe a keeper on loan, I don't expect any imcomings today. Brands will be focussing on the outgoings of Besic, Walcott, Bolasie, and Sandro.
,
Then, maybe, we can move for a championship attacker. Sarr, Benrahama, King. Maybe.
Andrew Ellams
109
Posted 05/10/2020 at 13:40:07
I worry if we don't replace Kean we will be short. I'm sure Ellis Simms can do a stint off the bench but where do we go if God forbid DCL or Richarlison pick up a bad one?
Jim Lloyd
110
Posted 05/10/2020 at 13:41:49
Mike Doyle (81) I think you're spot on. Carlo is building a team and a squad. I can't see him just buying anyone that doesn't measure up to his and the DoF's standards.
My guess, for what it's worth, is that we will make use of a couple of loan players who he knows and can depend on for this season.
We're getting some of the unwanted players out, which is important and leaves us a bit of breathing room in the next window.
If I have one hope, it is that we get a decent goalkeeper in. Ours looks to have a flaw in his personality which is consistent. Makes an occasional brilliant save, but continues to cause mayhem in our defence.
Steve Ferns
111
Posted 05/10/2020 at 13:42:16
Sam, but if you rewind to before Pickford became a complete liability, you wouldn't have been encouraged at signing either. The spurs keeper has made his own errors, not least as shown on the amazon documentary. Sergio Romero is poor. He's not played regular football for over 7 years. Even then it was for AZ and Sampdoria. He's a perennial backup and comfortable with that. When he does play you can see why he's a backup. He's not good enough.
I'm not encouraged by either. They are simply not good enough and Pickford would only need to raise his game slightly to see them off. And I don't mean raise it from his best, just from where he is now.
Tony Everan
112
Posted 05/10/2020 at 13:42:22
Sam, I think you are right, they wont let him go anywhere without a worthy replacement. They said the same last year. I think they promised him a move this year but he is a year older and his form has been subdued last season until coming to life again especially against Man Utd. Clubs now wont pay what Palace want.
Palace are playing a blinder, they know they have a player that will keep them in the Prem and continually string him along then price him out of a move.
Ron Sear
114
Posted 05/10/2020 at 13:44:43
New Keeper ? From the BBC news website - "Everton are making a deadline day bid to sign a goalkeeper to put pressure on out-of-form England star Jordan Pickford - with Manchester United's Sergio Romero and Tottenham's Paulo Gazzaniga on their radar.
Manager Carlo Ancelotti insisted a new keeper was not a priority last week but Pickford's latest error in an injury-riddled spell, which cost a goal in the 4-2 win against Brighton on Saturday, has prompted a re-think.
Romero, 33, is third choice at Manchester United behind David de Gea and Dean Henderson and would welcome a move to Everton while Gazzaniga has been pushed down the pecking order by Joe Hart's arrival at Spurs."
Sam Hoare
115
Posted 05/10/2020 at 13:45:50
Andrew@109 Gordon, Iwobi and Bernard can cover Richie on LW. And Richie can cover DCL up front.
If we get really bad luck and lose them both then we have to give Simms some time maybe though Gordon is also capable of playing up front potentially or Iwobi at a push.
Losing them both would be terrible luck but I'd back Simms to acquit himself well over a few games. If we lost them both long term then we'd be in trouble.
Jim Lloyd
116
Posted 05/10/2020 at 13:48:21
Steve111, the problem with Pixckford, as you have just stated, is that he has become a complete liability. I'm not sure he can just raise his game, as the flaws do not seem due to him not trying or raising his game. He makes irrational decisions and I don't think that this will stop.
Soren Moyer
117
Posted 05/10/2020 at 13:50:31
Jamal, Besic is not a good footballer at all. A championship player at best. Very average.
Sam Hoare
118
Posted 05/10/2020 at 13:52:31
Steve F, both Romero and 'Gazza' are a step up on Lossl and encouraging as such.
It may have been a while since Romero was a regular keeper but he has a 100 caps for Argentina and has done alright most of the time that he has played for United.
I think he could be very handy for us. We just need someone who can do the basics soundly and make a few more saves than Jordan manages. If the arrival of Romero or Gazzaniga causes JP to raise his performance levels even a little then that would surely be a good thing? Marginal gains and all that? Currently it seems like he can get away with error after error due to the paucity of competition.
Tony Everan
119
Posted 05/10/2020 at 13:55:53
I think Carlo would not want to be so light in the forward department now that Moise Kean has gone. The Professor has got something up his sleeve, Milik in later?
Sam Bowen
120
Posted 05/10/2020 at 13:56:20
Steve, I'm encouraged because I really think Pickford is that poor. He's a decent reaction keeper when no anticipation or thinking is required but he's a total liability from distance, makes continuous howlers pretty much every game and doesn't command his box at all.

Romero has always looked pretty steady to me which is all I want. Just a calm keeper who you don't ever talk about. Even if he comes in as back up, at least there's a bit of a wake up call for Jordan. Some think that's all he needs but I think the problems are deeper that that with him.
Steve Hopkins
121
Posted 05/10/2020 at 13:57:44
At the very least there needs to be someone behind Pickford who can actually come in and replace him whether that be because he needs to be taken out of the spotlight to nurture him through a tough period or because his poor form means he needs to be dropped and forced to buck up his ideas. carrot or stick factor.
You only need to look at players like Davies and Sigurdsson to see the effect that healthy competition can have on a players form and level of effort. At the moment the alternatives to Pickford aren't worthy of the name
Jim Lloyd
122
Posted 05/10/2020 at 14:00:27
Sam Bowen (120) Seconded!

Derek Taylor
123
Posted 05/10/2020 at 14:00:30
Perhaps someone will tell us just how many points and games Jordan has cost us this season ?
Mark Taylor
124
Posted 05/10/2020 at 14:00:34
I think there will have to be a replacement for Kean. The jury in my view was still out on him as a striker, he never got a run of games. It is not out on the other existing candidates. We all know that Tosun, Walcott and Sandro are nowhere near the required level. I've always rated King, at least the equal of Wilson, and at £10m, that would be very fair value. Not only would he offer decent quality back up to DCL which I think is essential, not least for DCL's sake, but also some flexibility- he'd make a much better back up to Richie than Iwobi or Walcott or Bernard. James is not so easily replaced but he could even cover there, albeit not directly. And then, if injuries or tactics demand, I think he and DCL would make a handy front 2.
I would have thought some kind of GK signing will have to happen, it's not beyond possible the Pickford will mentally unravel given his pysche. That said, he was not alone in the goalie howler stakes this weekend.
Of course one always wants more but we did good business this window and let's not panic buy any more duds. The hard bit is shifting on the aforementioned duds. I suggested a week ago we'll probably end up buying Sandro out of his contract and that looks likely now. Realising anything for the likes of Walcott or Bolasie is unrealistic. Loan spells at best, no doubt with us picking up some of the inflated wages. Our CM also needs a re-look but I think that depends somewhat on whether Gbamin is ever going to play again at a high level, so that will have to wait.
Mark Dunford
125
Posted 05/10/2020 at 14:03:14
Besic and Bolasie both lost effectiveness after injuries. Gbamim could easily go down the same path but we didn't really see him. Sandro was never good enough and it remains a mystery as to why we signed him with so much accompanying hype. Tosun has rarely looked like an Everton player rather than the sort who was in one of manager-who-should -never-be-named's previous sides. Looks like Iwobi and Bernard will stay.
Andrew Ellams
126
Posted 05/10/2020 at 14:09:19
Derek @ 123, that's not the point. Ancelotti needs to be proactive and not reactive. The number of mistakes he's made just this season alone mean he's going to cost us points eventually.
Danny O'Neill
127
Posted 05/10/2020 at 14:09:34
With regards to the keeper, I've previously said I didn't think it was a priority this window given what our likely objectives this season were going into the new campaign.
Going into this weekend, I'd have said it depends where Carlo's head is with Pickford and whether his assessment has changed. Both in terms of Pickford's performances and the objectives given the start to the season by us and others.
Phil McNulty reporting we will go for a keeper today. He's normally very well read in and connected. If accurate, I wonder if it will be cover to put pressure through competition on Pickford or a replacement number 1?
Ernie Baywood
128
Posted 05/10/2020 at 14:13:10
I absolutely don't rate Kean, but all the messaging was that the manager and the club did. Plus we paid a lot of money for him.
Right now I think we'd be a little bit foolish not to bring in some cover.
Doesn't need to be a world beater, just an experienced player who could handle reduced game time in order to take a step up to us. From the names listed on this thread I'd say Llorente, Deeney or King would fit the bill. Even without injuries they'd get a fair bit of game time. Not exciting but I think necessary - unless we really think Simms is ready, despite there not really having been any signs of that faith in him to date.
Steven Astley
129
Posted 05/10/2020 at 14:14:14
Don't forget we have until 5pm on 16 Oct to complete domestic transfers. So Zaha or Benrahma or King don't have to come by this evening?
Alan Brown
130
Posted 05/10/2020 at 14:14:32
Having a back up striker isn't just a question of coping with injuries. We have covid to factor into the season. The international fixtures could be a melting pot for infection. Hoping that we have a replacement for Kean because that could be our silliest decision of an outstanding transfer window.
Mike Doyle
131
Posted 05/10/2020 at 14:15:37
Danny 127] Phil McNulty is well connected (he's also a blue - At least he was when I was at school with him).
Unless there is already a deal that was being worked on / in the pipeline I suspect it would be tough to get a top level keeper in at this short notice. I guess we'll just have to watch with interest.
Pat Kelly
132
Posted 05/10/2020 at 14:17:44
Nick, #102, I think it's a reasonable assumption, especially since we haven't recouped any funds on Kean. And none of the deadwood would bring in anything. It'll still cost us just to loan them out as we'll probably have to pay half their salaries.
Brian Williams
133
Posted 05/10/2020 at 14:17:53
Steven#129.
We can't buy from, or sell to, another premier league club after 11pm today.
We can only do business after 11pm with Championship (or lower clubs) so Zaha is by 11pm or not at all.
Mike Doyle
134
Posted 05/10/2020 at 14:18:01
Steven 129] if we are signing from another PL club the deadline is today.
16th Oct deadline applies to Signing anyone from a lower division.
Ernie Baywood
135
Posted 05/10/2020 at 14:18:10
I think if we go for a keeper it will be because Carlo has reached the end of the line with Pickford and wants an immediate replacement. But I honestly can't see it.
We've already got reserve keepers. There's not exactly much bang for buck in adding another, even if they're better than what we have. In fact you probably just put Pickford in the spotlight in a bad way. I don't think that's really what we would want to achieve. And certainly not what I want ahead of a Derby.
Will Mabon
136
Posted 05/10/2020 at 14:20:32
Ernie, I'm 59, 5'9 and only (attempt to) play a little five-a-side nowadays - but if I ever hear Deeney mentioned as a forward option, I'm straight down to Finch Farm to offer my services for free.
Eric Myles
137
Posted 05/10/2020 at 14:25:49
Ron #114, if Hart is considered better than Gazzaniga then we'd best stay well clear of him.
Steve Ferns
138
Posted 05/10/2020 at 14:26:14
It's clearly anyone but Pickford mentality, rather than being objective. Neither of Gazzaniga nor Romero are steady. Gazzaniga was so impressive last season that Mourinho has turned to Joe Hart of all people. Romero might have 90+ caps for Argentina but that means nothing other than an indictment on the quality of goalkeeping in Argentina. Romero will cause you to have your heart in your mouth as much as Pickford.
Romero was a second tier goalkeeper at Sampdoria. When they got promoted they signed a better keeper who got injured, so he played that season too. Then after getting demoted before the end of the season, he was loaned to Monaco to be their number 2 keeper. Then he went back to Sampdoria to be backup again, and then he joined Man Utd to be backup for the last 5 seasons. United fans will tell you how bad he is. This is not the lad we want in goal long term and he is not the lad to push Pickford on. He's just someone happy to sit on the bench and collect a wage.
Pat Kelly
139
Posted 05/10/2020 at 14:26:21
We will regret not getting a striker in. Richie will see some spells out with injuries given how much he's targeted. Tosun is joke from the big Sam era that should never be resurrected.
Shane Corcoran
140
Posted 05/10/2020 at 14:32:13
Derek, #123, if Pickford costs us no points, does that make his errors acceptable?
Christian Konttorp
141
Posted 05/10/2020 at 14:36:04
What about Charlie Austin? He is not playing too much but reminds me a little about Ings.
Or Niederlechner in Ausburg
Ernie Baywood
142
Posted 05/10/2020 at 14:38:05
Shane, if we don't concede from defensive errors does that make them acceptable? Because we had quite a few on Saturday. If we score enough goals to win does that make missed chances acceptable? Because we had quite a few on Saturday.
If we can improve then great. But 'acceptable'? It's just about the only position on the pitch where that kind of mindset exists in fans.
If he made errors that never cost us points, and in fact made us points on occasions (as he did v Spurs), then I'd find that acceptable.
Kevin Molloy
143
Posted 05/10/2020 at 14:39:07
Steve
I think Carlo is just looking for a competent no 2. He is hoping that if we have a competent no 2 this will have the desired effect on JP
Ernie Baywood
144
Posted 05/10/2020 at 14:43:52
Will 136... I haven't seen you play but suspect we can do a little better!
I'm not talking about a serious starting XI option. I'm talking backup. And it's hard to get backup when you're not guaranteeing regular game time. You either go young, old, or unproven. In this situation I'd go for a proven older player to step in if needed.
John McFarlane Snr
145
Posted 05/10/2020 at 14:46:19
Hi George [49] and like minded poster's, you do know that you may be described as 'Snowflakes' don't you? I earned my 'Snowflake Award' by expressing my dislike of strong and inappropriate language. I hope that you're on the mend George, and that it won't be long before you are toasting the success of the Blues in the Dark House.
Martin Reppion
146
Posted 05/10/2020 at 14:47:32
Stephen #129, true we can still sign players for another week or so from the EFL clubs. BUT once our options to sign from elsewhere are removed the prices we would need to pay will rocket.
If, and it is an if, we wanted Josh King, we would probably save £5m by buying him today rather than tomorrow.
On the whole though, I would refer back to Carlo's comments previously that he wants a smaller squad than we currently have. Since then we have added Ben Godfrey but still have 5 or 6 players who will not figure for the team. Walcott may leave today. That leaves Bolasie, Sandro, Besic, Tosun (who can't go until January due to injury) and possibly, given the resurgence of Iwobi, Bernard who are surplus to requirements. Only the latter would be anybody's 'must have' list.
What this leaves us a couple of months where we hope for no injuries and start again in January to do some shifting and honing.
Anything else is a huge win.
Simon Jones
147
Posted 05/10/2020 at 14:47:56
So have I got this right?
Tosun - £60k per week, going nowhere as he's crocked, but could be a back-up to DCL when fit in our new, much improved, style of play.
Besic - £30k per week at Everton, probably a Championship standard player, but no club has that sort of money available, so he'll see out his contract, not play and be £1.5m better off.
Bolasie - £75k per week at Everton, probably massively unlucky with injury, could be worth a punt on loan for someone, but not at those wages.
Delph - £80k per week, probably staying, looks to be part of the squad.
Ramirez - rumours his contract is being paid up. Supposedly on £65k per week, wouldn't you just sit it out? (I know, we'd all play for nothing, but just imagine, THREE AND A HALF MILLION QUID!)
Walcott - another supposedly on £100k per week, Southampton want him, but only for half the wage, so EFC lumbered with paying him £50k per week for him to play at his boyhood club! (wage info, sportrac.com)
Conclusion, money has ruined football - £30k to £100k per week for squad players. It gives players no incentive to play when they can earn millions just so long as they stay fit. How is any team supposed to move an aging / unwanted player on once their contribution falls far below their wage? How is a team, desperate to get reinforcements in, able to entice anyone away?
Yes I'm delighted we are top of the league, but we've spunked some serious money getting there.
Pete Williams
148
Posted 05/10/2020 at 14:50:15
Walcott off to Southampton and maybe Besic off to Rangers would be 2 great bits of business. Then just 2 bits of deadwood left - Bolasie and Sandro. Someone usually takes Bolasie on loan but Sandro will need to be paid off.
I really hope there's a rabbit out of the hat on the striker front, but I think we're stuck with calamity JP between the sticks. Maybe we need a new goalkeeping coach!
John Pierce
149
Posted 05/10/2020 at 14:50:42
The Pickford problem. It has to be a decent back up, you can't threaten the lads place and not follow through. You have to be prepared to drop him and if necessary play the back up for several games.
I'm a Romero fan, it will add to the South America vibe too. Romeo is steady, and no more, and sadly that's all we need. I think the problem is urgent, after his blunder on Saturday Pickford looked ashen. This isn't his usual response to a faux pas. He was puffing his cheeks out, looked visibly agitated and wasn't falsely berating his defenders for his mistake! He's usually pretty good at shaking things off in games. It bore all the signs of man who had been told to ship up or face the consequences. It's so important we get a keeper in.
Shane Corcoran
150
Posted 05/10/2020 at 14:53:43
Ernie, I don't agree.
If any player keeps performing below a certain level, then it's unacceptable.
If DCL kept finishing like he used to finish then I think he'd be discarded at some stage, as an example. Same with every other player with regards to what they're supposed to do.
Simon Jones
151
Posted 05/10/2020 at 14:54:47
Pete #148
Rumour has it that Southampton only picking up half of his £100k per week wage. I hope he goes and he is happy there, but paying £50k per week for a lad who isn't playing for you sounds exactly the opposite of great business.
Sam Hoare
152
Posted 05/10/2020 at 14:57:05
Steve F@138, think there may be some holes in your research there.
Romero was first choice at Sampdoria. They did not sign a new keeper when they got promoted. In fact the second choice keeper Costa Junior (signed before Romero) played some time when Romero was injured and away and on international duty. But Romero soon re-took the gloves and Costa got injured. He played the vast majority of that season being dropped just for the last few games, some speculate because he'd already said he wanted to move.
After that he was backup at Monaco and United but I know a few United fans who speak very well of him and wish he'd played more instead of De Gea.
Not sure how you can know whether he'd rather play or just collect a wage but personally the fact he is agitating for a move suggests he wants some game time.
I don't know how good he'd be but his stats for the time he has played are pretty good and i'm certain he's an upgrade on Lossl. I don't think he's necessarily a long term solution but he's probably the best option available at the moment.
Jay Harris
153
Posted 05/10/2020 at 14:57:43
Simon,
I agree with your sentiment made even more ridiculous by coronavirus and Premier league clubs seeking government assistance and the going out spending millions on players while EFL clubs are going to the wall.
Andrew Ellams
154
Posted 05/10/2020 at 14:57:56
Pickford will be replaced next summer. That may be a year too late but it won't happen before.
Simon Jones
155
Posted 05/10/2020 at 14:59:03
Besic - Echo reporting that Rangers are in for him. I wonder how Slippy G feels about doing Everton a nice little favour?
Sam Bowen
156
Posted 05/10/2020 at 15:01:06
Romero clearly not the solution long term Steve, I'm not saying he is but surely even Jordan's biggest supporters can see that he's either suffering a crisis of confidence or he's just not that good. I think the latter but that's just my opinion. At what point do you just allow him to carry on making Howlers?
I think Romero on loan for a season is just common sense. Hopefully Pickford can up his game and he'll(Romero) not be required but I just think it's a good plan.
Alan J Thompson
157
Posted 05/10/2020 at 15:01:53
I take it that all this goalkeeper talk means Lossl has been added to "deadwood" list? Did he manage three games or was it just some sort of extended trial? Perhaps we should put together a team of players that didn't manage more than half a dozen games.
Mark Taylor
158
Posted 05/10/2020 at 15:10:21
Steve 138
I think we are being objective. We're not even talking about Pickford in his current downgraded 'form' but the very obvious possibility of a total melt down given what appears to be a very fragile mental state. I don't see how we can take such a risk with such a vital position, it has the potential to render all the good we do further up the pitch irrelevant. So the bar is set not at Pickford's current reduced level but at the quality of our current back up. Anything better than that is perfectly sensible insurance, ideally on a loan and looking at that back up, it strikes me as an easy bar to clear.
Raymond Fox
159
Posted 05/10/2020 at 15:16:45
No goalies are mistake free, did you see Pope for Burnley, Adrian for them on Sunday.
de Gea was a wonderful goalkeeper once upon a time, look at the blunders he starting making.
If you replace Pickford I will guarantee the new guy will make mistakes also.
We are strong all over the pitch apart from another striker, King from Bournemouth has been mentioned, he'd do for me.
Gordon looks like he will make the grade but this season might be too soon for him.
We are particularly strong in midfield and are still waiting to see what Gbamiin has to offer.
Pete Williams
160
Posted 05/10/2020 at 15:21:23
Simon #151
I wasn't expecting Walcott to go anywhere and getting something like £2m off this season's wage bill sounds like good business to me. I admit getting him gone for nothing would be best, but this is deadline day and I'd rather we got something back for the perennial under achiever.
Steven Astley
161
Posted 05/10/2020 at 15:21:29
Raymond - Pope (overrated), Adrian and de Gea are all shit!!! So I wouldn't use those as examples where no GKs are mistake free!
If we were looking at bringing someone in, I wouldn't mind Ben Foster as a short term solution.
Raymond Fox
163
Posted 05/10/2020 at 15:31:49
Steven 161.
So Fosters mistake free! I don't think so, like I say de Gea looked a world beater once but even he started making awful cock ups.
Jay Harris
164
Posted 05/10/2020 at 15:35:07
For me the only 2 GKs worth a mention are Dean Henderson who we should have tried to get before he extended his Utd contract and Donna rumma who is young and untried in the Prem.
Most top keepers are already spoken for and others are not as good as JP even with his mistakes..
All I will say is we cant expect to keep leaking goals and expect the forwards to bail us out.
Fran Mitchell
165
Posted 05/10/2020 at 15:44:51
The issue with keepers, is, how many have we watched? We watch every 90 minutes of Pickford, and remember every mistake he makes. Clearly, he is currently making more gross errors than can be accepted, but of the possible keepers we get to replace him, how much have we seen play to be able to say 'safe pair of hands'?
Joe Hart, who has been beyond woeful for years, has replaced Gazzaniga. While Romero has played how many games in the last 7 years? How can anyone say if he's any good?
A loan as an improvement on Lossl, ok. But that is all we'll be getting.
Our hope if for Brands and his team to identify a truly top class keeper who we can sign - but that will be January at the earliest.
For now, we must hope that Pickford can regain his best form.
Rennie Smith
166
Posted 05/10/2020 at 15:55:27
I don't buy the clamour for another keeper, I can understand having decent competition for the spot to keep someone on their toes, but they're not going to replace Pickford. I don't doubt there are problems and things he needs to work on, but the names being banded around are not in the same league as him overall.
Michael Barrett
167
Posted 05/10/2020 at 15:59:26
Simon 147 superb post mate...the games ruined by money mate I havnt been to a match for 10 years now mate...and I only live 5 minutes away.
Danny O'Neill
168
Posted 05/10/2020 at 15:59:35
Mike @131, yes remember McNulty reporting for the Echo in the 1980s. Good to have seen him progress on the national journalist level. I think he covered Everton & Liverpool, but always recalled him being an Evertonian. I like his articles; talks sense and very rarely speculates wildly like many lazy journalists out there who often put two and two together to come up with 5. I see our very own Greg O'Keefe is following his pathway to the national press as well.
Sam Hoare
169
Posted 05/10/2020 at 16:01:01
All keepers make mistakes. We all know this. But currently Pickford is making more than most.
His level last season (and this season so far) is well below average. It has not cost us this season yet (mainly thanks to some inspired attacking play) but it will at some point if it continues. Therefore signing even an average keeper could be a step towards improvement and stability.
Or maybe Carlo has faith that he can cut out the aberrations? Not sure I do.
Joe McMahon
170
Posted 05/10/2020 at 16:07:10
Tosun as third striker is shite really. Even if he was fit, we can't sell him as he doesn't to leave his wages. Could have gone back to Turkey, but no rather stay at Everton.
Rennie Smith
171
Posted 05/10/2020 at 16:07:39
Sam@169 PL Stats - errors leading to goals:
Kepa 2
Pickford 1
Ederson 1
Adrian 1
Some pretty expensive keepers on that list.
Jonathan Tasker
172
Posted 05/10/2020 at 16:08:16
Can Ben Godfrey play in goal ?
We absolutely have to find an alternative to Pickford
Stephen Brown
173
Posted 05/10/2020 at 16:13:56
I've just seen the Bernard to Roma rumour. I wouldn't do this one as we'd be short of creativity if James was out
Stephen Brown
174
Posted 05/10/2020 at 16:13:57
I've just seen the Bernard to Roma rumour. I wouldn't do this one as we'd be short of creativity if James was out
Andrew Keatley
175
Posted 05/10/2020 at 16:16:22
Agree with Sam Hoare (152) about Romero. I worked in the gambling industry for just shy of a decade, and the head football trader always talked about how Romero deputising for De Gea (back when De Gea was imperious) made very little adjustment to the United markets. So, basically, he said that the stats reflected very little difference for United (in betting terms) regardless of whether it was De Gea or Romero in goal. He'd be a great option to compete with Pickford, and at this point he seems equipped to really challenge for that starting berth.
Tony Everan
176
Posted 05/10/2020 at 16:22:12
Not many of us bluenoses will ever agree with a lot of the rubbish Paul Merson comes out with, but today he said that Allan was the best signing of this transfer window.
I will agree with him on that one.
Patrick McFarlane
177
Posted 05/10/2020 at 16:25:16
I don't think it's the number of mistakes that lead to goals that are the issue with Jordan, to most fans, it's his lack of presence, Howard had presence until he started flapping in his later years. The likes of Martyn and Southall oozed control and capability and this gave confidence to the defence, regardless of whether they were called upon to make saves. Pickford is the opposite, he doesn't give off a calming influence and that makes the defence second-guess, even if he makes some stunning saves more frequently than others. He can't help his personality, which I think is the main reason, he can't win over quite a lot of his critics.

Tony Everan
178
Posted 05/10/2020 at 16:27:13
Stephen 173
This rumour has been bandied around before because his old manager Fonseca is in charge there, so there may be a bit of truth in it.
Frank Crewe
179
Posted 05/10/2020 at 16:28:52
When Klopp arrived he started out with Mignolet. He was replaced by Karius. He in turn was replaced by Adrian and he was replaced by Allison.
Who remembers when everyone thought Joe Hart was the best keeper in the PL?
There is no such thing as a keeper who doesn't make mistakes. The trouble is everyone remembers the mistakes but not the saves. We pulled Tim Howard to bits and were made up when he was replaced. Since he packed in we have had five different keepers. None of them are at the club anymore. Now we're pulling Pickford to pieces as well. All I can say is the next guy better be super keeper or we'll soon be ripping into him as well.
Geoffrey Hall
180
Posted 05/10/2020 at 16:30:34
Can't believe if we let Walcott go we haven't said let us have Frazer Foster the other way. Played brilliant for Celtic last year while on loan.
Rennie Smith
181
Posted 05/10/2020 at 16:35:47
I agree Patrick about his personality, he is a twitcher, can't sit still type and there's probably not a lot going on upstairs (must be a bloody nightmare to live with). There is a counter-argument, playing devil's advocate here, that having a twitcher behind you makes the defence be on their toes more and not get complacent. I read Jack Charlton's biography and he said when he played for England, Gordon Banks was so good at saving and handling long shots he knew that if he missed a block it would be ok. He did that in an important game once and Banks didn't save it. He thought after that maybe he didn't really go for it because I knew Banks would handle it.
Not saying it doesn't help to have a steady-eddy behind you, but worth a thought.
Colin Battison
182
Posted 05/10/2020 at 16:36:46
On another note. BREAKING NEWS!!!!!
Boris Johnson is to fine Liverpool FC for breaking Covid rules for letting more than 6 in at once!
Jamie Crowley
183
Posted 05/10/2020 at 16:38:24
Football needs to introduce buyout clauses into their contracts.
How Sandro can sit on his behind and make that much money, after the Club clearly want to cut ties, is beyond me.
There should be some type of buyout clause to terminate a contract. Does such a thing exist in English football?
Rennie Smith
184
Posted 05/10/2020 at 16:40:07
I see Klaassen has gone back to Ajax for €11m. Surprised Ronald McDonald didn't bid for him at Barca!
Jay Harris
185
Posted 05/10/2020 at 16:41:06
Frank,
Most of Pickford's errors are down to stupidity and bad decision making not ability.
You can excuse the one at Fleetwood because a few keepers overelaborate and get caught but to consistently refuse to catch the ball and palm it straight back to the other team is bordering on insanity and catching a ball in the air and holding it are goalkeeping basics.
They are not errors they are bad practice.
As Tim Howard commented at the weekend the first rule of goalkeeping is safety. If youre in any doubt push it over the bar and argue whether that was the best course of action later.
Bill Watson
186
Posted 05/10/2020 at 16:45:26
Frank #179
They were criticised because they weren't good enough. Howard was an excellent 'keeper for us and he starred for the USA in the World Cup but the following season, for us, he was awful.
I've always defended Pickford, mainly because he's an excellent shot stopper, but enough is enough. The big problem is he just doesn't seem to learn from his mistakes. His gaffes haven't cost us any points...so far... but you're always waiting for the next schoolboy error.
Colin Battison
187
Posted 05/10/2020 at 16:48:18
183# Jamie, Could not agree more with that post, I remember winston bogarde doing the same at chelsea, sat on his arse for about 5 years and won the lottery.
Marc Hints
188
Posted 05/10/2020 at 16:55:34
Bernard going out on loan, don't understand that one
Mike Connolly
189
Posted 05/10/2020 at 17:01:56
Colin. Chelsea tried to unsettle Bogarde by putting him with the youth team that played in one of the Parks. This did not effect him at all. he said where would I get this kind of money from another club. He then run down his contract
Brian Harrison
190
Posted 05/10/2020 at 17:02:38
Well just a few more hours till the window closes, and then we will know who has been let go and who has been brought in. I know many want a goalkeeper to challenge Pickford, but you wonder why we ever signed Jonas Lossl. Virginia played in the Caraboa cup and if we sign another keeper that means we will have 4 keepers plus young Tyrer.
Andrew Keatley
191
Posted 05/10/2020 at 17:05:00
Marc (189) - His wages allegedly equate to over £6 million a year. Do we get that value from him when he is not even guaranteed a place on the bench when everyone is fit? If Roma pay the majority of his wages then that's a decent saving - and we have other players who can fill in when any first choice players are injured/suspended.
John Otway
192
Posted 05/10/2020 at 17:08:25
Bill #187. Pickford's errors haven't cost us points but they have cost us goal difference!

Colin Battison
193
Posted 05/10/2020 at 17:16:59
Bernard is a no no for me, although he is lightweight, this lad can do things that others cannot, except our James of course, he can play wide left and also at number 10 and can make things happen, especially with the attacking prowess we have at the moment, I still think he can do a job for us, I certainly would not be letting him go, hope this is not true.
Mike Gaynes
194
Posted 05/10/2020 at 17:24:40
RBM reports Bernard trained today at Finch Farm, no confirmation on the loan to Roma. Agree that it makes no sense from a footballing perspective, but he's on 120K/week and getting part of that off the books might be an important incentive for the club.
RBM also reports our interest in Roma keeper Robin Olsen. Swedish national keeper who, I seem to remember, flopped in Serie A. Anybody seen him play recently?
Frank #179, great post.
Jamie #183, buyout of any contract is possible, but both parties have to agree to it. Sandro's incentive to agree is what, exactly?
Bill Watson
195
Posted 05/10/2020 at 17:30:36
Colin #194
When I saw Bernard make his debut at Leicester I thought we had a real player on our hands but I fear I was wrong.
He's a great footballer to watch but he flatters to deceive. There is rarely any end product, either in goals, assists or second assists.
If we could get a fee, or even a loan fee, for him it would constitute good business.
Barry Rathbone
196
Posted 05/10/2020 at 17:31:04
Incredulous at people still defending Pickford.
The Brighton error was another elementary blooper to swell an already burgeoning collection this time an unopposed dolly drop manufactured into a goal for the opposition!!
Stone cold basic fuck ups have been his signature piece since he arrived from mackem central he is like an outfield player playing emergency goalie stopping the odd shot but knowimg nothing about the basic tenets of goal keeping.
Guaranteed money to be had betting on him throwing another one in the next 2 games
Jack King
197
Posted 05/10/2020 at 17:31:43
Troy Deeney spotted at Finch Farm. You heard it here first.
Bill Gall
198
Posted 05/10/2020 at 17:32:55
Well, any decent signing will just be the icing on the cake. A keeper may be a target as back-up to Pickford but unless we can get one of the top keepers I can't see us getting anyone to replace him. The keeper from Tottenham if he is 3rd choice keeper behind 2nd choice Joe Hart that does not seem a smart move.
I can't' offer any names for a keeper as I don't watch every team that plays so I am not aware if they make mistakes. Anyone who recommends a keeper must now if they are faultless, or he just doesn't make as many mistakes as Pickford.
My hope for this transfer window is we can get as many of the players that are not in Ancelotti's plans out, and off the finances. We cant get coverage for every position unless it is on loan.
We have done well so far and I think there may be one more incoming but I prefer we get more outgoing.
Stephen Brown
199
Posted 05/10/2020 at 17:33:39
Potentially a long season with hopefully cup runs!! I'd definitely keep Bernard!
All of a sudden, we've lost Kean, Walcott and possibly Bolasie and Bernard and I'd say we're a little short!!
Keep Bernard!
Pat Kelly
200
Posted 05/10/2020 at 17:40:02
The problem now that we're Premier League leaders is... no-one wants to take a step down. 🤔
Mike Gaynes
201
Posted 05/10/2020 at 17:55:47
Stephen #200, we're a little short with Bernard. We get taller if he leaves.
Frank Crewe
202
Posted 05/10/2020 at 17:56:03
@ Jay 185
Isn't it the responsibility of the keeper coaches to coach bad habits of of him? It would appear they are falling down on the job.
@ Bill 187
Didn't Pickford star for England in the last world cup also and isn't he England's current number one?
Dale Self
203
Posted 05/10/2020 at 17:58:11
Alright then! Toffee supporter since 95, website follower since 97 and now a registered friend of the community. This site has been one of the most reliable windows to stable humanity and is absolutely a homing space for my being.
You all have taught me the complexities and context that a Yank needs before speaking up about football and through the love of Everton football I've been able to see things with a determined optimism that comes from doing things the right way.
Living in Felton CA and damn proud to support this club!
Marc Hints
204
Posted 05/10/2020 at 17:59:07
Andrew#192 yes I do agree with what your saying, just thought a player like Bernard would be great for the cup runs, and as others have said that's, Walcott, Keane and Bernard gone so cover getting short again?
Alex Gray
205
Posted 05/10/2020 at 18:06:45
I wouldn't let Bernard go. If we get a few injuries, we'd be really short.
Walcott I'm fine with going, good move... but am really surprised we've let Kean go with the only striker sbeing Calvert-Lewin and Richarlison. Even then, we lose a lot of threat on the left moving Richarlison central.
Not been keeping up but are there any other incomings at this stage lads?
Darren Hind
206
Posted 05/10/2020 at 18:09:03
Dont really think we had any option but to sign a centre-back. Mina and Keane played well on Saturday, but you always need cover.
Mina, despite Saturday's heroics, is totally erratic. He needs to find consistency. I always feel his next poor game is always just around the corner.
Talking of centre-backs, who didn't enjoy watching the Villa players take turns to rip the arse out of St Virgil?
When Grealish nutmegged him, it was the best non-Everton moment of the weekend for me. I actually clapped in my living room.
Mike Gaynes
207
Posted 05/10/2020 at 18:09:43
I read an inspiring magazine article last year about the Turkish city of Gaziantep having taken in a half-million refugees.
They are still doing so. Gaziantep's football club just signed Kevin Mirallas.
Mike Gaynes
208
Posted 05/10/2020 at 18:18:47
Darren, I enjoyed even more the expression on his face when that shot went in off his foot.
Bobby Thomas
209
Posted 05/10/2020 at 18:27:36
Pickford, or an injury to Calvert-Lewin, or both, has the potential torpedo our season.
We have to get a keeper in. It's been going on for about 2 years and he looks shot to bits mentally. At least if Calvert-Lewin gets injured we have Richarlison to play up there and then I imagine Iwobi fills in.
Joe McMahon
210
Posted 05/10/2020 at 18:30:41
Bobby, I agree, warning signs about Pickford were 18+ months ago. It was I feel a big mistake letting Kean go with no replacement.
Jamie Crowley
211
Posted 05/10/2020 at 18:49:07
Mike @ 195 -
Yes, I agree and obviously. I think what I'm saying is that football, as an industry, but Everton in particular, need to insist on buyout clauses at the inception of the negotiation.
I'm only using Sandro as an example of why. Clearly in his interest, he should sit on his ass and collect the dosh!
Anthony Dove
212
Posted 05/10/2020 at 18:50:48
Must get an experienced tall goalkeeper. It is lucky for Pickford and Carlo that the games are behind closed doors. Even if you think Pickford is any good, we don't have an adequate reserve if he gets injured. Look at the RS yesterday.
Jamie Crowley
213
Posted 05/10/2020 at 18:51:37
Dale @ 204 - Hello!
Sam Hoare
216
Posted 05/10/2020 at 19:04:05
Sounds like it's going to be Robin Olsen. Big Swedish keeper who was awful for Roma a year or so back but decent on loan to Calgiari apparently.
Would have preferred Romero but too expensive perhaps.
Mike Gaynes
217
Posted 05/10/2020 at 19:05:05
Dale #204... Welcome!!! Always happy to roll out the blue carpet for a new Yank, and in your case a former neighbor -- I lived near Half Moon Bay for 15 years.
Hope you came through the fires OK... I heard Felton was evacuated. My wife and I mourned the news of Big Basin's destruction -- we were frequent visitors.
Glad you're here!
Mike Gaynes
218
Posted 05/10/2020 at 19:08:03
Sam, I haven't seen him play since the World Cup, but the reviews from Serie A weren't good. Hard to imagine him being Pickford's potential replacement. Your thoughts?
Romero is on £70k/week so I honestly never expected that to happen.
Jim Bennings
219
Posted 05/10/2020 at 19:08:27
It will be interesting to see what will happen in the next few hours.
Knowing our luck Calvert-Lewin or Richarlison will get crocked it always seems to happen at Everton, the question then is who would lead the line?
Mentions of Iwobi up top is just berserk, its got to be a little concerning if we don't sign a short term stopgap, knowing we are one or two injuries away from being in the shit.
Dean Frank
220
Posted 05/10/2020 at 19:12:37
I'm a little confused about Bernard. With a $7m fee and additional $6.2 annual wages off the books would be good I would think...
Jay Harris
222
Posted 05/10/2020 at 19:15:59
Rumour that were trying to swap Bolasie for Zaha. If that happens I will believe in Santa Claus again.
Derek Taylor
224
Posted 05/10/2020 at 19:19:12
I can't imagine there's a long list of decent keepers queuing up to be understudy to England's No.1!
Tony Abrahams
225
Posted 05/10/2020 at 19:21:04
Italian window is shut so Bernard is definitely not going to Roma.
Bill Watson
226
Posted 05/10/2020 at 19:24:12
Dean #221
We signed Bernard on a free, hence his high wages. Any loan fee and share of his wages goes straight to our bottom line.
Bill Gienapp
228
Posted 05/10/2020 at 19:30:20
I see that Davy Klaassen has found his way back to Ajax. Probably a good move for him at this point in his career.
Not sure about Robin Olsen. That sounds more like a modest upgrade on Lossl than someone who'd legitimately challenge Pickford. Would much prefer Romero, if there's a way to make the deal work.
Mike Gaynes
230
Posted 05/10/2020 at 19:35:22
Slightly off topic, but probably the most likely business executive in the world to get a raise right now is the VP of marketing for Cazoo.
They're sponsoring two Prem clubs this season and they're 1-2 in the table and both perfect records. The guy can really pick 'em.
Jim Bennings
231
Posted 05/10/2020 at 19:35:48
It begs the question then why bother signing a goalkeeper if no matter how Pickford performs he knows there's never a danger of a spell on the bench?
We need a situation similar to when Tim Howard was coming to the end, Joel Robles came in and had a long spell in the side and his performance levels were on an even keel with Howard's at that stage in his career.
The signing of Lossl seemed absolutely pointless and I doubt he'll ever play a league game for Everton, whilst Virginia is unlikely to either in the next few seasons.
Mike Gaynes
232
Posted 05/10/2020 at 19:38:21
Stephen Vincent, I'm so sorry. Being a Quakes fan is a very difficult thing these days.
I was a season ticket holder of the previous Quakes franchise before it moved to Houston.
Michael Lynch
234
Posted 05/10/2020 at 19:51:56
Olsen? Wasn't he great at the World Cup, then fucking dreadful for his club?
So we're signing the Swedish Pickford?
Phil Malone Jnr
235
Posted 05/10/2020 at 19:54:31
https://twitter.com/FabrizioRomano
This fella has been 15 minutes quicker than Sky Sports all day with his tweets. He posts every few minutes.
Bill Gienapp
237
Posted 05/10/2020 at 20:07:34
Sergio Romero's wife is on Twitter and Instagram blasting Man Utd and demanding that they let her husband leave.
Steve Ferns
238
Posted 05/10/2020 at 20:11:33
Sorry Sam, been very busy today. If we are signing a keeper, it must be someone to take Pickford's place. We can't just sign, as Jim Bennings says, is only going to take a spot on the bench. Man Utd's 3rd choice keeper or Tottenham's 3rd choice keeper is not good enough.
We need someone who is as least good as Pickford when he's playing okay. Neither Romero or Gazzaniga are on that level, nevermind as good as Pickford when he's at his best.
As for Olsen, seen him a couple of times and he's crap. Another one that's not good enough.
We need better, we need a keeper who'd get into a top 6 side.
Brian Wilkinson
239
Posted 05/10/2020 at 20:11:35
If we keep it going at the top, Liverpool's open top bus when allowed is going to be like a damp squid.
Stephen Brown
240
Posted 05/10/2020 at 20:12:42
We've had a superb window but I'm feeling a little underwhelmed that there's no striker cover ?! Are we promoting Ellis Simms or relying on Tosun?
Not sure any of the keepers being mentioned are that much of an upgrade on Lössl?!
Pleased Walcott is off but still paying him £50k a week to play for Southampton is a bit off!
I'm being a bit ungrateful I know!! I'd love a late statement signing!!
Phil Malone Jnr
241
Posted 05/10/2020 at 20:14:24
Does anyone know why Sky Sports News is still saying Bernard is still in talks with Roma? I thought the Italian deadline had passed?
Danny O'Neill
242
Posted 05/10/2020 at 20:14:55
James Rodriguez? Wasn't he great at a World Cup and for his country but it didn't work out for him at his club?
I don't know enough about Olson to judge him, but I'll trust Ancelloti's judgement as he probably knows more about him from his understanding of the Italian football scene.
Still wouldn't feel like a replacement, more someone to genuinely be snapping at Pickford's heels. No more mistakes and up your game as I now have a replacement I trust Jordan.

Steve Ferns
243
Posted 05/10/2020 at 20:15:06
Following on from what Bill said, for those not on Instagram, Sergio's wife said:
"Sergio Romero worked hard for his club. Last trophy they won, they lifted it with him. He helped the team reach 4 finals / semifinals and then he was left on the bench only to lose them all. It is time for them to return the opportunity and let him go. RESPECT FOR ONCE!!!!"
Shows our interest is genuine.
Brian Williams
244
Posted 05/10/2020 at 20:15:53
Stephen #241.
James Rodriguez, how's that for a statement signing?
Jim Bennings
245
Posted 05/10/2020 at 20:17:28
Letting Bernard go would be purely stupid.
If James gets injured there's little creativity at all, madness!
Michael Barrett
246
Posted 05/10/2020 at 20:18:59
Okay, Tony mate, will do... I think Aston Villa have found the chink in their armour. It's up to to us now to drive a juggernaut through the hole...
On the pubs, me dad used to get me a bottle of lemo and a pie outside The Castle and I would stand there for hours while he got rat-arsed hahaha and Danksters is crap now, a few students get in there... it's Cons that is the Kopite pub.
Where are you from, mate?
Ed Prytherch
247
Posted 05/10/2020 at 20:20:04
Before we buy a new keeper, have we tried Ritalin?
Harry Williams
248
Posted 05/10/2020 at 20:21:39
Looks like the 'Architect' Brands has got rid of two of his duds, Bernard and Kean, but what about Iwobi and Delph?? Wonder if there's any takers for them...???
Peter Moore
249
Posted 05/10/2020 at 20:21:55
For pure footballing majesty, I don't think there is a better player in the entirety of football played on these shores, than our James.
If he was not already a Blue, but we were scrambling to get his signature before the deadline, a la Moyes's Fellaini dash a few years ago, how much angst we'd be feeling!
I would love a class keeper and a class striker too, but if not I am still thoroughly made up with the way Carlo Magnifico has addressed our shortcomings and has the whole outfield squad performing magnificently. The Professor indeed.

Drew O'Neall
250
Posted 05/10/2020 at 20:22:34
Jim - we let go who players make offers for and we have to balance the books/FFP.
I expect we'll go for Josh King and that will be more expense on top of Godfrey and all the other acquisitions.
Stephen Brown
251
Posted 05/10/2020 at 20:24:05
Brian 245
I meant today! I know I'm being greedy but why not?!
James statement signing - absolutely!!!
Jim 246
I couldn't agree more, we need to keep Bernard as he can produce that something special especially if James needs a break!
Steve Ferns
252
Posted 05/10/2020 at 20:24:24
Jim, I believe we are looking to balance the books and at £120,000 a week or over £6m a year, Bernard is a very expensive sub and so it makes sense to ship him out. For the record, I'll be sad to see him go. I love the little magician.
Bernard doesn't fit into Carlo's 4-3-3. He's too attacking to compete with Gomes or Sigurdsson. Iwobi or Gordon is a better Richarlison alternative. I'd agree if James is injured, he'd be the one you'd look to, but I'd hope to add someone next summer of quality.
Still hoping we sign Josh King for £10M to back up Calvert-Lewin and he can also play wide in a 4-3-3.
Pekka Harvilahti
253
Posted 05/10/2020 at 20:25:13
Still nobody for Kean, this is worrying.
If Richarlison and Calvert-Lewin are not available, and they will be because it's a long season, there are absolutely no alternatives:
Tosun is not good enough and he will be unavailable until January. He should be sold then.
Simms has never played first-team football.
Walcott goes to Southampton and he was almost useless anyway.
The window has been good, we have excellent new players but you need proper attackers, most goals are still scored by them. Calvert-Lewin is scoring for fun now but what if he hits a barren run like last season or is injured?
Steve Ferns
254
Posted 05/10/2020 at 20:29:03
I know what you mean Pekka. I want King. However, maybe they think Richarlison can back up Calvert-Lewin with Iwobi coming in for Richarlison.
Simms isn't going to play for the first team this side of Christmas, unless something dramatic happens. He's got a lot of developing left to do. He can't score the goals he scores in the top flight. No-one gives you the space he loves to run into. Well aside from Liverpool.
Jack Convery
255
Posted 05/10/2020 at 20:30:11
Teflon have signed Pickford to appear in new non stick pan advert.
Tony Shelby
256
Posted 05/10/2020 at 20:30:47
Letting Bernard go would be nuts!
What's the point of finally having strength and depth if we immediately revert to weakening the squad?
Bill Gienapp
257
Posted 05/10/2020 at 20:35:08
Harry (249) - we can't just gut the entire squad. Delph provides good cover to the midfield. And if we unload Iwobi on top of Kean, Bernard and Walcott, then we have virtually no backup for the entire forward line.
Will Mabon
258
Posted 05/10/2020 at 20:39:17
How fast it changes.
Get rid - offload 'em!
Keep some of 'em!
John Pickles
259
Posted 05/10/2020 at 20:40:02
I think we need to relax and consider how far we have come.
'Old' Everton's total incomings for the season would have been chasing Tomori right through the window and then panic buying Smalling for £30m today, probably also getting in Wilshire, who promises his injuries are behind him.
Danny O'Neill
260
Posted 05/10/2020 at 20:42:18
To back your Rodriguez "statement signing" Brian Williams, one of Sky's South American football correspondent earlier today:
RODRIGUEZ THE WINDOW HIGHLIGHT'
South American football expert Tim Vickery:
"Shall we look at the league table? A few weeks ago, people were trying to write off James Rodriguez based on what had happened at Real Madrid but I'd followed him for Colombia and it was obvious to me that the player that had lit up the World Cup in 2014 hadn't gone away. He was still there.
"He just needed the right circumstances and he's had everything that he wants at Everton. A coach who knows him and admires him, as well as a tactical position that suits him. We're all winning from this. No one was winning from him kicking his heels at Real Madrid.
"Everton have done not only themselves a favour, but they've done football a favour, and I'm delighted it's working out."
Anthony Murphy
261
Posted 05/10/2020 at 20:48:15
The transfer window closes on 16 October between the Premier League and domestic leagues so maybe a replacement for Kean is in the pipeline?
Steve Ferns
262
Posted 05/10/2020 at 20:48:37
Just had a quick look at our squad depth and if Walcott and Bernard both leave, then that leaves Iwobi and Gordon as our only options (substitutes) as wide forwards. So Richarison cannot be realistic backup for DCL as it'd see kids end up fleshing out the bench.
I know we'd love to ship out Besic, Delph, Bolasie and Sandro, but does anyone really want them and to pay their wages? So you have to sell players you don't really want to. Which means Bernard.
Looks like FFP has us by the balls. But if Bernard leaves as well as Walcott and we've just saved £10m in wages, can we use that to buy King?
Meanwhile, Bolasie is finding himself closer and closer to the first team!
Mike Doyle
263
Posted 05/10/2020 at 20:55:32
Chaps. Unlike recent transfer windows we can relax safe in the knowledge that...
1) our squad is better quality than the one Carlo inherited
2) only worth going for another goalie if he represents a clear improvement
3) Kean has gone because either Carlo is happy with what we have - or maybe he has his eye on a player in the championship - or is happy to wait for the right player to become available
4) we won't be signing Jack Wilshire. We won't will we?
Steve Ferns
265
Posted 05/10/2020 at 21:03:25
Mike Doyle, so there's no rush on signing Josh King then?
Update: just confirmed that is definitely the case.
Danny O'Neill
266
Posted 05/10/2020 at 21:13:06
Yeah, depends on where we're shopping Steve.
I didn't realise until today about the international v domestic window.
So depending on who we're looking at, we have until before the next fixture to bring in the right players.
Drew O'Neall
268
Posted 05/10/2020 at 21:24:30
Get with the programme lads.
Only slight issue is if United don't get Sancho we might have a fight on our hands.
Sam Hoare
269
Posted 05/10/2020 at 21:28:32
Steve F, comes down to opinions but I think Romero would be definitely as good and very likely better than Pickford is currently.
Not sure about Olsen either. Can't see him displacing Pickford so like you say, not sure what the point is.
Steve Ferns
270
Posted 05/10/2020 at 21:29:51
Drew, United are going to go for Sarr if they don't get Sancho.
What about a championship keeper? Daniel Bentley of Bristol City. 3 clean sheets in 4 league games and in the game he did concede in, against forest, he was man of the match.
Ben Foster of Watford has started well, but he's 37 now.
Reading's keeper, Rafael, is Brazilian and played in Italy and Carlo might know him well.
Stephen Vincent
271
Posted 05/10/2020 at 21:31:47
Mike #232, I remember better times, I've never actually seen them loose. My last game was a California Classico in 2015, I was very impressed Quakes won 3-1 and a guy called Goodison scored.
Steve Ferns
272
Posted 05/10/2020 at 21:32:29
Sam, the point is this. Imagine Pickford was playing well, the form that made him an England international but he just snapped his leg or something and was out for the season, would you really want Sergio Romero or Gazzaniga or Olsen?
They ain't good enough mate. We need to find someone better not a keeper who ain't good enough elsewhere.
Drew O'Neall
273
Posted 05/10/2020 at 21:40:18
What if they don't get Sarr?
Watford want £40m all upfront in ready money.
King's a United fan and schoolboy.
Mike Gaynes
274
Posted 05/10/2020 at 21:40:19
Sam and Steve, there are a number of keepers in the Championship we could consider over the next 11 days, until the "domestic" window closes on the 16th. Somebody previously mentioned Rafael from Reading, a sensational shot-stopper, and I also like Raya from Brentford, who might suit Carlo as an excellent passer out of the back. Have also heard good things about Samba at Forest, and a guy named Białkowski or something like that from Millwall whom I have never seen.
But it's certainly not urgent that we bring in the Swede today. We have other options, likewise for a reserve striker.
And Steve at #272, in answer to your question, under those unfortunate circumstances I would definitely be comfortable with Romero. Not the other two. But I have relentlessly advocated that if we do ship Pickford at some point, he must be replaced by a young, quality keeper -- not somebody else's leftovers.
Steve Ferns
275
Posted 05/10/2020 at 21:48:45
Mike have you seen much of Bentley of Bristol?
Looks like it's Olsen according to twitter. #FreeRomero is trending on twitter though!
I expect Lossl is departing on loan again. He's clearly a bad signing.
As for a young quality keeper, by next summer Virginia will be 21 and I still have high hopes for him.
Tony Hill
276
Posted 05/10/2020 at 21:49:09
Olsen looks very likely now. Baffling indeed. Perhaps Pickford is in a bad way mentally and they're desperate but I agree with Mike that we should not be rushing. Oh well.
Presumably Lossl is a dead weight now.
Mike Gaynes
277
Posted 05/10/2020 at 21:53:21
Stephen #271, personally I have fond memories of the old Clash. Worst team nickname ever, but what an exciting lineup -- Eric Wynalda, Paul Bravo, Eddie Lewis, the Mexican #10 Espinosa, Ronald Cerritos and the future international football executive Michael Emanalo. Never very successful, but a seriously fun team to watch.
Phil Sammon
278
Posted 05/10/2020 at 21:55:15
Steve 272
'Imagine Pickford was playing well'
Why should we? He hasn't played well in a long time. I want the best keeper possible but if this bloke Olsen can put on a pair of gloves and catch a football then he sounds like a step up.
Drew O'Neall
279
Posted 05/10/2020 at 21:55:56
Ben Foster's just signed a new two year contract.
Romero has been blocked and it looks like Olsen on loan.
Don't expect Olsen to replace Pickford but hopeful he'll get a kick up the arse.
Steve Ferns
280
Posted 05/10/2020 at 21:58:34
Phil, because you make your best decisions from a position of strength. If you make a decision from a point of weakness, then you make a bad decision.
Sam Hoare
281
Posted 05/10/2020 at 21:59:11
Steve@272 the answer is yes! I'm not sure you'll find many better back ups around than Romero.
And Pickford hasn't been at or near his best for a long while now. Olsen will come in and I expect the GK issue will be re-vI sited next summer; when coincidentally Donnarruma will be out of contract!
I just hope Pickford improves and returns to his previous, better form.
Phil Greenough
282
Posted 05/10/2020 at 22:00:16
I'm pretty sure the loss of confidence that Pickford is experiencing, will not be resolved by a "kick up the arse"
Mike Gaynes
283
Posted 05/10/2020 at 22:00:34
Steve, no, I saw him a number of times for Brentford but not recently at Bristol, have you? My best Irish mate is a Brentford supporter, so I watch as many of their games as I can. For my money Raya is much superior to Bentley, but our TW big-keeper fanatics would hate Raya because he's only six feet. Besides, I just checked and he signed a new contract on Friday, so cancel him from my list.
Justin Doone
284
Posted 05/10/2020 at 22:00:51
I just want quality. Age for a keeper is of little concern to me.
I thought Lossl has looked decent but he must be terrible in training not to get a chance over the last season and a bit.
Rafa from Brentford, no thanks. He makes Pickford look calm and consistent.
As much as I worry abbot Pickford, an extra top class winger/ forward is me crucially for me.
Danny Baily
285
Posted 05/10/2020 at 22:10:26
Sam 281, what period of form from Pickford are you referring to? He's been consistently poor throughout his entire career.
Harry Williams
286
Posted 05/10/2020 at 22:11:12
Lossi must be rubbish, who signed him??
Pekka Harvilahti
287
Posted 05/10/2020 at 22:11:42
Steve, at this point Josh King would be a very good addition, good age and attitude.
Again prepairing for the situation where Richarlison and DCL are not available:
We could play without a striker, probably would put Siggy there as a false one. Then move the wingers up but it's very hard if you don't have the aerial threat from Richie. Leads to a loads of possession but not enough goals to win games.
Mancs nowadays play without a big centre forward as it's not Pep's way but they have quite mobile midfield and very fast little strikers (3 of them to choose from).
Anyway, there could be as much as 20 or even more games when we don't have one or the other goalscorers and 10 with neither of them.
Paul Birmingham
288
Posted 05/10/2020 at 22:12:06
Who knows what happens behind the scenes at Finch Farm, but if we sign a new keeper to provide competition for Jordan Pickford, the its a kick in the plums, for Lössl and Virginia, but Id trust Carlos judgement. Lössl it seems hasn't Ben given much of a chance, and perhaps he's lost form and confidence since Huddersfield went down.
It will interesting to see who comes in and who goes out, on loan, else for good.
A ma8 whose a Rangers fan told me last Thursday that Besic was in Glasgow, but we shall see.
Hopefully the rebirth of the squad will be aided by any new incomings tonight, and the squad is bolstered ready for Old Nick.
Amazing but a couple I spoke with today, gave EFC, some credit and said EFC, will start as favourites.
No doubt they'll be doing extra diving lessons during the break.
Play like we have been, and taking note from Villa, there's no reason why we can't beat them.
Ernie Baywood
289
Posted 05/10/2020 at 22:14:41
SSN reporting Olsen...
Dave Abrahams
290
Posted 05/10/2020 at 22:18:25
Harry (286), his contract was up at Huddersfield, so he came on a free, I think that was the main attraction. If a goalie comes in, we have around eleven days to transfer him to a championship team or lower. I think he is on decent wages here,around £30,000 I believe, so that could make it harder to shift him, don't know how long his contract has left.
Mike Gaynes
291
Posted 05/10/2020 at 22:20:34
NBC says the Olsen deal is just about done. Says Olsen will challenge Pickford, not just back him up.
Quote from the story:
"The Swede faced and saved more shots than Pickford last season and his 73.9 save percentage is 11 points higher than his English counterpart."
Drew O'Neall
292
Posted 05/10/2020 at 22:22:01
Walcott medical passed, putting a new roll in the fax machine.
Todibo's joined Benfica on loan.
Tom Bowers
293
Posted 05/10/2020 at 22:22:55
Walcott has been a back number for a while as we all know but when he came on against Brighton with ''fresh legs'' he showed he had other things on his mind. Very slow to shut down the scorer of Brighton's second goal.
Everton got screwed by Arsenal on that deal for sure.
Steve Ferns
294
Posted 05/10/2020 at 22:24:18
No Mike, just saw some rave reviews of him in the Forest game and saw extended highlights.
Sam, Pickford will improve. He cannot get any worse. The question is can he get through the Derby unscathed and then settle down. I think the England games (Wales, Belgium and Denmark) are good ones for him. Belgium will be tough but the others are games where you expect a clean sheet without facing any shots and Belgium will have him busy, like he prefers, and an opportunity to showcase the best of himself.
I think Carlo will ship him out next summer. He's never going to be reliable enough, and signing a keeper will be a priority next summer. I'd love Donnarumma, but i'd just be weary that he is slightly overhyped, and prone to an error or two himself. Don't know if it's the modern balls, but even the "world's best" like Neur, De Gea, Courtois and Ter Stegen can have a terrible period where their form goes off a cliff.
Mike Gaynes
295
Posted 05/10/2020 at 22:28:47
RBM interviewed a guy from Chiesa di Totti, the Roma blog, about Olsen. Here are some of his comments:
CDT - "Olsen is and has been definitively on the chopping block for nearly 18 months now, while Lopez is currently in a state of limbo. But, to be honest, they're both there for the same reason: they're passive and error-prone keepers, both of whom lost their jobs to Antonio Mirante, who is really nothing more than a solid journeyman type of keeper. Olsen cuts a much larger figure and uses his massive limbs/reach pretty well, but was just too slow off his line and not really quick enough in distribution. Couple that with a few glaring errors in critical matches and you have Roma's current predicament: two decidedly average keepers that have been incredibly difficult to offload."

"[Olsen] started off well enough in 2018 and even got a cleansheet on his debut, but the wheels fell off almost immediately: he conceded 15 goals over his next six matches and finished with 58 goals conceded in 35 appearances in 2018-2019. He really does use his massive frame to his advantage, but in the end, he's just too passive and slow to suit Roma's build-from-the-back approach."

"He is a massive, massive keeper but, at least based on advanced metrics, he's decidedly middling when it comes to shot-stopping and even claiming crosses. It's possible that he might find more success in a different league, but he wasn't up to snuff in Serie A for some reason. And leadership... eh, not so much in Rome; he struggled to communicate with Roma's defenders, who were largely Italian, so perhaps if his English is stronger than his Italian he'll have better luck."
Olsen is as tall as Asgard and has a physique like Thor, but it seems he plays like Ingrid Bergman.
Steve Ferns
296
Posted 05/10/2020 at 22:30:55
Everton confirm Walcott is gone. Ta ra Theo. Just one more Big Sam signing to get rid of now.
Mike Gaynes
297
Posted 05/10/2020 at 22:32:31
Take care, Theo. Thanks for all the great memories. I think there were three.
Steve Ferns
298
Posted 05/10/2020 at 22:36:22
Mike, Olsen's English should be decent. I've never met a Swede (Or Dane as he is actually Denmark born to Danish parents) who couldn't speak English better than me!
As for his ability, not studied him, but every time I watched him play for Roma, he was picking the ball out of the net several times a game. He's 6'5" and plays like it. He's in slow motion around the goal. If he's got distribution issues in Italy, then they'd be amplified in England, as they don't press like they do here or in Germany. That would be a big worry.
Harry Williams
299
Posted 05/10/2020 at 22:42:34
Post 296 - Sam's signings. what about Brands signings he's spent an absolute fortune, certainly looks like three of his signings are about to go, Bernard, Kean and lossl... and what about the rest, Iwobi, Delph and what about that German fella JP who's not been seen for a year!! It also looks like Godfrey is going to push Mina into touch...!!
Ciarán McGlone
300
Posted 05/10/2020 at 22:45:30
Light on strikers.. that's all.
Danny O'Neill
301
Posted 05/10/2020 at 22:48:38
Harry, I think Mina, like Keane, is benefiting from playing in a better team with a better midfield in front of him / them. I think Godfrey has been brought into be part of a centre back pool of 4 (along with Holgate), that most good teams need now to deal with fixture congestion and injuries. I don't think he's here to replace anyone.
Mina was one of our best players on Saturday, showing himself to be the player we thought we'd bought. Now he just needs to show consistency, which hopefully surrounded by better players and a more positive attitude, he can.
Tony Hill
302
Posted 05/10/2020 at 22:48:57
Unless we get a last minute surprise, we are leaving ourselves worryingly short up front. Very strange and I fear it will come back to haunt us. Why take chances with injuries at a time when we are pushing for the top?
Danny O'Neill
303
Posted 05/10/2020 at 22:52:01
Or we're shopping in the domestic market Tony. That gives us until 16th October. We don't play again until the 17th.
Steve Ferns
304
Posted 05/10/2020 at 22:53:41
Tony, I think we played Theo ahead of Gordon to push him into the shop window. I think Gordon is set to play a bigger part from now on. I think the club is gambling that DCL and Richarlison are hardly ever injured and so can play nearly every game.
Also consider this, Niels Nkounkou looks a great prospect. What about him being an option as a left winger from the bench?
Also, we have two weeks to get Sarr or King from a Championship club.

Danny O'Neill
305
Posted 05/10/2020 at 23:00:45
Well we got out of jail / gaol then Steve if you look at the lethargy in his performance. Not taking anything away from the strike from that second Brighton goal, and little Jordan could have done, but if you watch Walcott stand and watch rather than apply even some pressure on the ball. No interest whatsoever.
Best for player and Everton that the loan deal has worked out.
Paul Birmingham
306
Posted 05/10/2020 at 23:00:54
Superb summary Mike @295! Let's see what happens.
Tony Hill
307
Posted 05/10/2020 at 23:01:15
Danny and Steve, very good points. That's cheered me up.
Yes, Nkounkou ahead of Digne is a real prospect and I'd love to see it. His disciplined performance against West Ham showed that he has mental toughness allied to his obvious footballing gifts.
Steve Ferns
308
Posted 05/10/2020 at 23:01:26
So now the window "slammed shut", will Everton be into the extra time segment on bringing in a keeper?
Danny O'Neill
309
Posted 05/10/2020 at 23:10:30
Olsen confirmed on loan.
Simon Dalzell
310
Posted 05/10/2020 at 23:10:39
I'd like to think we have something up our sleeve regarding a forward. As Danny correctly points out we have about 10 days to buy domestically, so lets hope so.
Jay Harris
311
Posted 05/10/2020 at 23:12:20
Olsen confirmed.
Bill Gienapp
312
Posted 05/10/2020 at 23:13:42
It looks like Sandro might be gone, but I can't tell for sure, because the tweets are all in Spanish.
Steve Ferns
313
Posted 05/10/2020 at 23:14:58
Sandro left to join SD Huesca. I think that it's only on loan but takes him to the end of his contract. So that's effectively him gone, like Walcott.
Pekka Harvilahti
314
Posted 05/10/2020 at 23:15:59
Olsen is in the Evertonfc page official first team
Danny O'Neill
315
Posted 05/10/2020 at 23:17:18
I'm not entirely sure, but I think the clubs have until 1am BST to get paperwork in, so although the window is closed, as long as the deal is agreed, there will likely be a few stragglers being announced into the early hours.
Think our business is done now for this one. Looks like our striker will come from the domestic market, which will be intriguing.
David Hayes
316
Posted 05/10/2020 at 23:17:23
Not surprised to see the whipping boy culture is still alive and kicking even though, we have won all our games and sit top of the prem. Still the ingrained need by some to concentrate their emotions on a precived enemy in the ranks. Especially the one liners " He is a liability " insert name here. Dead wood, dross ect. Those of you who imagine Keepers don't concende goals or make mistakes, and ours is the only one that does, just take a second, De Gea conceded 6 in one game, the RS keeper 7, a multitude of prem keepers so far have made errors and cost goals. but hold on ours is a clown and the worst of them all, they say. What we need is a championship keeper or a reject., third choice from a rival. This is all about that goal against the RS that many can't get over, so the fact is we have won all our games mainly with Pickford in goal. Not so long ago Siggy, Davies and DCL where dross and deadwood, I know I'm wasting my time as the need to find and revel in gang victimisation is to strong for some to resist even though your boys are riding high in style that we all have longed for, dissapionts but dosen't surprise me. It sours the joy and elation which we all know is a fleeting thing.

James Flynn
317
Posted 05/10/2020 at 23:20:53
Strange seeing Theo just walking around on Saturday, since he's always been a pro who gave whatever he had.
Must suck knowing you can stay in the league, yes. Still make good money, for a year or two more, yes. But the days of being on a first-rate team are over.
Danny O'Neill
318
Posted 05/10/2020 at 23:22:03
I'd put Sigurdsson in the category of looking much improved with better players around him David. He won't be first choice anymore when everyone is fit, but when he does play, he's going to look better for previously said reasons. Tom; I've said I'd like him to stay as a squad player. Again, he can improve with better players around him. I think both of them showed that against Brighton.
Danny O'Neill
319
Posted 05/10/2020 at 23:24:24
The Sky reporter talking about Tottenham just made a good point, which is equally applicable about Everton. A modest, yet still active day, but really, we done our main business early and didn't leave it until deadline. How often have we been able to say that in the past? I think today was more about shifting those we want off the books out on loan.
Alex Gray
320
Posted 05/10/2020 at 23:24:44
Happy with that window. Improved all around the park and got rid of some players that needed to go. I expect more outgoings in January and if I'm being critical maybe bring in another striker but overall I'm thrilled.
Dont know much about olsen being honest havent seen him play! Anyone watched him in action?
Derek Knox
321
Posted 05/10/2020 at 23:25:52
Does anyone know when we have to name our full squad to the FA ?
Steve Ferns
322
Posted 05/10/2020 at 23:30:23
Danny, I think that Brands has had next summer earmarked for a while now. So many of the deadwood will be gone by then:
- Walcott
- Bolasie
- Besic
- Sandro Ramirez
There's still another 2 years on Gylfi Sigurdsson and Cenk Tosun's contracts though.
Funny to see Tomori shafted Moyes with 10 minutes to go. I bet he's going mental in his Covid isolation room.

Danny O'Neill
323
Posted 05/10/2020 at 23:30:28
Not really Alex. Just what I said earlier, which is based on what my brother told me. He starred for Sweden in the last World Cup, was brought into Roma apparently as Allison's replacement, but it hasn't worked out for him at the club. It doesn't always right?
I suppose we go with Carlo's judgement here and I guess he knows the Italian league. But it feels more like bringing someone in who can genuinely keep Pickford on his toes rather than an immediate replacement.
No more mistakes Jordan or you break my heart and sleep with the fishes!!
Dave Abrahams
324
Posted 05/10/2020 at 23:33:23
Danny (319), Yes Danny pretty happy with the work done in the transfer window makes us much stronger than we were before, and it's not over yet, with some of the younger players going out before the 16th Oct along with Besic and Bolasie, with maybe a striker coming in.
Derek Knox
325
Posted 05/10/2020 at 23:36:12
Danny, you mean a giddy keeper sleeping with the kippers?
Danny O'Neill
326
Posted 05/10/2020 at 23:36:53
Just saw that Steve. Typical Davey leaving it until the final hour. Although I did hear 'Arry complaining about the agent cocking that one up with demanding fees even though it was a loan deal. Didn't pay much attention to the detail in honesty.
Sky came up with a really good point. The well run clubs had already done their main business and don't leave it until deadline. Singled out United for scrambling around and praised those who had already done completed their major signings.
I say singled out; they praised Tottenham and Chelsea but couldn't quite bring themselves to include Everton in that company.
I'm being bitter and paranoid, we have actually been praised throughout the day, but this unfashionable Everton thing is clearly going to take time to shake off!!
Steven Astley
327
Posted 05/10/2020 at 23:38:03
Jesus Christ, this Olsen's stats look horrendous! Surely Lössl should've been given a run?
Danny O'Neill
328
Posted 05/10/2020 at 23:38:59
I thought the fish jokes were only for the match day live forum Derek!
Will Mabon
329
Posted 05/10/2020 at 23:42:48
Eel stop in a minute, Danny.
Danny O'Neill
330
Posted 05/10/2020 at 23:43:35
Bless. 'Arry just finished off buy calling us the winners in the transfer window and calling us a proper football club. I like 'Arry!
Ray Roche
331
Posted 05/10/2020 at 23:43:38
Sandro has left Everton. On the Official Site.
Alex Gray
332
Posted 05/10/2020 at 23:45:04
Cheers Danny appreciated! Either way I saw an interesting stat floating around earlier. The last time utd got beat by spurs 6-1 was in the 60s. In the same season liverpool got beat 7-2.
We won the league that season.
Onwards and upwards blues!
Steve Ferns
333
Posted 05/10/2020 at 23:45:24
End of an era, Ray!
Ray Roche
334
Posted 05/10/2020 at 23:45:56
I'm getting quite emotional Steve
Mike Gaynes
335
Posted 05/10/2020 at 23:47:04
Pause for a moment of silence, Ray.
OK, that's long enough.
Simon Dalzell
336
Posted 05/10/2020 at 23:47:14
What a Gent, Harry. Final words wishing "proper" club Everton well. Always said he was a good judge.( I didn't mean he's dead. )
Rob Halligan
337
Posted 05/10/2020 at 23:48:40
Jeez, Sandro only been with us three years. Seems a lot longer than that.
Danny O'Neill
338
Posted 05/10/2020 at 23:48:53
Don't Alex as the years of hurt have made us all cautious. but!!
Last time we won our first 4 was 1969; won the league.
We opened the season against Tottenham and West Brom in 1984; won the league.
I know it's silly to get carried away, but isn't it great to feel optimistic again? It's not just the results, it's what we're seeing happen on the pitch.
Steve Ferns
339
Posted 05/10/2020 at 23:49:52
Rob, he's been here for Koeman, Allardyce, Silva and Ancelotti. It's hard to think that all this happened in that time!
Will Mabon
340
Posted 05/10/2020 at 23:51:22
Koeman seems a hundred years ago. Still not enough.
Rob Halligan
341
Posted 05/10/2020 at 23:53:34
16 appearances and one goal, a pointless one against Atalanta was it? I know it was in the Europa league. A dead rubber game if ever there was one.
Christine Foster
342
Posted 05/10/2020 at 23:53:41
David, 316* Totally agree with you.. but there are two sides to every story in that its a team game and the manager picks players to play a certain way and in a certain position. If ever there was a need to step back and look at whats happening, you have Koeman, Alladyce, picking players (or not) then you have Ancelotti its like a gulf in class and capability.
There is an old adage, play to your strengths, Moyes did it, albeit he got the best out of the limited players he could afford, but getting what you have to play a certain way as a team is good management as well as player capability. We have had good players managed badly, we have had poor players managed well (and badly) With Ancelotti we have good players managed well, and where there are gaps, new players brought in.
Alas far too many supporters have been used to having to make do without a plan or the means to carry one out.
It actually feels good to have a manager who knows what is required to play as a team and goes out and gets whats needed. It lifts the club, supporters and yes, even those players written off as useless.. Funny that..
Dave Abrahams
343
Posted 05/10/2020 at 23:54:31
Simon (336), don't know if Harry is a good judge, but he appeared before a good judge, who gave him a walkover!!!
Alan Johnson
344
Posted 06/10/2020 at 00:20:15
Hey folks... Take a deep breath and remember we've had a brill window. Who would've thought we'd be top of the table on merit. Now the window is closed let's get back to the real business of maintaining our lead.
Derek Knox
345
Posted 06/10/2020 at 00:34:48
Alan J@344, I saw what you did there! Getting another fish pun in while pretending to be serious, (brill) has been noted and on a scale of ten!
Bill Watson
346
Posted 06/10/2020 at 01:04:25
Just a point on goalkeepers.
It's amazing Everton haven't produced a first team goalie from their own ranks since Andy Rankin in the mid 1960s (and at around the same time Geoff Barnett who only made a few appearances before being tx to Arsenal) That's more than half a century ago!
Andy was brilliant when he came in for the injured Gordon West and kept him out of the side for a good while. Who will ever forget his save in the first ever penalty shoot out v Mönchengladbach? He received an England call up but never actually got a cap.
As far as I can recall the RS haven't produced a local goalkeeper either and I can't recall any other Scouser having a top division career, elsewhere.
Ernie Baywood
347
Posted 06/10/2020 at 01:54:28
Interesting, Bill. I can only think of Tony Warner from Liverpool. He was kind of top level.
Is that really the best the city has produced in the last 20 years?
Stephen Vincent
348
Posted 06/10/2020 at 02:36:42
Bill, does Drew Brand count? I know he was Scottish but he did come through our ranks.
Arthur Westhead
350
Posted 06/10/2020 at 07:18:36
Signing Olsen clearly says Pickford needs 'competition'. So what does that say about the 2 backup keepers we already have? Clearly considered not good enough, so why are they here?
And how would you assess our goalkeeper coach role in all this. He seems unable to do anything to calm Pickford down. So what does he actually do?

Andrew Ellams
351
Posted 06/10/2020 at 07:32:10
Arthur, like quite a few squad players signed pre-Ancelotti, they are not good enough. I fully expect Lössl to drop down a division permanently by the end of next week and Virginia to go out on loan.
Ciarán McGlone
352
Posted 06/10/2020 at 08:08:15
Disappointing end to the transfer window.
I know we've bought well and that is to be commended... but we've let a highly promising striker go and not replaced him.
Given what's happened so far this season, I'd have thought we'd have grasped the bull by the horns... this is our best chance to break the top four. I hope our lack of striking options isn't our Achilles heel.
Olsen looks like a pointless buy.
Kevin Byrne
353
Posted 06/10/2020 at 08:13:57
The EFL window has not closed yet and we still need to offload players like Besic, Bolasie.
The new window isn't that far away when you think about it.
Carlo will no doubt add to squad in the winter transfer market.
Michael Lynch
354
Posted 06/10/2020 at 08:28:07
At least we have plenty of competition for keepers on the bench now. Did Carlo decide Kean is so shit that we're better off without a striker when Calvert-Lewin is injured, suspended or needs a break?
I'm slightly baffled that we have a plethora of goalies, four central defenders who could all make a decent case for being a starter, but only one out-and-out striker. No pressure on Dominic, but I hope he's fit enough to play every game in every competition this season.
Paul Smith
355
Posted 06/10/2020 at 08:28:36
I can't believe people are actually moaning about the end of the window.
Moise Kean clearly wanted away and won't be missed, Jordan will be in no doubt that Carlo thinks he's a bit shit and needs to improve.
Sandro gone, Walcott gone. Godfrey in. Fantastico!
Richard Cusworth
356
Posted 06/10/2020 at 08:40:33
Great window all in all and I think we would have all snatched our hands off for this 5 weeks ago. Olsen is nothing more than giving Pickford one last chance to see if he can be shaken into concentration.
I must admit the Kean one is the only doubt for me. Not sure he's going to get that much more game time at PSG and, whilst he's not ready for the Premier League yet, I think it would have been better to have an option than no option. Maybe Josh King is in the wings... in which case, this would make a lot more sense.
I really don't trust our luck with injuries. Every season, we seem to have one position that is threadbare, then the inevitable injury happens. Fingers crossed. I still think we had the best window of the Premier League teams... Villa a close second – they have drastically upped their levels also.
Phil Greenough
357
Posted 06/10/2020 at 08:41:23
We can still obtain a striker from the Championship until October 16.
As to a plethora of goalies? On paper we have.
As to Kean, he didn't want to be at Everton, Carlo was right to get shut.
Bill Watson
358
Posted 06/10/2020 at 08:52:51
There's still another week, or so, to bring in a back up striker and unload a few more of the deadwood so, all in all, a very good window.
Ernie #347
Tony Warner never actually played a first team game for the RS. He had a few games for Fulham and then drifted around a plethora of lower league clubs
Stephen #348
Drew Brand played just two first team games for us.
Jack Convery
359
Posted 06/10/2020 at 09:10:28
Riquelme - what happened about Riquelme ??
Billy Roberts
361
Posted 06/10/2020 at 10:29:58
So there is 10 days to go for the window to close really, to discount what the Championship can offer is quite daft considering what Watkins has just done to the mighty Reds at the weekend. Vardy came from lower down and quickly established himself as one of the best strikers in Europe (he still is).
Josh King is still available and seems destined to move on, I'm sure there is much more below us just waiting to be given a chance. I don't go along with this mindset of a striker not willing to come to us to sit on the bench either, there will be loads off opportunity in both cup games and the league plenty.
Richard Keys is being quoted as saying Everton should have gone for Deeney before Rodriguez a ridiculous idea clearly but.
Maybe he was on to something inadvertently. Would anyone like to see Deeney on our bench? I would, I love his "fuck you" attitude. Would Deeney like to finish his career at Everton? hmmm. I think he would.
Kevin Dyer
362
Posted 06/10/2020 at 10:32:46
Not gonna lie, a bit concerned that we let Kean go without obtaining a replacement. King is the obvious option but his goalscoring record is no great shakes. Anyone know of any free agent strikers?
Would also have been happy to see a bit of flair (Lozano) or quality (Perisic) come in on loan but guess finances are limited, considering we've made very little on outgoings. Small fee for Schneiderlin and probably no more than that for Walcott. Maybe £5m loan fee for Kean, at best? Probably a net spend of approx. £50-55m, assuming no fee for James? Thankfully we've shifted some wages off the books and hopefully more to follow with Besic and Bolasie.
Brian Harrison
363
Posted 06/10/2020 at 10:36:42
I suppose the club will be hoping that they can reduce the squad still further by moving on some that are surplus to requirements to some Championship clubs. Our wage bill is still far to high and though there may be a relaxing of the FFP this season you can be sure it will be fully implemented at some point.
I guess with Mane testing positive for Covid a lot of clubs will be holding their breath when their players come back from international duty, hoping they will still return negative test results when back at their clubs.
Jack Convery
364
Posted 06/10/2020 at 10:41:36
Shaquiri tests positive for Covid. If this carries on, the derby may get postponed.
Dowell out for 3 months at Norwich. Never seems to get a run of good luck that lad.
Steve Hogan
365
Posted 06/10/2020 at 11:08:38
Jack (359) As far as I'm aware, Riquelme is still at Manchester Airport waiting to be collected by Blue Bill...
Bill Watson
366
Posted 06/10/2020 at 11:08:43
Billy #361.
I was hoping we'd go for Deeney. Maybe we will. What a beast to have on the bench!
Imagine the thoughts of a centre back, after having to cope with Calvert-Lewin and Richarlison for 70 mins, then seeing Deeney limbering up on the touchline.
Yes, a stop-gap, short term, fix but it would give time for Simms to develop.
Vijay Nair
367
Posted 06/10/2020 at 11:10:37
Kevin (362), Mario Mandzukic is probably the best of the free-agent strikers currently available, though I can't really see him coming to Everton as backup for Calvert-Lewin.
Personally I'd like us to sign David Brooks from Bournemouth. Left-footed right-winger (which we need), and can double as a second striker if required.
He's only 23 and from the North West as well (Warrington). Shouldn't be overly pricey and we could always offer them one or both of Besic or Bolasie in part exchange.
Grant Rorrison
368
Posted 06/10/2020 at 11:23:00
Just about getting rid of the all the shit we've accumulated over the last few years and people want us to go out and sign Deeney, King, et al. FFS.
Pete Williams
369
Posted 06/10/2020 at 11:24:53
Just found out the window in Portugal is open until the 25th. So we might still have a chance at getting Bolasie away seeing as that's where he last played. If Besic is wanted in the Championship then we still might get all the deadwood gone. In Brands we trust?
As for Chamionship strikers I think King would be better than Deeney for our tactics as he's more mobile and can play other positions.
Steve Oshaugh
370
Posted 06/10/2020 at 11:31:29
Wow... Troy Deeney???? I like him but our football has moved on from what he can offer.

Gerry Quinn
371
Posted 06/10/2020 at 11:32:29
Noticed this morning that Shaqiri has tested positive for Covid in Switzerland - now the 3rd RS to test positive - does this mean that the derby match may well come under review soon?
Joe McMahon
372
Posted 06/10/2020 at 11:37:54
Before anyone asks, no I'm not saying I want Troy Deeney, but he has scored plenty of goals in his time. More than much of the cack Everton have had upfront in recent decades.
Andrew Ellams
373
Posted 06/10/2020 at 11:45:19
King has definitely got more to offer than Deeney but hopefully we will be able to offer players a bit more next season and with the increased profile from the Ancelotti/James connection hopefully we can start to improve our strength in depth as much as we have the starting XI.
Bill Watson
374
Posted 06/10/2020 at 11:52:11
Grant #368
We need a short term back up for our strikers and someone who also has proven Premier League experience. Both King and Deeney fit that bill.
Dave Lynch
376
Posted 06/10/2020 at 11:55:28
Would be typical red shite behaviour if they whinge about not having a team due to Covid.
Last derby that was cancelled was when Benitez had the pitch watered at Anfield during a spell of heavy rain to flood it.
They had a few injuries then and where on a bad run.
Brent Stephens
377
Posted 06/10/2020 at 12:00:40
Gerry #371,
I don't know the answer to your question about the possibility of a specific game being cancelled because of player COVID infections but I would have thought the usual cancellation provisions (whatever they are) would apply should enough players in a club be ill – regardless of cause. So a handful of illnesses wouldn't be an issue??
Chris Leyland
378
Posted 06/10/2020 at 12:03:32
In answer as to where the derby is likely to be called off due to redshite and Covid - no.
Clubs agreed to fulfil fixtures on the following basis:
Unless they have fewer than 14 players available, including professionals in their U21 squads, their scheduled fixtures will go ahead as planned.
That said, it is the shite, so the rules will probably be retrospectively changed

Andrew Grey
379
Posted 06/10/2020 at 12:14:38
Add Welbeck to the Deeney, King list. Maybe Carlo could get something out of Tosun when he's back from injury?
Brian Harrison
380
Posted 06/10/2020 at 12:22:06
I do think that with Covid-19 spreading in the 17-25 age groups I think in the next few weeks many clubs will be effected. Thankfully with most there is little or no symptoms and most can be back playing 10 days after they have quarantined, so Mane will be okay to play against us.
As I said earlier with there being an international break many players will be staying in different hotels and a totally different environment than they have been in since they returned from lockdown. Have Mina and Rodriguez joined up with the Columbian team as I they think they have internationals planned?
Knowing our luck after a terrific start we have a few key players struggling to recover from injury, with 2 tough games coming up we can ill afford any going down with Covid-19.
Pete Williams
381
Posted 06/10/2020 at 12:24:04
Grant #368,
Back to transfers in, I think we all see a big risk if either Calvert-Lewin or Richarlison gets an injury. If we get all the deadwood gone then we might have room in the wage structure for another striker. On that basis getting a backup striker in would make sense.
However, Tosun is hopefully on his way back to fitness, Keane is only on loan and we can only look at the Championship or free agents for signings now. Therefore, Brands and Don Carlo could act now or wait until January.
I'd rather they acted now, but the finances might not be there or they might not like their options. As usual we'll just have to wait and hope for the best. Can't deny it's been a great window though.
Martin Berry
382
Posted 06/10/2020 at 12:32:45
I will be amazed if Carlo and Marcel haven't got that striker situation sorted as going with just Calvert-Lewin and Richarlison is asking for trouble.
King or Deeney will do a job as they will be in a team creating plenty of chances.
John Kavanagh
383
Posted 06/10/2020 at 12:39:51
I don't care how many Liverpool players have Covid, I'm far more concerned about the risk they pose to our players of catching it.
It's bad enough having players taking the huge risk of travelling to Fifa's internationals without the added danger of taking on half a dozen Trumps in football boots in our first domestic fixture after the break.
Bill Watson
384
Posted 06/10/2020 at 12:40:38
Welbeck is a sick note on a six figure wage. Swerve.
Robert Tressell
385
Posted 06/10/2020 at 12:49:22
Dust settled, how is the squad looking?
● 3 experienced quality, ready made players in
● Hit the ground running well, but Rodriguez we know has a patchy injury record. Bit of a risk, but looks like the talent is worth the risk.
● Olsen – about as good as we could hope as a stop-gap. He's not Manuel Neuer but he's not Lossl either. Genuine competition.
● Godfrey – lot to like. Interesting comparison as season progresses with Salisu and even Gabriel. Get the feeling he'll be a good asset longer term.
● Nkounkou – excellent.
● Jagne – who knows?
● Outgoings – fair chunk of wages gone in Ramirez and Walcott, plus deadwood in Schneiderlin. Stuck with some still (eg Bolasie) but may go to Championship clubs.
● Issues – light on strikers but could, I suppose, still get some cover in like Danny Welbeck etc.
● Right-back – Coleman is rejuvenated. Kenny is good competition. Godfrey can be a stand-in.
Overall, I'd give Brands an 8 out of 10 given financial constraints. If we can get some decent striker cover in, then I don't think we can have many complaints at all.

Billy Roberts
386
Posted 06/10/2020 at 12:50:15
Grant @368 and various others.
I wasn't advocating paying £30 million for Deeney and giving him a 5-year contract!! We are talking about a 1- or 2-year option off the bench or cover for injuries, suspensions etc.
If we draw lower league teams in the FA Cup would you not like that option.
Out of interest, who would you go for? Only out-of-contract and Championship players down to choose from, remember?
Jason Li
387
Posted 06/10/2020 at 12:53:33
Steve @ 308
Good shout for King and Sarr.
If we can move on Besic and Bolaise, and get a loan fee for Branthwaite, a better bargaining position opens up for us.
Most desperate fills in my opinion are back-up penalty box striker and a good 25+ year old international right back as Coleman can't play at maximum over the season, even if we all know he is still brilliant when 100% fit.
However, what a transfer window by the club. Ins and Outs. I think on paper we are better balanced than Man Utd which is Champions League music level.
Chris Locke
388
Posted 06/10/2020 at 13:30:44
Deeney is exactly where he needs to be. at a shit club in a lower league. The only question he should be the answer to is: "Which striker do you NEVER want to see in an Everton shirt?"
Anyone who considers Deeney as possible back up to Calvert-Lewin and Richarlison and good enough for Everton needs to think again.
Bobby Mallon
389
Posted 06/10/2020 at 13:33:18
Arthur @350, a goal keeping coach can't stop Pickford being erratic. He can coach him to stop punching the ducking ball back into play.
He can coach him to catch the ball first time and not try to pat it forward catch it so he can get an attack going quicker. But he can't stop him being erratic.
Bobby Mallon
390
Posted 06/10/2020 at 13:45:00
Our club should not cancel or reschedule the derby game because that lot are starting to get Covid-19. As in Italy, we should be given the 3 points if they can't put a team together.
I wonder if those that are positive are on the club doctor's books as being asthmatic?
Billy Roberts
391
Posted 06/10/2020 at 14:07:18
Chris @388,
Same question I asked Grant: Who would you go for out of the pool of championship and out of contract players?
Alan J Thompson
392
Posted 06/10/2020 at 14:45:24
Anyone notice that Bournemouth have signed Riquelme?
Peter Warren
393
Posted 06/10/2020 at 14:48:50
I don't understand the slagging off at Deeney (not that he's even a viable option). The point is, is he better than Simms and Tosun (once fit)?
Bobby Mallon
394
Posted 06/10/2020 at 15:25:56
Mandzukic out of contract – better than Deeney.
Jerome Shields
395
Posted 06/10/2020 at 16:21:19
Jamal#2
Glad you have nothing to do with selection.
Billy Roberts
396
Posted 06/10/2020 at 16:46:03
Bobby @394,
Good shout, would he be happy to be a bit part player? Coming off the bench, playing cup games? If so, I would be happy to see him definitely.
Robert Tressell
397
Posted 06/10/2020 at 16:55:18
The top 5 released strikers in world football are:
1. Sturridge
2. Welbeck
3. Pato
4. Mandzukic
5. Niasse
Interesting...
Chris Locke
398
Posted 06/10/2020 at 16:58:31
Billy,
I'm not sure I'd necessarily dip into that pool but, if forced, I think the King option may be worth a look... but only if Carlo thinks we need another striker. As a southern Blue, I know a few Cherries fans and they all speak highly of him in terms of both attitude and ability.
I'm more inclined however to give the youngsters a chance at filling in (if required) and reassess things again in January. After all, with James in the team, we'll create chances that are easier to convert. Also, I believe that, if we do challenge for honours this season, then it's going to require luck on the injury front.
As Evertonians, and having suffered so much terrible football for so long, we all naturally worry about the next disaster and are all waiting for this tiny bubble of hope to be burst.
I've decided for the time being to go against my natural 'Everton that' instinct and will keep believing that this squad can stay fit and do something special this season.
After all, the footballing Gods have already smiled upon us once when they created James and sent him to Goodison. Who's to say they won't keep smiling!
COYB

Dan Nulty
399
Posted 06/10/2020 at 17:01:36
I'd take a punt on Welbeck out of that list as a back up given we are short of options. Even Sturridge on a pay as you play deal. Wouldn't touch the others.
Robert Tressell
400
Posted 06/10/2020 at 17:05:25
And the top 5 strikers in the Championship (apart from a teenage Brazilian yet to play for Watford) are:
- Josh King
- Dominic Solanke
- Teemu Pukki
- Andre Gray
- Troy Deeney
Also interesting...
Robert Tressell
401
Posted 06/10/2020 at 17:07:35
Dan, I think I would be violently sick if we signed Sturridge. Welbeck is a genuinely good footballer - but unfortunately v injury prone. I would be ok with him or Mandzukic.
Bill Watson
402
Posted 06/10/2020 at 17:16:16
Welbeck is a highly paid sick note. Swerve.
Chris Locke
403
Posted 06/10/2020 at 17:36:26
- Dominic Solanke
- Teemu Pukki
- Andre Gray
- Troy Deeney
If these are the best the Championship has to offer then we are better off finding another barrel to scrape the bottom of.
Solanke is a waste of space and Cherries fans cannot believe they spunked nearly £20 million on him.
Pukki's, Gray's and Deeney's races are run. They've had their purple patches but are all destined to grace the lower leagues with their limited talent.
They are definitely not tens of millions of pounds (which they would likely cost) better than our reserves. Many of whom would love the chance to pull on the blue shirt, even if it's just to sit on the bench.
Why are so many keen to refill the 'deadwood' basket when it's not even completely empty yet???
Paul Hewitt
404
Posted 06/10/2020 at 18:37:16
Robert @397. Number 5 looks interesting.
Robert Tressell
405
Posted 06/10/2020 at 18:45:19
Chris, I kind of agree. King would definitely add something to be fair. He's a good player. Other options not great. Welbeck and Mandzukic would be understandable. But it might simply be better to work with what we've got.
Billy Roberts
406
Posted 06/10/2020 at 21:11:05
Chris @ 403 & Robert 405,
We most definitely need a back-up striker with experience, surely that is evident.
I understand all the reasons given for and against but I think we have to dip our toe in that murky water. I don't hear of anyone bursting out from the Under-23s, like Jeffers or Rooney did (from the reserves).
It's surprising how better some players can get when given a swansong in elevated company. Clearly Sturridge and Welbeck are technically far better than Deeney and King but would possibly bring baggage.
I'm an optimist, almost deluded when it comes to strikers, and I could see all of them contributing, Mandzukic would bring something different again.
I would have to draw the line at that Niasse fella though... I have a gut instinct he's not that good.
David Hayes
407
Posted 06/10/2020 at 21:33:00
What's the clamour to replace a ghost ! that never had any impact or effect on the team or result of any game, in which he played, didn't want to be here and wasn't here.
Can anyone tell me what he actually did on the pitch? Apart from nearly do something and end up frustrating the passage of play. The idea of singing a burnt out Championship thug, or burnt out mercenary, is laughable.
The quality that now makes us a formidable unit is now the standard and yet, regardless of the upgrades, most TWers look to the very level of deadwood (as they put it) that occupies too many sqaud numbers.
You can hear it now, the uproar if it actually happened: "Kenwright has done us again." Carlo etc know what they are doing. Wait and see and enjoy the ride.
Martin Berry
408
Posted 06/10/2020 at 21:34:46
Just off the subject of additional strikers.
If Everton really did sign James on a free, then it means we signed him, Allan and Doucouré for roughly the same price as Arsenal's Partey.
Now that's what I call real transfer business! Yet those arseholes at Sky never even mentioned us when the subject of the teams doing the best deals was discussed on their Deadline Day programme..
Geoff Lambert
409
Posted 06/10/2020 at 21:43:44
Yes, David!
A burnt-out injury-prone has-been...
Just what loads on here were saying about James.
Grant Rorrison
410
Posted 06/10/2020 at 21:55:10
Billy 386.
Out of the players mentioned I would go for....
None of them.
Billy Roberts
411
Posted 06/10/2020 at 22:01:00
David @407
So what are you suggesting? Our front three will go through the whole campaign, without an injury suspension or needing a rest. We are trying to replace a "ghost" because we need support in that position.
Is there some brilliant striker at our club, working as the groundsman or something I haven't heard of...? Because a few posters' refusal to even consider our options is totally perplexing.
Grant Rorrison
412
Posted 06/10/2020 at 22:05:16
Billy @411.
It's quite straight forward, not 'perplexing' at all.
Signing someone who is a load of bollocks won't solve any problems relating to injuries, suspensions or fatigue.
Denis Richardson
413
Posted 06/10/2020 at 22:09:44
On the way out, players we've managed to let go this summer:
Niasse, Schneiderlin, Martina, Garbutt, Stekelenburg, Sandro, Walcott.
That is one hell of a cull and some nightmare blasts from the past from all recent managers since Moyes. Dread to think what the weekly sum of the wage bill was for just these 7. Probably about £500k/week!
The mood at Finch Farm must be completely different now compared to just 3 months ago with all these gone and serious quality coming in since then.
Just Bolasie, Besic and Tosun left I think. First two in the last year of their contracts so I imagine they'll be off soon as well. Never know, maybe Carlo can even get Tosun to find the net if he just stays around the box, as back up for Calvert-Lewin.
Brian Wilkinson
414
Posted 06/10/2020 at 22:16:15
Billy, the transfer window reopens as normal in January, why look at a championship player just for a couple of months?
I think we will look to offload in January, then and only then do I see Everton making a move for a striker.
If need be Richarlison can play as a striker, we have Ellis Simms who could probs cover if needed for the short term.
I would keep our powder dry for now.
Not many will be looking to buy January, so we may find a disgruntled striker nearing the end of his contract.
Or we could still be near the top and attract Eduard, if we can offer European football.
Jay Harris
415
Posted 06/10/2020 at 22:41:39
Strikers or goalscorers as I prefer to call them find it very hard in the Prem and that is why the best go for large sums.
As one or two have already alluded to what is the point in bringing in another Tosun. None of us can be unhappy with the squad enhancement there has been this window and we are in a much better place than I'm sure the majority of us expected.
Personally speaking I would sooner take a chance on the existing squad and bring some quality in as and when available rather than get another Tosun right now.
Geoff Lambert
416
Posted 06/10/2020 at 22:42:51
Or we could have a couple of injures have no back up and drop down the table like a stone.
Jay Wood
[BRZ]
417
Posted 06/10/2020 at 22:48:44
Can't find the Calvert-Lewin Called Up To England thread, so I'll stick this link here. Very nice interview with Dom at the England training camp today:
Calvert-Lewin: I Never Stopped Believing
Always a pleasure to listen to Dom. Very eloquent, very well-grounded young man. He is destined for media work if so inclined when his playing days are over, I'm sure.
Brian Williams
418
Posted 06/10/2020 at 22:54:11
FFS!
Christine Foster
419
Posted 07/10/2020 at 02:15:22
Interesting... I must admit I have wondered if Ancelotti can work his magic on Tosun (bear with me) – rationale being look at Sigurdsson, dead man walking last season, looking almost good this season, because he has quality players around him.
Same thing with respect to the quality of chances we are getting now. Calvert-Lewin has grown into something many of us never thought he could (would). It goes to show what I have always believed: quality players raise the game of the people around them.
Billy Roberts
420
Posted 07/10/2020 at 03:22:11
Fair enough, Grant @412,
You think we'll be fine and don't need cover as all the options are a load of bollocks.
I think we will need cover and, amongst all our options, there are definitely players who can contribute and aren't all bollocks.
Time will tell, I suppose, if no-one is brought in these next 10 days, Ancelotti feels the same as yourself.
Graham Mockford
421
Posted 07/10/2020 at 07:22:53
I'd definitely be taking a chance on Benrahma. He's untested at the top level but he was one of the outstanding technical players in the Championship last season, he'd add something different to the squad and maybe he's the next Mahrez.
Tony Everan
422
Posted 07/10/2020 at 07:47:28
Christine 419
I know where you're coming from with Tosun, of all the players we want to move on, Cenk is the one that you could argue a case for. He does have some qualities, a predatory instinct and would improve for a sustained run of games and confidence.
On balance though, even if he returns fully fit, I don't think he is a top 4 or 6 forward. He doesn't offer enough pace or aerial threat to be an effective impact sub either. His days as an Everton player are numbered.
With Kean gone I was expecting a back up forward to come in, Calvert-Lewin and Richarlison won't play 50 games for club and country , they will need some respite.
Carlo and Brands must have someone in mind, we will need him .
Steve Shave
423
Posted 07/10/2020 at 07:54:15
Rob, whatever happened to Pato?? He was going to be the next big thing from Brazil...
I think he went to China after bombing in a big move, was it too Milan? He had a lot of potential – maybe Jay Wood can offer us insight?
Poor Jay, anything Brazil related and you get wheeled out and questioned like a roving reporter. Shame for you we now like Brazilians a lot here at Everton!! :)
Paul Smith
424
Posted 07/10/2020 at 08:32:07
A player that looks better because those around him have more quality is still a mediocre player. Yes, there are always better players in a team but we should not be looking to mediocre players who need quality players to make space for them to look good.
Systems can suit individuals and bring the best out in them but when the debate is about them needing space to perform the debate is over for me, it's an admission they're just not that good imo.
Ringo was a shit drummer but became a legend in that group... if only football was like pop music.
Graham Mockford
425
Posted 07/10/2020 at 08:44:13
Pato is 31 and his race is run. Had a decent spell with Milan around the turn of the previous decade.
Spent the last 7 years in South America other than a short unsuccessful spell at Villarreal. Hasn't played for Brazil for seven years.
Not a chance we would go in for him.
Tom Bowers
426
Posted 07/10/2020 at 08:44:56
One has to assume Carlo knows what he is doing. Hard to criticize after winning seven on the bounce. However, there are still many flaws to iron out before we can be comfortable in the knowledge that we are finally a side to be reckoned with.
Some of the early season scorelines throughout the Premier league have been mind-boggling to say the least so maybe we should wait until things settle down before we can really assess the bigger picture.
Everton did well in atrocious conditions against a much improved Brighton but they had spells when they allowed Brighton too much possession – especially after Richarlison went off and the last 15 minutes when basically the game was won.
It would have been nice to have seen another experienced striker brought in. That wasn't to be but the bolstering of the defence was so important. Nkoukou looks a steal.
Hopefully Pickford will come back to his best after the break but I still think Tom Davies is a little slow at times for a young guy.
Eugene Markey
427
Posted 07/10/2020 at 08:50:59
Paul Smith @424,
You might know about football but you know nothing about drumming.
Andrew Ellams
428
Posted 07/10/2020 at 09:18:24
I see a lot of talk about Benrahma at Brentford. From what I can see, he is 25 and last season was the only season in his career so far where his stats...
Also, if he is that good why have a nation like Algeria only capped him once in the past 5 years?
Ian Horan
430
Posted 07/10/2020 at 11:04:36
Great piece on twitter from the esk:
More detail to follow but @Everton's incoming transfer activity will see £18.4m added to amortisation costs plus £17.25m to wages; total annual cost £35.65m. Outgoing annual savings total £28.25m. Net cost £7.4m p.a. – a truly remarkable summer. Congratulations to all involved!
Brent Stephens
431
Posted 07/10/2020 at 11:31:51
Ian: "Net cost [of recent transfer activity] £7.4m p.a. – a truly remarkable summer. Congratulations to all involved!"
Remarkable indeed. Moshiri, Brands, Carlo going great guns at the moment.
Steve Shave
432
Posted 07/10/2020 at 11:41:29
I wonder if we will be in for a striker at all? With Walcott gone and Bolasie possibly going I suspect they will instead go for a right-midfielder. Buendia is high on my wishlist or perhaps Brooks. Offer player plus cash and a Bolasie loan??
Paul Smith
434
Posted 07/10/2020 at 12:21:26
Eugene, I know fuck all about either. I thought Calvert-Lewin was shit.
Bill Gienapp
435
Posted 07/10/2020 at 12:24:28
I think Josh King would be a solid signing, but in terms of some of the other names being bandied about, you have to ask - are they significantly better than a healthy Cenk Tosun?
Now I know Tosun's stock is more or less in the crapper, but the guy knows how to finish at least. If he was receiving James-level service, he could probably bag more than a couple goals this season.
Tony Everan
436
Posted 07/10/2020 at 12:43:08
Ian 430, It is incredible, there is a magician at work.
Add to that some very well timed contract extensions for Keane, Holgate, Calvert-Lewin and Gordon and the acquisition of Nkounkou for less than a million.
Dare I say we are starting to look like a well run club?
Steve Shave
437
Posted 07/10/2020 at 12:53:19
Tony, if only we could erase the ill-fated Koeman Walsh transfer splurge eh? Disastrous to say the least... and something I imagine Moshiiri ruminates on heavily.
Kieran Kinsella
438
Posted 07/10/2020 at 13:46:48
They may be looking at going with what we have till January then, if the financial rewards look like outweighing the risks, bring in another forward.
Frank Crewe
440
Posted 07/10/2020 at 14:11:08
@ Steve 437.
Yet one of Koeman's cheapest buys is currently setting the Premier League on fire. None other than Dominic Calvert-Lewin. Not to mention Michael Keane isn't doing too badly either.
I think sometimes managers buy the right players but just at the wrong time.
Mike Bersiks
441
Posted 07/10/2020 at 15:41:45
Have you guys checked this article on Sky Sports:
Premier League transfers: Spending breakdown after Deadline Day
Everton have moved out 20 players (permanently or on loan) while bringing in only 6 for a net spend of approx £63M (I say approximately because it made no mention of a fee received from Reims for Fraser Hornby). In anyone's book that's a great window both in terms of quality added to the squad and wages reduced.
Jay Wood
[BRZ]
442
Posted 07/10/2020 at 15:44:53
I'm humbled by the association, Brent.
I am most definitely not in your league, fellah!
James Flynn
443
Posted 07/10/2020 at 16:14:38
NBC Soccer did a rating for who had the best window. Everton got the highest rating.
They also did something titled, "Premier League Club Power Rankings 2020-21, Vol. I". Again, Everton came out #1.
What was interesting and a pleasant surprise, when reading the ratings, was something said about the RS (Who were rated #4). This:
"Joel Matip is better than most people think and certainly more impactful than Joe Gomez. Even with him possibly fit after the break, there's reason to believe that Richarlison, James Rodriguez, and Dominic Calvert-Lewin isn't the best way to merge back into the PL highway."
Enjoyed that.
Graham Mockford
444
Posted 07/10/2020 at 17:41:37
Andrew 428
I think he's a little bit of a late bloomer. He moved to Nice at 18 but never really settled, suffered from injuries.
He's been at Brentford for two seasons where he's been excellent. He got into the PFA team last year and has been recalled into the national side.
Of course whether he can do it at the highest level is a gamble and someone like Josh King is a safer bet but he's definitely got excellent technique and an eye for goal.
Don't forget Mahrez was a similar age when he established himself as a Premier League player.
Bjoern Haall
445
Posted 07/10/2020 at 19:08:45
My Fotmob app has reported today that we have signed Imam Seedy Jagne from BK Häcken as well.
Brian Williams
446
Posted 07/10/2020 at 19:30:02
You need to update your whatsitsname app mate that's ancient news. 🤣🤣
Tony Everan
447
Posted 07/10/2020 at 21:21:28
It's near the end of this transfer deadline day thread.
It is worth noting that our main, critical transfer business was, this window, premeditated and done in advance. This was due to excellent groundwork by Brands and Ancelotti. Doing things in a professional way in good time has helped in a big way to get us started on the front foot.
More of the same please, next summer.
Kieran Kinsella
448
Posted 09/10/2020 at 00:54:27
Bernard's agent mouthing off about Carlo blocking his move to Italy. Reckons he can get Everton to agree to a £7M sale in January.
Is this the same agent who inserted a £40 million buyout clause in Bernard's contract when he joined Everton? If so, is he going to cough up the difference?
---
Add Your Comments
In order to post a comment, you need to be logged in as a registered user of the site.
Or Sign up as a ToffeeWeb Member — it's free, takes just a few minutes and will allow you to post your comments on articles and Talking Points submissions across the site.