Benitez gets vote of confidence from Moshiri
Thursday, 2 December, 2021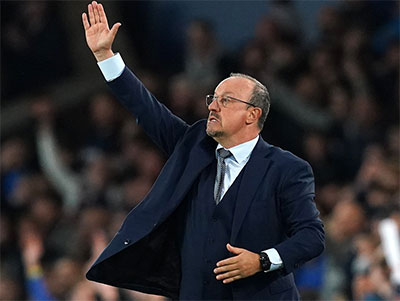 Farhad Moshiri has pushed back against speculation that Rafael Benitez could be sacked by expressing his belief that the Spaniard will be able to turn things around at Everton in the coming weeks.
The Toffees' owner and the Board of Directors came under fierce criticism from the club's fans after last night's derby mauling by Liverpool at Goodison Park and there have also been calls for Benitez to be fired after a miserable run of just two points from the last 24 available.
In a text exhange with TalkSport host Jim White, however, Moshiri blamed injuries for Everton's abysmal form.
"Football is about crisis one day and glory the following day," White says Moshiri told him. "Rafa is a good manager and underperformance is largely due to the injuries.
"Next two weeks, we will get to a full squad and, in the meantime, results will improve.
"Rafa needs time to have his mark on the squad. He will be supported to add depth to the squad. Managers need time.
"I have no doubt that we will have a strong second-half to the season."
Everton have struggled in the absence of players like Richarlison, Abdoulaye Doucouré, André Gomes, Dominic Calvert-Lewin and Yerry Mina in recent weeks but all but two of those members of the team are now back fit.
Nevertheless, results — and, in particular, performances — have not improved and the club has plummeted from 4th to 14th in the table having lost six of its last seven fixtures to sit just five points above the relegation zone.
Matches between now and Christmas against much-improved Arsenal, title-chasing Chelsea and a Leicester side with designs on repeat qualification for Europe mean that the fixture schedule will test Benitez's capacity to reverse the team's fortunes to the limits with no guarantee that Calvert-Lewin in particular is ready to return to regular action.
The England international striker is working his way back from a serious thigh injury and has been in individualised training at Finch Farm as he attempts to build back his fitness.
---
Reader Comments (182)
Note: the following content is not moderated or vetted by the site owners at the time of submission. Comments are the responsibility of the poster. Disclaimer
Dave Williams
1
Posted 02/12/2021 at 14:10:20
I agree, he has had to cope using players bought by other people who just don't have what it takes.
Our way forward has to be developing our own players and that is my major doubt about Rafa – will he give youth a chance when he has a stable team?
The games against Arsenal and Palace will give a much better idea of whether he can turn us around; Liverpool would have caned most teams on last night's form.
Paul Hewitt
2
Posted 02/12/2021 at 14:13:01
Good. Now you can all stop crying and get behind your manager.
Alan J Thompson
3
Posted 02/12/2021 at 14:15:49
So, there you have it from the horse's mouth; no improvement in the next month and he's gone. Don't forget that this is from the man who has employed two out of the three of our more recent managers who have had teams relegated.
There's an old saying that to err is human and to blame it on something or somebody else is even more human.
Ed Prytherch
4
Posted 02/12/2021 at 14:16:09
Good article on the BBC website:
Toffee fans in 'mutinous mood' over clubs 'dismal track record'
Starts off with -
Everton chairman Bill Kenwright claimed lavishly earlier this year that other clubs look admiringly in the direction of Goodison Park's boardroom when examples of how to conduct their affairs are required.
Kenwright stated: "One very famous football club said to me two or three days ago 'whenever we have a problem we say 'what would the Everton board do?' because they always get it right'"
On recent evidence, "always" is rather a stretch and it is to be hoped this club did not gaze too longingly at Everton's board - for their own peace of mind if nothing else - because they have got precious little right for a very long time.
In fact, this nameless organisation might have been best served doing the complete opposite given the recent dismal track record at Everton.
Kenwright's message certainly seemed lost on those Everton supporters in mutinous mood at the end of a 4-1 home derby defeat by Liverpool as they made it clear they were wondering what the club's board were planning to do about the hot mess they find themselves in after spending almost half a billion pounds and sustaining huge losses.
They were certainly not congratulating Kenwright and his colleagues on always getting it right.
Everton supporters in the beating heart of their fanbase, the Gwladys Street End, unfurled a large banner criticising the board when Liverpool raced into an early 2-0 lead. It referred to the club's motto "Nothing But The Best Is Good Enough" and read: "We Demand Nil Satis Nisi Optimum. It's About Time Our Club Did Too".
The real hostility and fury was reserved for the final whistle.
There were loud chants of "sack the board" with Kenwright and director of football Marcel Brands particular targets for what might politely be described as "colourful" words from furious supporters gathered near the directors' box as they made their way out.
Steve Brown
5
Posted 02/12/2021 at 14:17:31
The dreaded vote of confidence. He won't last the season and will be deservedly fired.
He should already have been gone after 6 defeats in 8 games.
Derek Moore
6
Posted 02/12/2021 at 14:17:45
Jesus, the dreaded vote of confidence. There's not much patience left in the well now.
A mullering by Arsenal might well be the end of him. Everton, crisis club.
Kieran Kinsella
7
Posted 02/12/2021 at 14:18:59
Brands's comment: "Is it only the players?" – What does that mean? It was in response to a fan saying, "Get out of our club. Did you sign them?"
1. Does he mean: "Is it only the players? eg, how about blaming Rafa?"
2. Does he mean: "Is it only the players? How about the owner and Kenwright making a mess of the club?"
3. Does he mean: "Is it only the players? Yes, they suck and I do for signing them, but what about Moshiri, Kewnwright and Barrett-Baxendale too?"
4. Does he mean: "Is it only the players?" being sarcastic as he views "get out of our club" as a ludicrous demand?
5. Is his English poor and he didn't understand the question and offered an incoherent response?
Karen Mason
8
Posted 02/12/2021 at 14:23:28
On other threads, many are saying Benitez should be put in charge of signing players, without interference.
Holy smoke, people! Do you not remember how much money he spent – or should I say 'wasted' – when he was across the park??? He spent millions on players that either never played, or were not up to the required standard. All signed by him. So many, you would have to get an honest RS fan to name them all.
So, even if FFP rules were not in play here or Brands was not involved, giving Benitez the authority to sign who he wants would be a disaster.
Please can't we have a manager who can actually develop players and get the best out of them? If we have no money, then a decent coach who develops players has to be the solution. Benitez is not that Manager.
I have watched individual players deteriorate in front of my eyes. Even Steve Bruce did as well as him at Newcastle, and Bruce is nothing special as a manager.
Benitez is being evaluated on past glories. Not on his ability now. His employment was just a very bad decision on every level.
Brian Harrison
9
Posted 02/12/2021 at 14:28:25
Not sure which thread I should post this, but here goes.
Last night, I was in my usual place in the Upper Bullens, about 30 seats away from our neighbours' fans. And when they scored their first goal, one of these morons sets off a red flare, and someone in the Lower Bullens also set off a flare which was thrown onto the pitch.
This then happened every time they scored a goal, and yet I didn't see anybody being taken out of the ground by police. But what I can't get my head around is whose first thought on a match day is "Oh, I'd better make sure I have got a few flares..."
Sitting where I do, I get to see the behaviour of all away fans and no other club's fans, as far as I can remember, ever let a flare off inside the ground.
Now if these people can get in with flares, it makes you wonder what else could be smuggled into the ground?
So I would hope that our club who have CCTV of whoever had those flares asks our neighbours who were occupying those seats and arrests them.
Also, ever since Covid restrictions and away teams have got changed from the Park End portakabins, we have never had a tunnel erected for them to walk through... so why was one erected for them last night? It will be interesting to see if this is a permanent fixture while Covid restrictions are in place.
Christopher Timmins
10
Posted 02/12/2021 at 14:28:29
The article from the BBC referred to above is apt. It goes to show how out of touch Kenwright is with reality!
I can't think of a reputable and currently available manager who would consider joining our club at present! The only other serious contender when the job was up for grabs during the summer was Nuno and look what happened to him.
Ian Burns
11
Posted 02/12/2021 at 15:00:14
Christopher @10,
There are managers out there who could do a job of developing players but the problem is Moshiri couldn't make the right decision if it was between Pep Guardiola or Mike Barrett!
Soren Moyer
12
Posted 02/12/2021 at 15:01:39
So they pretend they didn't hear what the fans are demanding!!!?
It's not about bloody Benitez anymore.
Nick Page
13
Posted 02/12/2021 at 15:04:25
Brian.
They get away with everything. Worst fans I've ever seen. Even though most of my family are reds, I never shy of telling them what a shower of odious self-entitled pricks they are when it comes to matters football.
TPTB do nothing, nor do they ever go after that monstrous gobshite on the touchline. Same with the media. Their PR machine is super-slick even though the owners still think the fanbase is there to be ruthlessly exploited (and are).
Christopher, he's never been in touch. He's a big actor who hogs the limelight, cosying up to other big-wigs in the Premier League. He's the ruination of Everton Football Club but he won't be shamed because he has the hide of a large African herbivore.
Marc Hints
14
Posted 02/12/2021 at 15:06:02
Well, that's good then – communication through Jim White, unbelievable. I think we will be in the bottom 3 or 5 by the end of the season as this is not just the manager and players but from the owner downwards and this is why:
Denise (charity worker) as our CEO
Bill Kenwright just won't let go and lives in a dream world.
Marcel Brands – I don't know if anything is his doing, is he allowed to be DoF?
Farhad Moshiri, our owner who has no idea how to run a football club
Players stealing a living who are not good enough.
Unsworth has been at the club years and produced how many graduates for the first team?
ExZ-players given coaching roles although they've never coached.
We are a sentimental club, the so-called People's Club, we keep players like Tom Davies because of this thinking (again, Bill Kenwright).
It's rotten from top to bottom and, for the first time last night, I think the board really don't care.
Did anyone see Alex Iwobi laughing on the bench last night? At least Alex Ferguson would put the boot up his arse if he saw it and get him out of the club. But he will be here next year.
We should've started from scratch before appointing Rafa, decide which way you want to play football, let the DOF do his job, and find a manager who fits the same bill. Same with looking at players who will play that way, young and hungry.
All we are doing is papering over cracks constantly because no-one knows what to do.
John Daley
15
Posted 02/12/2021 at 15:09:17
" Brands comment "Is it only the players?". What does that mean? It was in response to a fan saying. 'Get out of our club. Did you sign them?'"

It was clearly a leading question with (presumably) the expectant answer being that results and performances are down to the manager as much as the players. Hence why Brands shook his head and walked off when the bloke replied 'the whole board'.
Brands is hardly going to be openly throwing shade Kenwrights way when the Toad of Toad Hall looking luvvie twat is trundling up the steps right behind him.
Now, he's obviously correct, Benitez has got to take his share of the blame. You can't pick up a paltry 2 points from 24, suffer the worst run of PL results in 22 years, the heaviest derby defeat at Goodison in 39 years, win one game since September, score one goal in the whole of November, persist with the solitary tactic of trying to counter-attack at speed with this fella up front leading the charge: Link, all while being paid £8m a year for the privilege and not have fingers pointed your fucking way. The fact that nobody wanted him in the first place, except the main man in Monaco, simply makes the whole situation worse.
Every manager given the gig since Brands came onboard has been Moshiri's pick alone. Silva, who he was courting even before plumping for Allarydyce on the back of spotting his autobiography in the bargain bin at Blackwells, Ancelotti when he got stars in his boggly eyes and Benitez, after another 'comprehensive managerial search' concluded with… err…the unemployed bloke who lives down the lane (and literally nobody looking surprised when the shit ends up 3 bags full). That means they stay in situ until Farhad himself gets the shit put up him, panics and decides he better pull the plug fast before it's too late.
Given his previous track record and the fact he'll be looking to better the most ludicrous managerial appointment in the clubs history then I wouldn't put it past Moshiri to name himself First Team Manager next. The absolute fanny.
He's installed a Director of Football because 'that's what big clubs do' but he immediately chops off the blokes dick by taking the biggest decision out of his hands…over and over again.
You can understand Brands feeling frustrated at the way things have played out and having to suffer (what he probably feels) is unwarranted stick, but you simply cannot feel much sympathy for the man because he was all too ready to take his sweetener seat on the board, sign a bumper new contract and sit there simply playing at being in charge, all the while knowing he's packing nothing but a floppy rubber dildo down his dapper Dutch keks.
Either Moshiri has to take a step back, wind his fucking neck in and give the man he brought in to oversee football operations autonomy to actually perform that task, or he may as well bin him off ASAP along with Benitez because it's a complete waste of time him carrying on blagging everybody with his current half-arsed, bit-part, bastardisation of the role.
John Pickles
16
Posted 02/12/2021 at 15:30:17
Paul #2 Well said!
Joe McMahon
17
Posted 02/12/2021 at 15:30:33
"Football is about crisis one day and glory the following day," True but we never get the glory, unless you go back decades.
Alan at 3, the much praised on this site David Moyes is also a relegation manager. I thought Mosh didn't give Silva enough time. The Wrong one was Koeman/Walsh.
Bobby Mallon
18
Posted 02/12/2021 at 15:34:49
Why can't I get to match day updates page
Jay Harris
19
Posted 02/12/2021 at 15:56:08
Many moons ago when I was a senior figure in a big corporation we brought in the guys who had written the "excellence" books (Peters and Waterman) and they had studied all the successful companies and looked at the traits of those companies.
Now I know football is very different but one of the things that stood out to me was the statement that you "need to create the conditions in which people can work effectively".
It seems to me that EFC is one of the worst examples of this with a shotgun effect of recruiting people and no particular plan. It just seems that Moshiri is making it up as he goes along based on what people like JIm White tell him added to which Kenwright thinks he runs the show and undermines every change that is proposed. Brands has done a Koeman and said I'll just plod along doing as little as possible and as for DBB she must be the only CEO who has no experience or knowledge of the game apart from being a supporter and a charity case.
Pressure and expectation put a real burden on people and only the mentally strong with real self belief can perform to their potential added to which unity of purpose is a necessity throughout the club.
Now how can you have unity of purpose when you have different thinking and 5 totally different managers in 4 years.
First and foremost the board have to come out and say this is the plan and we are all behind the team and the manager in achieving this and any board member who disagrees needs to resign. We need a strong football based CEO not just a yes woman to make the club seem nice.
This plan needs to incorporate recruitment and training and development with clear measurable objectives.
We then need to restructure the training, fitness and coaching functions something Brands should have done already if he had any clue and balls.
James Marshall
20
Posted 02/12/2021 at 16:01:22
I fully expect this to be a fairly unpopular opinion, but I don't agree with blaming Benitez, nor do I always agree that the manager is entirely at fault as a rule.
Benitez inherited a mix & match squad assembled by about 4 different managers, which in my view, is why the play is always so disjointed as well.
Why the hell we ever bought players like Iwobi or James Rodriguez is utterly beyond me, and both just two examples of major recruitment errors.
Benitez has bought Gray and Townsend - both have done OK, especially for the little money they cost - Everton's problem isn't Benitez, it's mismanagement from the top level that's costing us both money and points on a matchday.
All this chopping & changing managers every time things get tough is exactly what not to do, and exactly how not to run a football club. You need continuity and cohesion for it work, and those are exactly our issues which lay firmly at the feet of the board.
Anthony A Hughes
21
Posted 02/12/2021 at 16:05:36
"turn things around in a couple of weeks" Turn us into what? A slightly less shit midtable team?
If Moshiri thinks this is just down to a couple of injuries then he's more deluded than we think.
Matt Byrne
22
Posted 02/12/2021 at 16:11:03
Not unpopular with me James. Fully agree. Football was okay first month before injury to key players struck. He's spent a pittance and both Gray and Townsend have been amongst our better players. He wasn't the one who has caused chaos with atrocious recruitment. He didn't waste a penny if the £500m. Much rather see likes of BK and MB leave. Benitez dies deserve some criticism and if he simply can't get a result a change will need to occur but I would prefer he stays and be given a chance to turn it round.
Mark Dunford
23
Posted 02/12/2021 at 16:11:45
Seems clear that he has three games to achieve something or other - straight defeats to Arsenal, Palace and Chelski will surely spell the end of his tenure with the worst record since statisticians first took an interest in the game. The first two fixtures may yield something and then I guess it will come down to where we sit in the table.
Of course, injuries to key players weaken a team - no insight from Moshiri, there - more so when the squad is threadbare because there was no support in the summer and the choices made were squad players - though I accept Gray is a really exciting player in the Everton mould.
It is an impossible situation of Moshiri's making. Benitez was so obviously the wrong choice from a poor field - yesterday's man and the wrong history. We all knew that and worried that a serious crisis could easily emerge but we're there anyway. Sacking him will quite possibly lead to a weaker field again. Lampard is the only high profile manger I can think of who is looking for work, and his record is pretty poor, or more likely Ferguson as an interim. We may yet be stuck with the Spanish devil we know but we also know who to blame for the whole sorry mess.
Marc Hints
24
Posted 02/12/2021 at 16:15:37
James#20
I think your right there, its the board that worries me as said in previous post. You could get Klopp, Pep and we would still be watching the same rubbish.
It's down to the board being incompetent, poor recruitment etc...
Rafa has been dealt a bad hand in players he has and to be honest we have had injuries to our 4 or 5 best players. Then you have FFP
So I'm willing to see what January brings as in players and summer recruitment then I'll judge Rafa next season.
But Farhad has got to sort the board out, let DOF do his job.
Stephen Vincent
25
Posted 02/12/2021 at 16:21:26
James Marshall #20, still to angry to post something sensible about last night. But I just have to say, you are so wrong.
Mick O'Malley
26
Posted 02/12/2021 at 16:23:47
He's the "best we can get" apparently so all good, do me a favour Benitez out now, he agreed to work with this squad, he knew what he had to work with when he agreed to £8million a year so he deserves the flak, the injury excuse is wearing thin now, a non entity for 8 seasons or so but I'm so lucky to be a blue cos " he's the best we can get" I will never except him, don't care what he done 10 years a go it's irrelevant today
Alan J Thompson
27
Posted 02/12/2021 at 16:25:28
Joe(#17); The only one I thought was worth appointing was Ancelotti but for the life of me I don't understand how Martinez, Silva and Benitez who had teams relegated could be considered and for that matter how simple escape clauses seem to have been included but not the right to terminate contracts, without compensation, if certain KPI's are not met, which must reflect on those who agreed contracts.
I certainly don't go along with this idea that there is nobody to replace the current manager although a lack of transfer funds might discourage the most well known and that may be the case for a couple of seasons to come unless the loan market is milked but it is possible the wage bill might be a big part of the problem.
Whatever is done, it needs doing in fairly quick time or it will be at leisure in a lower division.
Paul Richardson
28
Posted 02/12/2021 at 16:28:48
Perhaps not the right place for this but...
Benitez deserves a (reserved) pass because he inherited a mess not of his own making. The issue remains with the academy the Under 23s lost 3-1 to Peterborough United (my closest club) yet nothing was put on the club website etc. You cannot sweep these failures under the carpet. NISO etc... let's get it out there.
Christopher Timmins
29
Posted 02/12/2021 at 16:32:45
Whoever is responsible for the purchase of Iwobi for £30 million deserves to be shown the door, whoever headhunted Moshiri to purchase our club deserves to be shown the door, end of!
Barry Hesketh
30
Posted 02/12/2021 at 16:40:11
Isn't it obvious that the board will not be sorted out anytime soon, if the owner believes that it is purely down to injuries that Everton is suffering a poor run of form?
He is also imagining that throwing more money at the squad in the future will be the answer, where that money will come from can only be from selling the better players in the squad, unless he has some multi-million-pound commercial deal to announce by the end of this year.
The man is a fool and we all know that a fool and his money are easily parted, but, Benitez has recently stated that Moshiri is a clever guy.
Mick O'Malley
31
Posted 02/12/2021 at 16:40:48
I'm pretty sure Pep or Klopp would do a better job of managing these players and have us playing better football than Paelladyce currently has us playing
Mike Gaynes
32
Posted 02/12/2021 at 16:43:46
Mick #26... and replaced by whom?
James #20, your opinion is popular with me too. "All this chopping & changing managers every time things get tough is exactly what not to do, and exactly how not to run a football club." Amen.
I was not in favor of hiring Benitez, and I certainly don't agree with all his decisions, but he had a mid-table-quality lineup performing above expectations when everybody was healthy, and I believe that whenever our best players are back up to speed, we'll be all right in the table. Which is not to say that the club itself will be all right without major changes. They are needed, and now, to move this club forward. But changing who walks the touchline would not fix what's broken.
Tony Twist
33
Posted 02/12/2021 at 16:50:20
They are all to blame, I think it is a cumulative effect, Moshiri for sticking his nose in to player purchases and not bringing in a football and business expert CEO. It's Brands for not growing a pair and saying I choose the players, no-one else. I am guessing but Moshiri probably suggested the purchase of Iwobi but now says I employ Brands to say yes or no on any purchase. Benitez and his crew are to blame for the state of the team. Unfit, injury prone, disorganised, can't pass to each other, bewildering subs, refusing to play Gbamin for qtr of an hour whilst 2-1 up against Watford when midfield was being bossed by them, then literally throwing the player under a bus by playing him from the off in a 2 man centre midfield! BK well let's not go there but ex players ain't necessarily the best option for a job. Big Dunc is on standby which is why Moshiri has given benitez the vote of confidence and of course Moshiri came out and said that it was his decision to bring in Benitez so he will get extra time. I think Brands, even with a new contract, is most at risk.
Dale Self
34
Posted 02/12/2021 at 16:51:30
Well this is going to be a good scrap. Remember how Moshiri has used White in the past to float some, well I'll just leave it there. This is an old playbook move but does Moshiri have the mettle to handle the pressure or is he just going through the motions?
It will be a rousing discussion for sure but let's not forget that Rafa doesn't need to go through anyone to speak with considerable credibility. Round 1 here.
Joe McMahon
35
Posted 02/12/2021 at 16:55:15
Yeah FFS i've just seen it, the Kenwright quote on the BBC homepage.
Kenwright stated: "One very famous football club said to me two or three days ago 'whenever we have a problem we say 'what would the Everton board do?' because they always get it right'"
Like i'm sure many, I have no words.
I just want him out of Everton Football club, the embarrassment he brings to us fans. I've never clapped this twat once.
James Head
36
Posted 02/12/2021 at 16:56:45
Mick # 31 don't waste your time mate, I know your just venting your justified anger but your never going to counter the argument that poor team selection and unfathomable tactics are justified with who else is there that could do the managers job, no matter how bad we are and how lost the players look, we should just keep sinking towards relegation because...who else is there!
Brian Wilkinson
37
Posted 02/12/2021 at 16:57:16
The guy on the video quite rightly vented his anger towards Brands then when Bill followed I thought hey up Bill is going to get an earful.
How wrong was I the fan clammed up and said nothing to Bill then a different fan hugged Bill.
Rob Halligan
38
Posted 02/12/2021 at 16:59:11
Brian, it looked to me like there was a security guard in between Kenwright and the fan, thus preventing any nasty confrontation with the fan and Kenwright.
Matt Henderson
39
Posted 02/12/2021 at 16:59:35
That very famous Club that said that to Kenwright was Arsenal just as Bill was about to sign the £30m cheque for Iwobi.
Mark Rankin
40
Posted 02/12/2021 at 16:59:40
We are paying for a disastrous run of signings prior to Brands taking over - £200 million on signings with next to no return some of whom are still here (Tosun) since then Richy, Doucouré, Digne, Gray, Allan, Godfrey, Townsend in with a much reduced spending power (there has also been Iwobi, Delph, Gbamin and Gomes). Also much of the sh1t is now either out the door or on their way out so surely the wage bill is healthier. Keep Benitez, keep behind the team, fight for every point, stay up, get DCL back and Jan/Summer get recruitment right and we can finally put the Kidman/Allardyce era behind us
Simon Dalzell
41
Posted 02/12/2021 at 17:02:45
John (16 ) I don't agree. no. 2 post is somewhat childish and patronising. Benitez has no place in the modern game and the stick he is getting is justified. No way is he the one to take us forward.
Mike Gaynes
42
Posted 02/12/2021 at 17:07:46
Simon #41, no manager is going to take us forward at this point. This club doesn't have the talent or organization to move forward. We need somebody to just keep our heads above water, and for better or worse, Benitez is it.
Jonathan Wilson in the Guardian wrote this today:
"Change the manager? It's the familiar solution, but Benítez is already the sixth Everton manager in Farhad Moshiri's six years as owner. Perhaps he is the right man, perhaps he isn't, perhaps a former Liverpool manager should never take charge at Everton, but at some point it has to be accepted something more fundamental has gone wrong, that for all the money spent by Moshiri this is a club that remains marooned in mediocrity."
Dale Self
43
Posted 02/12/2021 at 17:15:36
Exactly, already at a point where the players have been there longer than the managers on average and that is a certain factor in the squad's deterioration. It is beyond a morale problem, it is beyond a manager's tactical nous, it is a complex problem that I believe Rafa is at least willing to address. Everyone else looks to be putting lipstick on a pig.
Rob Dolby
44
Posted 02/12/2021 at 17:19:35
I will read back the above comments as I am probably going to repeat what someone has said above.
This is the best news that I have heard since he was appointed. The old footballing cliche, the vote of confidence usually preceded by the sack a week later!
Can't wait.
David Connor
45
Posted 02/12/2021 at 17:36:12
Vote of confidence is usually the kiss of death. Another heavy defeat against Arsenal and he will be gone on Tuesday. An absolute shambles of a club.

At least I am old enough to remember the golden 80s. I fear the younger generation wont see Everton win a trophy ever again. The current squad wouldn't even win the Championship if we get relegated. What a prospect.
Jerome Shields
46
Posted 02/12/2021 at 17:37:16
Moshiri just seems to be flapping about hoping that injuries are the problem, and speaking to Jimmy White with his yellow tie the Oracle for Moshiri. But there is more than injuries that are producing these team performances. The squad has no depth and no competition for places. The team was badly prepared and where not up to the tactics of the Manager.
Moshiri does not have a Clue what is wrong and has no option only to back Benitez to turn things around. I doubt he thinks the Board of his input to achieving that. He is hoping that this is all a drama with a beginning, middle and end and move on the January and it will all past. At least he is giving some indication of backing Benitez with resources.
Though I do not think this is a vote of confidence. It is more Moshiri's ramblings with Jimmy White with the yellow tie, hopeing Benitez can do something and he can continue watching Italian Television in Monico with no hassle.
Jerome Shields
47
Posted 02/12/2021 at 17:39:50
Mark#40
Have you seen the wages those in brackets are on ?
Neil Lawson
48
Posted 02/12/2021 at 17:40:01
The alternative version off air to Jim White reads as follows
" Jim, I am a knob. Everyone told me Benitez would be a dreadful appointment, but I didn't want to hear it because I know best. My previous choices of manager may have proved to be suspect, well, shit would be a better word. However, I am an arrogant ignorant fecker and like to be contrary and I am so ridiculously rich I can laugh in the face of all those miserable mealy mouthed supporters and then pay lip service to them when I sack the manager. I do, of course, have an encyclopaedic knowledge of football so when I say Benitez will soon oversee an upturn in form I am, of course, being utterly disingenuous. I know that I would be deluded to think he is now capable of improvement. So after we lose to Arsenal, probably Palace and Leicester too, I may have to act and do what I should have done this morning. But none of this is my fault. We have been missing 3 players. Three. Nearly an eighth of the squad ( but one of them did play in our last 2 defeats so he is clearly not that crucial ) and Rafa brought in Rondon who is a truly world class striker ( so DCL not that crucial either ). So, Jim, in the true scheme of things, I couldn't organise a piss up in a brewery and Benitez couldn't manage an orgy in a brothel. But all will be fine at Christmas. And Santa Claus is real. "

Eddie Dunn
49
Posted 02/12/2021 at 17:44:58
Marc- I also saw Iwobi laughing but in fairness he was being spoken to by a colleague sitting behind him and it was before the first goal went in( if my fuzzy memory is correct!).
I heard the Jim White bollox today, I will be hoping that Rafa can get a result on Monday but on the evidence of the last few games he is making elemental mistakes that are costing us games.
Firstly there was the awful zonal marking of a few weeks back, then the persistence with poor Rondon. Last night the lack of Delph in a defensive three across midfield allowed space for Henderson to score unchallenged and our flanks to be overrun regularly.
We are only missing Mina and DCL.
A half fit Dom is not going to pull up trees.
Rafa seems pig-headed and has sent out teams in a torpor for the opening period in most games, even before this run of defeats.
If we lose to Arsenal the idea of sticking with him will be very unpopular.
Brian Harrison
50
Posted 02/12/2021 at 17:45:55
Mike 42
While I accept the fact that changing managers every 18 moths or so is not ideal, but Abramovich has had 16 managers in the 18 years he has been at Chelsea and they have won Champions leagues, Premier leagues, FA Cups.
But what he did was appoint the very best managers at the time and that's the key best managers at the time, not managers who hadn't won a trophy for a long while. And he certainly wouldn't have appointed Koeman, Silva or Allardyce. So I think although not ideal he proved if you appoint the right man and give him money to spend you expect success which by and large he got success.
I don't buy this Benitez is the best we can get, I would have tried to get Christophe Galtier who had just managed Lille who had beaten PSG to the title, and he has moved to Lyon who are now doing well, last night away to PSG got a 0-0 draw. But right now Moshiri is hoping that given some funds in Jan and hopefully key players back from injury then Benitez should at least get us safe. But he isn't the answer long term, he will never win over those that didn't want him so just like at Chelsea were he won a trophy Abramovich realized without the full backing of the fans it wasnt worth pursuing with Benitez.
John Pickles
51
Posted 02/12/2021 at 17:54:10
Simon #41 Premier League spending ranged from 1st Arsenal at £147M to 19th Watford at £17M, Everton were 20th with £1.7M, Benitez was on a hiding to nothing as soon as we started getting injuries. 'Knife to a gunfight?', FFP has given Rafa a peashooter.
Three wins and it's 'new manager is brilliant', three losses later it's 'sack the manager', pathetic!
Gary Smith
52
Posted 02/12/2021 at 17:54:55
Everton has been my passion all my life. First thing I check in the morning and last thing I do before sleep (most of the time).
Today is the first time I have ever felt……nothing. I don't feel angry, I don't feel sad, I don't feel…..anything.
It's really bizarre. Maybe it's shock after last nights events. But I felt that last night, and I felt it this morning.
It coincided with Moshiri's text to Jim White backing Rafa. I think Farhad et al may have (still hoping I wake in a sweat tomorrow) killed it for me. The idea of defensive 30 year olds playing 442 is just the end for me. Only thing I can do now is stop caring. Is it possible?
Chris Leyland
53
Posted 02/12/2021 at 17:58:58
Mike 42 - being "marooned in mediocrity" is something we can only aspire too. We are currently wallowing in woefullnes and rowing in relegation-ness
Mike Gaynes
54
Posted 02/12/2021 at 18:03:20
Brian #50, your example is a good one. Galtier got interest from multiple clubs (and how do you know we weren't one of them?), but he never had the slightest intention of leaving France, and he resoundingly rejected even the rumors about the RS because, he said, his English wasn't good enough. Nice was the only club he interviewed with, and that's the offer he accepted.
Abramovich isn't a good comparison. He was able to hire the best available because he had unlimited funds to offer and tons of talent to tempt them with. We had neither. Of course he wouldn't have hired Silva or Allardyce.
I never said Benitez is the best we can get... I've just asked some of those who want him sacked RIGHT NOW who they would hire to replace him. So far I have received no replies at all. So how about you? You're a thoughtful observer of the managerial arts. Who is currently at liberty and desperate enough for work that you'd want on our touchline instead of Rafa for, say, Boxing Day? Villas-Boas? Favre? Surely not Lampard?
Johan Elmgren
55
Posted 02/12/2021 at 18:11:09
"He has inherited a weak squad"
This is the case of every new manager, inheriting a squad that underperforms and that has forced the board to get rid of the old one. There is no new manager that starts his tenure with "his own" players. The job for the manager is to find a way of playing that suits the players available, and then season by season adding "his" players improving the squad. Rafa hasn't gotten them them to play any better, he hasn't found a way to play that suits the players. He's performing worse that Ancellotti with almost the same squad. In fact, the players aren't that bad, many of them are full international players and they were beating several of the top teams last season, indicating the quality is there. Benitez can't bring it forward though...
"He has had injuries to keyplayers"
Every team gets injuries to keyplayers. The trick is to have a type of play with a clear tactical setup and players so well-drilled, so tactically ingrained in the system that a couple of new players won't matter, instead they slot right in and performes at expected level. They have a clear plan to excecute and will do it in their sleep... Rafa has no clear tactical plan, and if he has, the players hasn't understood it.
Benitez is yesterdays manager. Football has evolved since he was considered a good manager, Benitez hasn't... We will go down with him in charge... He needs to go!
I dread the prospect of letting Benitez being in tenure over the january-window if there is funds available.. That will mean another "wrong" manager getting funds and spending them on old has beens on high wages, further deepening the economic woes of the club...
Alex Gray
56
Posted 02/12/2021 at 18:15:36
I'm not angry about Moshiri backing Benitez. Honestly don't think anyone could get these players to a higher level. I do take issue with him texting Jim White on talksport about it and doesn't even bother to put out an official statement.
I'm conflicted about Moshiri. Reality is we've wasted a lot of money that he put in to the club. However, he hired steve walsh and Brands who have been disasters.
As Everton fans we should know who signs and sells players. When Villa lost Grealish their owner came out and explained the situation to the fans. We need some communication and we get a text to Jim White.
Kim Vivian
57
Posted 02/12/2021 at 18:17:14
Off topic slightly, but...
I wonder if there's a stat which shows which players have played under the most mangers whilst at one club.
Seamus must be heading into the record books at nine (and counting).
Dale Self
58
Posted 02/12/2021 at 18:23:32
Not picking a fight but stating that WE have wasted money that Moshiri put into the club is completely delusional. He is fully responsible for the money HE puts into the club.
Ian Hanes
59
Posted 02/12/2021 at 18:24:04
This not an anti-Benitez post but 7 of 11 starters last night played in Anfield win last season with DCL on the bench. Just saying
Mike Gaynes
60
Posted 02/12/2021 at 18:25:21
Chris #53, I was going to post exactly the same comment at the end of the Wilson quote.... I just forgot. Yep, mediocrity would be a blessing at this point.
Johan #55, having a system "so tactically ingrained" that injured starters are replaced with reserves who can "slot right in and performes at expected level" requires two things Benitez hasn't had.
One is time to ingrain the system to that level. It takes months or years. You can't do it in a few weeks, which is all Benitez had before the injuries started coming.
The other is reserve players talented enough to implement the system. Rondon isn't going to execute remotely close to the level of Calvert-Lewin no matter how "ingrained" he is. Neither is Iwobi for Richarlison. Or Godfrey for Mina. Or Davies for Doucoure. Rafa could institute a system like the North Korean army on parade and those guys could never march up to the level required, because they don't have the ability.
Mike Kehoe
61
Posted 02/12/2021 at 18:39:03
The outcome last night was so predictable with a formation Humphrey Appleby may once have described as 'courageous and bold' but to every other blue was wildly optimistic to the point of shrieking stupidity and virtually guaranteed the inevitable hammering we all expected before a ball was even kicked: how far we have fallen when Delph not starting is the forewarning of impending doom.
Cant blame Benitez for the wastefulness of those who mismanaged before him, but he has done so little to suggest there anything other he can offer than aspiring to achieve mediocrity.
The identity of the club is what? The absence of style and substance is overwhelming; the absence of tactical nouse or business acumen in recruitment has been criminal.
Watching the idiots who have violated the club over the last decade has been like watching toddlers play with loaded guns. BK saying other clubs admire the 'Everton way' is offensive and ridiculous, demonstrating the contempt he must feel towards the fans. The likes of Newcastle must be concerned they could follow our example and blow their new found wealth as we did.
I feel we are now so lost we don't know where the road is anymore: Martinez, Koeman and Silva couldn't find their back pockets and took us all on a gay romp on Moshiri's money and took us to the edge of the abyss. Regarding the playing set up I can see nothing positive. I hope Ferguson will one day lead with intelligence and passion but I am no judge: I thought Bolasie would be brilliant.
If it takes relegation to shake things up then so be it.
I used to feel angry and hurt when we would lose a derby, now I'm just grateful it was only four.

Geoff Williams
62
Posted 02/12/2021 at 18:47:37
Congratulations to Benitez on getting his best ever Derby result for Liverpool. Little wonder RS fans were singing his naje.
Bill Gienapp
63
Posted 02/12/2021 at 18:50:39
Man, Benitez just doesn't inspire strong feelings in me one way or the other.
I wasn't thrilled by his appointment, but I wasn't totally against it either.
We've played 14 matches. The first seven I thought we were surprisingly good (not the least of which because we were playing more of a direct, attacking style than was unexpected). The past seven we've been woeful. Obviously injuries are the main culprit, but I don't think you can point to much of anything that Benitez has done tactically or in terms of innovation to cope with said injuries that inspires much confidence.
I don't think sacking him at this stage would solve much of anything... though if he were sacked, I don't think it would be completely unwarranted.
So, in conclusion... *shrugs shoulders*
Conor McCourt
64
Posted 02/12/2021 at 18:55:42
I honestly don't get some of our fan base and their unwavering belief in this manager.
Lucas Digne for me is arguably as good as any left back in the country in an attacking sense. He is also for me a very poor defender. Why on earth any coach would play him in a four defensively with a wide midfielder in front of him blocking his space and requiring him to defend all game is total fucking madness. You have just nullified your most potent attacking weapon while at the same time created an extra liability. Fucking bizarre.
Allan is the worst defensive midfielder I've ever seen play for Everton. Doucoure is also pretty poor defensively and often sleeps with his athleticism sometimes his saving grace. Doucoure is a box to box player, good in the air, can break the lines and has a great goal return for a midfielder. Why would a manager play these players in a two man midfield. Would logic not dictate that you play these players in a three when you have three players in Delph, Davies and Gbamin who can all play that specialist defensive midfield role and let the handbrake off Doucoure and let him do what he does best.
I have listened to fans argue as to who could do better, I would ask who could possibly do worse? Whose strengths is Benitez playing to? Richarlison must be going crazy with absolutely no service. We can't defend, We can't attack, We don't try to control possession, we have no structure. What are these Benitites seeing that I'm missing? Where is this evidence that we can't do better? What are they observing to have such confidence in this manager? I haven't seen one performance all season where we have looked a decent, organised, well coached team even when everyone was fit.
Put Yerry and Dominic in that team against Brentford. Guess what we probably still lose that game. We were shambolic. Graeme Potter has two players who would walk into our team in the shape of Bissouma and Lamptey. They dominate most of the teams they play with a bunch of journeymen who lack real quality. They can't score for toffee yet carve out numerous chances each game. If he managed us players would be allowed to play and we would soon be on ascent up the table with our firepower. We aren't asking for miracles; just for a manager to maximise his resources at his disposal. There is nothing working well under this regime, its worse than Mike Walker.
Tony McNulty
65
Posted 02/12/2021 at 18:55:47
I was looking for a poncey Latin phrase for something I'm writing.
I came across a bit of Virgil:
'Forsan miseros meliora sequentur' (for those in misery perhaps better things will follow)
Didn't make me feel much better either.

Tony Hill
66
Posted 02/12/2021 at 19:01:42
Conor @64, Potter is the one (realistic) manager I would be tempted by now.
Ian Edwards
67
Posted 02/12/2021 at 19:01:48
If Richard Keys is to be believed, the Club was offered for sale to a mate of his in the Middle East for £500m with a similar sum for the ground. It was turned down.
Moshiri may have lost interest and Keys also said Usmanov won't spend anymore. Worrying times if true.
Johan Elmgren
68
Posted 02/12/2021 at 19:03:26
Mike #60
If you have a tactical setup that is in the backbone of every player, it almost shouldn't matter if you put in an inferior player. As long as most of the team consists of ordinary players the difference shouldn't mean that much. At least not to the point of not winning for eight games, many against rather mediocre opponents.
He's had months, and I for one, can't see any traces that the players have caught up on his "type of play". You should at least see signs of the teams tactical setup after this time... All I see is confusion and headless chickens. Even his defensive setup isn't working and the total lack of foundations are draining the players confidence...
Tony Hill
69
Posted 02/12/2021 at 19:09:54
Tony @65 try: "sunt lacrimae rerum".
Graham Mockford
70
Posted 02/12/2021 at 19:10:54
Tony
Now that's just taken me back to Latin O level 1981.
Forgive me for being pedantic but Mr. Doyle definitely told me that phrase from the Aeneid translated as 'perhaps better things will follow the wretched.'
Perhaps a better poncey phrase which is more apt is
"In absentia lucis, Tenebrae vincit
Johan Elmgren
71
Posted 02/12/2021 at 19:15:45
Conor #64
Nail on the head!
Jay Wood
[BRZ]
72
Posted 02/12/2021 at 19:20:49
You do trip over yourself, don't you Conor?
Berate fellow fans for not seeing what you do.
Repeat your usual list of the inadequacies of players you don't fancy.
List all Benitez's failings as you see them, closing that particular diatribe with:
'I haven't seen one performance all season where we have looked a decent, organised, well coached team even when everyone was fit.'
This is where it all comes of the rails.
You followed that paragraph by bigging up Brighton and Graeme Potter with the words:
' They dominate most of the teams they play with a bunch of journeymen who lack real quality. They can't score for toffee yet carve out numerous chances each game. If he managed us players would be allowed to play and we would soon be on ascent up the table with our firepower.'
All well and good, but it does rather ignore that Potter and Brighton got absolutely schooled by the Spanish fellah and his team on their own patch this very season when, curiously enough, we had everyone fit and well.
Still, good (selective) rant Conor. Hope it was suitably carthatic for you.
Dale Self
73
Posted 02/12/2021 at 19:21:12
I love the ' I have listened to other fans' questions' and I have decided to ask myself another question rather than answering theirs. QED, Fuck'n A.
Kieran Kinsella
74
Posted 02/12/2021 at 19:27:30
Conor
You raise a valid point on Digne with regard his attacking/defending. Bu really Gbamin as a viable option in defensive mid? You said Allan is the worst you've seen there but did you not see his two appearances for Everton there? He was like a clown on roller skates.
Steve Oshaugh
75
Posted 02/12/2021 at 19:28:13
I couldn't bring myself to watch the game yesterday. The result was entirely predictable before the game. They are flying and smashing much better teams than we can currently put out. I was hopeful of course but realistically didn't want to watch that lot sticking it to us on our home patch.
We've been building to this point for a few seasons now and the poor selection of players and managers was eventually going to catch up and so it should. We should be paying the price for the shite that has gone on.
I don't see what is achieved by getting rid of Benitez now. He is by far the most palatable of the options that I can see. Having managed Liverpool a long time ago is neither here nor there to me- plenty of players have made the switch-and if Klopp suddenly decided he wanted to manage us I would gladly take him(twat that he is). Whoever can get a tune out of our team will do me. Benitez started well and a series of injuries/suspensions have weakened what we can do. That will turn around but injuries to key players do cost teams seasons... VVD being out cost them last year and they couldn't readjust. I'll be back cheering the team on from the next game- hopefully we can get amongst them and start playing some of the footy we played at the start of the year

Tony McNulty
76
Posted 02/12/2021 at 20:07:48
Tony (69) indeed
Graham (70) If your school was anything like mine, a board duster of gargantuan proportions is currently heading towards one of our skulls as punishment for an incorrect translation. And to think that some people are afraid when cushions get thrown.
I have found another Latin phrase which could come in useful following yesterday's game:
"Isto pensitaris?" (You mean you get paid for this crap?)
Rob Dolby
77
Posted 02/12/2021 at 20:12:44
Mike 54 I would rather have Ferguson, Rooney, Potter or lampard. There's 4 for starters.
We are pretty average and won't trouble the top 6 any time soon, let's get some pride back. Under Benitez last night was the lowest I have felt being a blue and I have seen some shite since my first season ticket in 1978.
Conor spot on re Digne. The 4 man midfield obsession, set piece defending and random substitutions are baffling.
I don't get why he can't be more pragmatic with formations, losing the midfield battle before a ball is kicked in most matches.
I am afraid he has to go. My own club taking the piss out of its own fans is an all time low.
Boys pen Bill making millions out of Moshiri happy to give out hugs after our worse Derby defeat in 39 years and worse run of results in 22 years. Some Evertonian.

Pat Kelly
78
Posted 02/12/2021 at 20:16:34
The next three games and he'll be gone. Can't see him managing a point from these games. I expect the board are working on another short list. Moshiri should be working on a shortlist to replace the board. You can't keep blaming just the manager when the chairman, CEO and DOF have failed repeatedly.
Derek Knox
79
Posted 02/12/2021 at 20:18:50
Now, this is where I don't get it, why allegedly, being a Top Accountant, buys a Premier League Football Club (God only knows how much longer ?), leaves a total knobhead to carry on as Chairman, doesn't even turn up to watch games ?
Especially a game that means so much in the City Bragging Rights Category (chance would be a fine thing for us there !) but is one that has been the game we first check when the Fixture List comes out. Has blown a King's Ransom on Manager Compensations plus inappropriate Players/Contracts/Wages etc, then doesn't seem to bother.
My experience of Accountants, which admittedly is limited, has been that any major expenditure has to be justified, or if it isn't, there is a post mortem as to why not ! We don't seem to have any of that with this set up. We have a Board comprised of (hitherto, allegedly) one Football Guru, a Theatre Impresario, and Salesgirl of the Year who knows as much about Football and Everton as I do about the sex life of an African Dung Beetle.
WTF is going on ? I wish someone could explain to me.
Graham Mockford
80
Posted 02/12/2021 at 20:25:31
Tony 76
The board duster was the teachers weapon of choice at St. Eddies
Oh and the leather strap
Kieran Kinsella
81
Posted 02/12/2021 at 20:27:43
Pat Kelly
Wasn't it traditionally three games after the vote of confidence that you got the sack? Although Mike Walker only got two because he claimed he'd be "bomb proof" if he won the derby. I personally don't think sacking him now with the cost of a payoff and dearth of available miracle workers and cash would help us short term, but historically the vote of confidence is usually a bad omen.
Derek Know
Mt brother in law is an accountant and every purchase of a round of pints warrants a full audit.
Pat Kelly
82
Posted 02/12/2021 at 20:28:01
Derek, I don't get it either. Maybe Moshiri thought he'd make a killing if he made a success of Everton and then flogged the Club, especially with BMD built. But he's blown it. He's already lost a fortune and will need to spend another one just to make us competitive. His big mistake was not having a professional board who know how to run a football club.
Ian Riley
83
Posted 02/12/2021 at 20:34:39
Either the players improve with results or rafa goes thats how it goes.
Last season we finished outside the top ten. Why? The squad cannot sustain consistency. Rafa comes in changes methods with injuries, results suffer.
Players must be accountable but one man will suffer. Rafa is a football man but this is a results business. The owner has made this statement to show support but also to make aware results must improve.
Soren Moyer
84
Posted 02/12/2021 at 20:41:09
This is the list of players purchased / loaned by Brands:
Lucas Digne
Joao Virginia
Bernard
Yerry Mina
Andre Gomes
Kurt Zouma
Jonas Lossl
Fabian Delph
Jean-Philippe Gbamin
Moise Kean
Djibril Sidibe
Alex Iwobi
Jarrad Branthwaite
Niels Nkounkou
Allan
James Rodriguez
Abdoulaye Doucoure
Ben Godfrey
Robin Olsen
Joshua King
None of them are exactly un-eathed gems as we have paid a lot of money to hire them.
Will any of the above get into a top 6 team? I think not!
Gray, Townsend and Rondon are not included in the list as I'm not sure who was responsible for bringing them into the club. Probably Benitez.
Tony McNulty
85
Posted 02/12/2021 at 20:53:27
The players at Rafa's disposal are a pretty poor bunch all told.
If we put the lot up for sale I suspect there would be a scramble for DCL (although probably not amongst the top six). Richie and our keeper would find suitors at a reasonable price.
The rest? We'd get a few quid for Gray. Maybe four or five might find clubs if the price was right (unlikely to be what we paid for some of them).
The rest would struggle.
Dave Brierley
86
Posted 02/12/2021 at 21:23:57
Derek 79.
"Now, this is where I don't get it, why allegedly, being a Top Accountant, buys a Premier League Football Club (God only knows how much longer ?), leaves a total knobhead to carry on as Chairman, doesn't even turn up to watch games ?"
Knobhead Derek? Millionaire who has Everton as a hobby.
"The top accountant " can watch every game via the net. Probably a better view.
Who's the muppet Derek?
Could be you>
Chris Corn
87
Posted 02/12/2021 at 21:25:33
I lose interest when people advocate Potter, who is on a ten game winless run himself. He got booed by Brighton fans after the Newcastle game.
He also admitted he is affected by criticism from Brighton fans in a previous interview.
Clearly, no place for him at Goodison then because he'd have a breakdown if he got a fraction of the abuse Benitez gets, or indeed other managers before him.

John Reynolds
88
Posted 02/12/2021 at 21:38:08
The bollixology of Moshiri delivering the "vote of confidence" in Benitez through a series of texts to Jim White encapsulates the problem at Everton. In Ireland we have long experience of the Absentee Landlord, it allows all sorts of abuses and incompetencies to fester. The buck stops with the owner.
I've been scrolling the threads since Brentford looking for Darren Hind's take on things. For all his ability to ruffle feathers on here, I respect his knowledge, opinions and entertainment value hugely. Wherefore art thou Darren?
Rob Dolby
89
Posted 02/12/2021 at 21:40:15
Chris 87. Have you seen Brighton play? If they had a goal scorer they would be in the top 6 all day. Potter has got them playing controlled attacking football with a bunch of pretty average players.
Ferguson gave us some pride back in his spell.
Lampard had Derby playing well with a few loans from Chelsea.
I am stretching this one a bit but even Rooney is a young manager who is a blue at heart.
All 4 above won't make us challengers, far from it. Bet they wouldn't serve up a shit sandwich of last night's proportions either.
Don Alexander
90
Posted 02/12/2021 at 21:49:10
John (#88), I have it on good authority that Dazza's got the Widow Twankey part in the the Crimbo pantomime, so he's probably feeling a bit stretched right now!
Robert Tressell
91
Posted 02/12/2021 at 21:55:28
Rob # 89. Potter is a good manager - but they have a good set up at Brighton and are being rewarded for a youth / development strategy (which they've invested pretty heavily in). The club is organised for success. I can't see why he would leave for Everton. Lampard too. Without a transfer budget our most likely option is Ferguson.
Graham Mockford
92
Posted 02/12/2021 at 21:56:19
Don
A very plausible explanation but I heard he's mainly on Real Madrid websites complaining about zombie football
Don Alexander
94
Posted 02/12/2021 at 22:00:11
"Oh no he isn't!!!!!"
Graham Mockford
95
Posted 02/12/2021 at 22:02:49
Don
They are only 7 points clear at the top, disgraceful
Soren Moyer
96
Posted 02/12/2021 at 22:05:19
Potter was booed by BHA aupporters as if they were a top 3 club ffs! I watched the game and they were just unable to convert their chances to goals. Other than that they are playing great attacking footbal.
Christy Ring
97
Posted 02/12/2021 at 22:15:30
Mike #54 I disagree and would definitely take Lampard. Nothing wrong with his purchases at Chelsea, Tuchel has more experience but Frank's signings still excelled.
Benitez has taken 2pts from 24, I'm bewildered that people still think he's not part of the problem. Injuries haven't helped but his decision making, tactics, team selection and substitutions have been dire. You can go through different games, I'll just highlight the last two, apart from constantly playing Iwobi and Rondon, bringing on one sub against Brentford and 1-0 down with 3 forwards on the bench, and last night the redshite had Henderson Thiago and Fabinho in midfield, we were completely overrun because Benitez only played two in midfield, Doucoure and Allan. Doucoure was completely lost, even after 10 minutes bring on Delph and let Doucoure play in an attacking role. No, he's definitely part of the problem and his game plan is outdated for the modern game.
Derek Knox
98
Posted 02/12/2021 at 22:37:21
Dave @ 86, I have watched Everton a lot longer than you mate and seen how things have gone pear-shaped, I remember watching Alex Young and some of the 'greats who have worn that shirt with pride' and being in my seventies now, take umbrage at being called a Muppet, when I have always only wanted the best for Everton.
Remember our Latin Motto, or have you forgotten or not been aware of it, in the first instance ? You make me laugh people like you, I don't profess to know everything about Everton but I'm pretty sure I am streets ahead of you.
Seb Niemand
99
Posted 02/12/2021 at 22:38:06
I say stick with him. You're not going to get anyone better and your just throwing good money after bad to sack him.
Danny O'Neill
100
Posted 02/12/2021 at 22:42:04
The dreaded vote of confidence. I suspect that one of Brands or Benitez could be gone by the time we face Arsenal from what I am reading.
Robert @91, that has depressed me. To think our only option is Duncan Ferguson. The near 50 year old with no real managerial experience. Give it 6 months, we'll be looking for the next incumbent. We may get an initial fist pumping boost, but it will slide soon after I suspect.
Although not totally averse, I'm not convinced by Lampard. I've often harped on about the players not being good enough regardless of the manager. Lampard's Chelsea stint would call me a hypocrite. He had the players, but it took a better coach to come in and get the best out of them because he couldn't. What would he do with this shower given he had a team that is now steam-rollering most of the Premier League but effectively failed with them?
Maybe he's an option to come in and build some foundations for someone else? Maybe. Providing he'd be willing to take the increasingly poisoned chalice that is Everton.
Give it to me if you're going to appoint a so called Evertonian.
I think this could be goodbye to Brands. Personally, and in the sake of consistency of opinion, I'd have walked long ago if I was him having not been allowed to do my job.
Chris Corn
101
Posted 02/12/2021 at 23:03:21
Advocate Potter all you want. He doesn't win many football matches.
It's a results business and anyone who thinks Potter would get time before the knives were out, if he was on the type of run he is on at Brighton and Benitez is on now; which would likely happen at some point; is deluded. It's happened to Koeman, Silva, Allardyce and now Benitez.
So much so that we now have no real credibility as a fanbase externally because with the exception of Allardyce, all Moshiri's sackings have gone on and got elite jobs or are doing well in their new ones. We just keep crying for a new manager when things don't go our way, because "we are Everton." NSNO has just been a motto on the badge for 30 odd years now.
Ancellotti got pelters and he actually had a good win ratio over the course of his tenure.
If recent history is anything to go Potter wouldn't last 5 mins at Everton.
As extensively discussed, the rot is at boardroom level and until a proper structure and strategy is in place nothing will change.
John Kavanagh
102
Posted 02/12/2021 at 23:06:27
Rob H @38. Just as well that security guard got between the justifiably angry Blue and Kenwright at the end. Otherwise we could have witnessed one of those very rare instances where the fan hits the shit.
Kieran Kinsella
103
Posted 02/12/2021 at 23:09:46
Brent Stephens
104
Posted 02/12/2021 at 23:13:59
Superb, John!
Ian Riley
105
Posted 02/12/2021 at 23:17:18
Stay with rafa!! Our squad is an excellent championship squad and bottom 8 premiership squad. If we avoid relegation job done, take ya bonus. Those expecting more see a doctor and quick!!
Keep giving managers big pay offs can't go on! Rafa is miles ahead of those being mentioned to replace him.
Brighter days are ahead!
Danny O'Neill
106
Posted 02/12/2021 at 23:17:45
Potter is the next over-hyped English coach because he's English in my opinion. He is "succeeding" based on low expectation.
A bit of a Mike Walker plus (done a decent job with Norwich), Alan Pardew etc. You can rattle them off.
No thank you. Without wanting to upset John Senior and my agreement with his series that football existed before 1993, there is a reason that the only non foreign managers to win the Premier League were Sir Alex and the one who's name I will not say (both Scottish). Both were early on and one went on to build a dynasty.
Don't get caught up in the media & pundit hype to promote the next so-called English thing to get a plumb job. They always plug their mates.
In my opinion of course.
Derek Knox
107
Posted 02/12/2021 at 23:20:45
John K, Touché, I take my hat off to you there mate, and although very funny, a lot closer to the truth than you possibly intended !
Soren Moyer
108
Posted 02/12/2021 at 23:29:44
In my opinion potter is a decent messager but it doesn't mean I prefer we sack benitez and hire him instead! As many have pointed out, the problem is at the board level and the whole setup of our club. Preferably, we should get rid of Ferguson and Unsworth as well.
Derek Moore
109
Posted 02/12/2021 at 23:37:43
Danny O'Neill, You could not be more wrong in regards to Graham Potter if you tried.
In my opinion of course.
I'm unsure as to how much research you've done on the guy, but what I found I was extremely impressed with. Your dig about the media pumping English managers due to them being "mates" couldn't have been more wrong in this case. Potter is far more of an outsider in the football world than the current Everton incumbent, for example.
Potters success has been built entirely on an impressive track record, an impeccable approach to process and improvement, and no small amount of future potential as well.
Dismissing someone so blithely, that I would wager you know as close to nothing about as it's possible to know, purely on the basis "he's English so he can't be any good" surprised me a little Danny. You're wasting your holiday enough already, but maybe when you get a moment look into the man for yourself and then try and tell me you're not impressed.

Danny O'Neill
110
Posted 03/12/2021 at 00:10:32
Okay Derek,
I'm impressed with what he's done at Brighton. He's done a fantastic job. At Brighton. But then I was impressed by what Mike Walker achieved at Norwich.
Martinez won the FA Cup at Wigan and was praised for keeping them up against the odds for years.
I didn't mean to sound derogatory against the man and he has done a fine job.
What I want for Everton? In my opinion no. Managers achieve much at smaller clubs, but crumble under the expectation of clubs like Everton. And yes, mine at that of many Evertonians remains high.
Did Arsenal or Manchester United, Tottenham or even Newcastle come calling for Potter?
I'm a fool (as posted elsewhere), but I still have my expectations for Everton. And as deluded as they may be, I don't see him as leading any top team to glory any time soon.
Come back in 5 years time and if I'm proven wrong, the drinks are definitely on me when we get to meet up at a match. But I can't see past a Moyes at best.
John Reynolds
111
Posted 02/12/2021 at 00:12:02
Lampard?! FFS. Only the completely deranged could suggest or support such an appointment. Have to confess, I was a Potter man pre-season and pre-Ancelotti. I'd take him now too, despite Brighton's recent troubles. We'd see some proper football at least, and DCL is significantly better than Maupay so there might be some end product too.
Not that he'd come. Why would he? Managing a well run club with a supportive owner, a decent budget and a top-8 position.
We're stuck with Rafa, Delph, Rondin, Allan, et al. Suck it up.
Kieran Kinsella
112
Posted 03/12/2021 at 01:13:51
Danny/Derek
I'm undecided on Potter. I'd like to see him do more results wise than Chris Hughton did but so far he's similar but just more eye pleasing. He reminds me of Alan Cutbishley: smart guy, pleasant fellow gets a mediocre group playing good football but when Curbishley stepped up to WHU it all fell apart. Potter might prove to be something special but I'd say it would be a risk at this point for a "big" club or indeed a once "big" club like Everton, Aston Villa, Old Etonians etc. Bear in mind Dyche got Burnley into Europe, MacLaren got Boro to the UEFA final. So Potter to me needs to do something unexpected to get a bigger gig
Seb Niemand
113
Posted 03/12/2021 at 01:37:04
Are people serious when thy mention Wayne Rooney as a possible manager. Mercy. Appoint him and then draw straws for who has to tell Duncan
Steve Brown
114
Posted 03/12/2021 at 02:25:08
Can we please park this ludicrous claim that it is an impossible task to replace your manager mid-season? Man Utd, Spurs, Watford, Norwich and Newcastle have all somehow managed to complete this task. The latter three are going to be our main rivals in the relegation battle we face - they have already acted.
However, I accept that it is a HUGE assumption Everton board have the competence to manage this process competently.
After all, they contrived to decide that this guy was the answer last summer.
Danny Broderick
115
Posted 03/12/2021 at 03:49:11
The manager is obviously not the problem at Everton. We've had 6/7 different managers in 6 years and look where it has got us. We can sack Benitez but it won't lead us to the promised land. Until we address the structure at the club, and ditch the Director of Football model, nothing will change.
Contrast us with Chelsea. Both clubs sack managers left right and centre. But they are set up right off the pitch. Their recruitment gets far more right than wrong. So changing managers doesn't hinder them, the club almost runs itself.
We, on the other hand, zigzag from one direction to another. No one knows who buys the players. We have ended up with an awful squad. Overpaid shite players with no resale value.
Us and Chelsea are like chalk and cheese off the pitch. I'm not just talking about their superstar buys, which are out of our league currently. They got Azbilicueta for peanuts from Marseille and he has given them many years good service. Their keeper Mendy was a master stroke. They hoovered up young talent from Belgium like De Britney and Lukaku when they were young. Hazard and Zouma from French clubs. Ok, they haven't all broken through there. But they clearly buy upcoming talent well. We have bought shite with no future.
Until things change off the pitch, it doesn't matter who our manager is…
Ryan Jones
116
Posted 03/12/2021 at 05:22:04
Sorry if this has been said earlier or on another thread. I've just found out that they have won more Derbies at Goodison than we have.
A truly depressing statistic.
Derek Knox
117
Posted 03/12/2021 at 07:51:16
Spot on there Danny !
We should have been what Man City are now, let me explain, I have had it on very good authority from someone who used to work there in a responsible position. Sheikh Mansour and his team, were interested in buying into a Premiership Club, and only two Clubs fitted his criteria. Newcastle and Everton !
Why ? You may well ask, but at the time they were the only two, who irrespective of League position or history, owned their own Grounds. This was at the time that Mike Ashley was hellbent on getting Newcastle, so they then shifted their attention to us.
The original plan was to totally update and modernise the Ground and surrounding Area, whilst also helping to develop the Airport into being HQ for Etihad Airways, which in our case would have been Speke, or what is now John Lennon. Thus creating a lot of jobs for the people of Liverpool.
The ONLY spanner in the works in all this was the resistance of Kenwright, who rejected it, as he would have had no say whatsoever in the running and would have been replaced by whoever the Sheikh Mansour team appointed. He may have even had to go back to the ' Boy's Pen ', I have met many Evertonians of a similar age and none can ever remember him being there.
He claims all these decisions were in the interest of Everton Football Club ! Now just do a quick comparison between Man City and all that goes with them, and us, and think who's interest was all this benefitting ?
The Sheikhs Team went through City like a dose of salts and every area, even down to Stewards on Matchdays, gate receipts, turn-style admissions, were fans being let in as a favour etc. The whole set-up was completely re-modelled and I think the difference between them and us now is glaringly obvious.
So it sickens me to the core, when people come on here defending Kenwright, whose one and only interest was himself !
Joshua Steadman
118
Posted 03/12/2021 at 09:30:29
First of all let's stop with the personal insults. We all have an opinion, none of us are always right.

The club is a shambles, has been since the Moores relinquished any involvement with the club. It has been chaos since the early 90s. One disaster after another. Relative calm during the Moyes era. Background of generally sound transfers and the players comfortable with the managers style of play.

Since Moshiri, awful. I have sympathy for none of them. All those mentioned need to go, including Benitez. What possessed Moshiri to hire him, God only knows. Yes players have been missing but can anyone say he has always used what players he has had at his disposal for the best of the team? I personally think we could be in the bottom 3 after our next three games, which will make it even more difficult to persuade someone to take us over.

He should have gone after Brentford.
Nick West
119
Posted 03/12/2021 at 09:40:04
As is the case in many occasions in football, intelligent analysis is hard to find. Firstly, the fans get led by journalists who write pieces about a crisis at a club when the answer is often simple and prosaic. But simple and prosaic doesn't make good copy. In our case and for example in the case of Leeds, who are experiencing the same crisis, we lost our key striker. We lost our ability to score, to punch holes in a defence. And then we lost to injury the spine of the team. If you watched all the games you could see the initial performances without DCL et al were ok but gradually the belief we could score and win disappeared. Yes, recruitment has been erratic - Iwobi, Tosun, etc - but Rafa's initial plan worked. Gray and Townsend's play alongside DCL and Richarlison worked well. So sometimes you just gotta do your best until the injured return. Benitez doesn't have a magic wand and he didn't buy Iwobi. We need to chill out, our England centre-forward's return is imminent.
Mark Ryan
120
Posted 03/12/2021 at 09:45:18
Clear out Brands, clear out the backroom staff. What does Ferguson offer Benitez / what has he offered the last 6 managers / he sat there against Liverpool and was not even off his feet. Does he offer good advice ? I've seen the training sessions on clips from Finch Farm, okay we only see a snippet but I'm not impressed.
Would any Premier League club take him ? Go and become a manager elsewhere Dunc, ply your trade and develop, if you can
Julian Exshaw
121
Posted 03/12/2021 at 09:57:08
I'm not sure about Moshiri using Jim White/national radio for this. Could you imagine other owners doing that?
I don't totally buy this opinion that Rafa is doing his best with the players on offer. Granted it's not the best squad in the world but other managers have got a lot more out of much less talent. On the other hand, I agree that there isn't a lot the club can do for now but just hang on and hope he turns it around. Big game on Monday!
John Clowes
122
Posted 03/12/2021 at 10:07:06
Got to say I do feel sorry for Rafa. Wasn't 100% pleased when we signed him in the summer but it wasn't like there were many other alternatives who were out there. I would have wanted Potter but with FFP, we wouldn't have afforded the compo.
Rafa is working with players who haven't worked well with previous managers, and due to FFP, he is unable to get players in. Looking at the people he has brought in, a couple have been a success so far (Gray & Townsend) and the others are just back up. With this squad, any manager in the world would have struggled putting a team out there missing their best 2-3 players for a considerable amount of time to injuries.
This isn't a "love in" for Rafa, I just hope he gets given time to try and stabilise the team because I don't think there is anyone else out there who could do a better job with the limited funds he obviously has. Unfortunately, he's just the one to blame due to previous managers lack lustre signings and if we were to sack him, we would be saying saying same thing about someone else in 11mths time
Mark Ryan
123
Posted 03/12/2021 at 10:41:27
You look at the situation with Manchester Utd with Carrick being asked to stay by Rangnick. He has decided that a move away is necessary to become his own man. This is not what happens at Everton. If that had been Duncan he would have sat there on his hands and not moving and having to be pushed out of the door. We seem to have offered jobs to anyone who has ever played and who asked for a role at the club thinking that we can stay together as a family, like an old boys network. That is what is wrong with our club, too many hangers on. How many players do we bring through Finch Farm ? I'm lost if I'm honest as to what is wrong and perhaps that is why Moshiri has gone for Rafa ie non Evertonian thinking that this will break the cycle but he hasn't broken the cycle has he. We still have all the old guard there. I don't know what I'm trying to say. I think we need a clear out including Brands. What do I know ?
Luke Welch
124
Posted 03/12/2021 at 11:01:25
I can't help but think that Brands's remarks to the supporter ( is it just the players though) is deeper rooted in his current disposition than I first thought.
Rafa was not picked by Brands, Gray and Townsend, weren't his players- the formation and tactics not his concern. I think it's quite telling that he made that remark because I don't think that it was a shot at those above him, he wouldn't dare! So it has to be at Rafa, which give an interesting insight to how he sees the problems.
Joshua Steadman
125
Posted 03/12/2021 at 11:20:56
I thought Brands remark was crystal clear. Yes the juicy contract must be softening the blow but he didn't want Benitez, what little we did in the transfer market had nothing to do with him nor how the team are playing. Any self respect left he should have resigned because he is clearly not doing anything that he was employed for. T

o then take abuse from a fan that it is his doing whilst Kenwright and Baxendale remain criticism free would be enough for me. Iwobi was a terrible buy but Gbamin and Gomes both came highly recommended, it is not Brands fault that successive injuries to both have turned them into pale imitations of the players that first arrived.
Mike Owen
126
Posted 03/12/2021 at 11:41:01
The big difference between calls for the sacking of Rafa Benitez and calls for previous managers to be sacked is the lack of names being put forward as a replacement.
I was pleased when Rafa was appointed in the summer. I thought we were set up for a tricky season and I reckoned his experience at Newcastle would stand us in good stead. I also thought that his trophy-winning experience at other clubs could be conducive to taking us on one or two cup runs, perhaps even win one.
I have been disappointed, or disagreed, with him on several counts since then. But I still think we should stick with him, even though I am not 100% certain that he can save us from relegation.
Some people argue Benitez is a Yesterday Man - and may be correct. However, I thought that about David Moyes and look where he is now with West Ham. But then is that because the West Ham squad is stronger than ours?
I think the club made a misjudgment in the summer about how many players we needed to get through the season.
Starting with the Arsenal game, we will have seven games in 28 days. A heavy schedule on what may be heavy pitches. I suspect we will pick up a few more injuries.
To throw a new manager into that would, I suggest, be asking for even more trouble.
Derek Moore
127
Posted 03/12/2021 at 11:45:16
Danny, I'm more than a little baffled by your stance. We wouldn't get Potter now anyway, and who knows if he'd be the right fit here anyway. With this governance, structure and disorganization you'd probably think not.
But Potter moving to Sweden to be a manager, backing his own ability and doing well is very impressive. He did so well in fact, he won managerial awards there and made his way back to the UK on merit. I respect his ability to challenge himself, take himself out of his comfort zone and succeed enormously, and being aware of your military background, was a little surprised you didn't directly concur.
Ambition, faith in your own ability, success in a totally alien environment - contrast Potter to say, David Unsworth. a man who has turned down managers jobs at Sligo Rovers and Oxford.
Your comparison with Mike Walker is as far from the mark as your dig that Potter is a creation of the media due to his being English. Brighton are acknowledged by many pundits and neutrals as playing some of the aesthetically better football in this league, certainly much better than the fare being offered presently at Goodison.
You've more or less said the Everton job is too big for Potter, and you don't see him leading a team to glory anytime soon. And if those are your views, fair enough. Potter doesn't neet your standard for Everton manager.
I do understand you're presently in favour of keeping Benitez in his role though. I think that's where my confusion lies. We've two points from the last eight league games, and Benitez has Premier League relegation on his resume. If I may ask why does Benitez retain your support whilst Potter only attracts your - apparent - derision?
James Marshall
128
Posted 03/12/2021 at 11:47:48
It's the 11 blokes who run about on the grass who need sorting out, not getting in yet another new manager.
Making the same mistake (changing manager) over & over again doesn't work, never has worked, and clearly is not working. We need a consistent situation at the club, not one that's constantly in flux.
Benitez is the fall guy for obvious reasons, but it doesn't address the amount of bang average players we have in our team and squad, nor does it address the daft decisions & choices made by Moshiri & co. He's the easy target, but I guarantee you if we change manager (again) all we'll do is create a short term fix where they perform well for a handful of games, then drop off (again).
And round & round we go. We need stability not more changes.
Rob Dolby
129
Posted 03/12/2021 at 12:07:04
Danny110. Not many had heard of Wenger before he signed for arsenal. Was he the French Mike Walker?
Would Potter bring some pride back to the club? Or are people happy with Benitez demoralising and splitting the fan base.
It doesn't get much worse than the other night. We will probably get beaten by arsenal next Monday. At what point do we just get rid or do we stay silent and keep making excuses for him.
David Pearl
130
Posted 03/12/2021 at 12:14:21
James, recruitment has been the worst in the league so yes the 11 on the pitch needs sorting. Benitez hasn't helped himself with his formation, tactics or subs. We set up toe-to-toe with the rs, that was brave but stupid.
One of the first decisions under Moshiri's millions was to sign Bolasie instead of a younger, still improving Zaha. A couple years later we tried again only to fail and turn to lwobi, and we won't be seeing any return on our investment. We all know the failings. Why back Alardyce with £50 million if we had no intention of keeping him longer than 6 months, then having to pay him off. Both those players, include salary's will leave for nothing. He just burns through money. Nothing makes sense. Moshiri has made a complete mess of nearly every on-field decision.
I'd have Bilic as an alternative. Highly intelligent manager, knows what he's doing and is also attainable.
However, l also agree that even after all his obvious errors it's not the time to change the manager until we get through these next few games with a less injured squad. He needs a chance to turn this around but must do so very soon. It would also cost too much, and perhaps further impact FFP.
A rock and a hard place.
Johan Elmgren
131
Posted 03/12/2021 at 12:18:38
Mike #126
Regarding "Some people argue Benitez is a Yesterday Man - and may be correct. However, I thought that about David Moyes and look where he is now with West Ham"
In my opinion Moyes is actually very good at renewing himself and his tactics. I could see the last years at Goodison that he tried to evolve our play, playing a more passingoriented football. Just think Baines/Pienaar, the triangles they created with other players... And I think he's evolved his tactics further since leaving us... I can't see that in Benitez. He isn't evolving at all. He's using the same tactics as he always used, and they are outdated now... That's the difference IMHO.
If we're going to be a mid-table team, can't we at least try to play some attractive football, a'la Brighton? I'd rather be 10th playing attractive attacking football, than 10th playing defensive, boring football...
Tom Harvey
132
Posted 03/12/2021 at 12:25:10
Pat Kelly @ 78
Does Moshiri have a shortlist to replace himself?
Or should I say does Usmanov have a shortlist to replace Moshiri and then himself?
Christopher Timmins
133
Posted 03/12/2021 at 12:30:40
Dave#130
You are dead right, at present, we should never try and go toe to toe with any of the top three given the gap that exists between them and us, however, at least we now know the size of the gap, about the same as what existed two years when we lost 5 - 2 to Liverpool, Silva's last game in charge, and that we have not progressed one bit in the intervening period. We also know that most of the players cannot survive when we try and play on the front foot.
With everyone on board we are not a bad counter attacking team but that's as far as it goes.
Danny O'Neill
134
Posted 03/12/2021 at 12:45:18
Don't be baffled Derek, I've just got a different opinion on the subject. I'm not baffled by yours.
I'm not meaning to deride Potter. Kieran probably sums it up better; not yet convinced. And historically, there is always a scramble by the English media to promote the usual suspects for jobs when they become available. Fortunately most of them have been found out for what they are; journeymen managers just as much as some of the journeymen nearly players that "grace" Everton and other clubs.
Maybe Potter will be a refreshing change from that group (we can all rattle the names off). If I was him, I'd stay put and continue the good work he's done. And he has done a fine job. He should pick his next move carefully and at the right time. A toxic Goodison wrapped up in on and off the pitch turmoil would not be the right move. In my opinion.
My preference for not sacking the manager, that I didn't want in first place, is that I don't really see what it will achieve other than more upheaval, which has been symptomatic of the managerial merry go round of recent years. I don't know who is right or who is wrong on that, I just have a view, like everyone else here.
Rob Dolby, your Wenger point takes me to another slightly different debate, but is very valid. I have long been bemused by the "must have premier league experience" calls regarding both players and managers. Wenger, Mourinho, Guardiola, Klopp; none had Premier League experience until they got their first gig. The difference is obvious in the jobs they took, but the point is, I'm all for taking a punt on foreign managers as much as some are on English / British ones regardless of previous PL experience.
Which leads to Danny B's well articulated point. Call it the DoF model, call it recruitment, call it what you want. Get that right and get better players and you don't necessarily need to worry too much about the manager. Within reason obviously, as you attract the name because they come with the knowledge they have the tools to be successful.
Chelsea could afford to hire and fire at will because they got the DoF / recruitment right. They spent but bought Mercedes and Bentleys. We spent but got seen off with a few second hand Skodas and 1992 Ford Fiestas from Arthur Daley. Waist. Utter waist that I challenge any manager to do better with over time, not just a spurt of decent form before an inevitable slump.
I guess we're all a bit raw right now. No offence meant to anyone's views. I'm getting it out of my system ready to go Monday. I hope the manager and players are doing the same. Just as good runs do, bad runs of form always come to an end.
Matthew Williams
135
Posted 03/12/2021 at 12:58:56
Having watched the Gooner's last night I simply believe that our current shower will not get near them on Monday night,they look sharp and quick too and have young skilful players that will unlock our lackluster back four with ease.
The misery WILL continue sadly...0-2
David Pearl
136
Posted 03/12/2021 at 13:13:09
Christopher, 133
Yes l agree, when all fit we are not a bad counter attacking team at all and with confidence flowing we can gain a lot of points. We just don't have many options for a Plan B. Or if we have, our manager can't see it.
Sad to say but a part of me always wanted him to fail. This season should be about consolidating and trying to form around a spine of players that are both good enough and want to play for the shirt. How many more players will leave for nothing?
Christy Ring
137
Posted 03/12/2021 at 13:16:00
I've highlighted my reasons for getting shut of Benitez, but can someone tell me why Big Dunc is deserving all the flak, and why most want him gone? Dunc managed the club for 3 games, beat Chelsea and drew with Man Utd and Arsenal, no mean feat, and got us out of the bottom three, showed what the club means to him, and handed over the reins to Ancelotti. As assistant to Carlo and now Benitez, he has very little say, and one of the reasons the fist pumping is finished. I'm not putting his name forward for manager by any means, but in my opinion he's definitely not part of the problem. Kenwright, that's a different story.
Bobby Mallon
138
Posted 03/12/2021 at 13:23:56
Christine he bottled it. He could have had the job full time but said he wasn't ready. When will he be ready. He knows he's got a job for life doing what he's doing now. Once he steps over the line it's his neck on the block if things go wrong. He's happy to sit in background.
Mark Ryan
139
Posted 03/12/2021 at 13:35:13
Christy I'm not being personal about Dunc but I think if you have a number 2 he needs to offer something. Dunc just sits there and I believe as Bobby says, he's happy being in the background. If he was to ever get the job full time, IMHO, I don't think he'd make a fist of it. I think he's happy to pick up his wages and wait for the manager to get the boot. How many other clubs keep their " Duncan" for every future manager to work with. Any club worth their salt hire managers with their own staff. We just employ and keep employing ex Evertonians or should I say Kenwright does
Imagine the scenario that Guardiola, Klopp or Tuchel came to us. Do you think Dunc would be in the dug-out. Not a chance. We are stuck in a rut and a clear out is needed. This is not just about Dunc, he was a hero but at this precise time he needs to go and coach down a division or in Scotland

Kim Vivian
140
Posted 03/12/2021 at 14:51:23
Danny – now your sailing close to the wind, mate – what's wrong with Skodas?
Derek Knox
141
Posted 03/12/2021 at 15:13:55
Kim, I think Danny was implying the old Skodas which were pretty poor, whereas the new ones are basically a VW and the only Skoda bit left is the badge.
I remember the old jokes: What did you call a Skoda with Twin Exhausts? Answer = A wheelbarrow!
What did you call a Skoda with a Sun Roof? Answer = A Skip!
In fact, some of the new Skodas are even better than many VW Models, and they are not too shabby! I'd have one tomorrow, if I could afford one. :-)
Conor McCourt
142
Posted 03/12/2021 at 15:17:08
The reason I brought Potter into this discussion was that a tiresome argument was presented that nobody was available who would do better. Some are arguing that Potter is doing slightly better than Hughton and this is nonsense.
Hughton was firefighting and were certainties for the drop in the next year or two whereas Potter has changed the entire culture at the club and is progressing them each year.
In his first year, he kept them up while transitioning the style of his players, not an easy feat.
In the last two seasons, he has spent a net of £7 million.
Last season was their highest points tally and their first where they were never really in a relegation battle.
This summer, he had his star player sold and not replaced. Instead, the money was invested in two young players, Cucurella and Mwepu, who will help them in the future but will definitely weaken them in the short-term. Despite this, they are easily on course for their highest ever Premier League position by some way.
Unlike Benitez, you don't hear about their injuries. Key players like Webster, Lamptey, Wellbeck, Connolly, Alzate and Bissouma have missed large parts of this season.
In terms of improving players. Take Shane Duffy, a bog-standard centre-half, went to Celtic and was laughed out of Glasgow. He comes back to Brighton to replace Ben White in the squad and performs brilliantly while Webster recovers from injury. The defence doesn't suffer without White or Webster yet ours collapses without Mina.
The ridiculous debate that his win rate isn't on a par with ours or that he was schooled by Benitez are mind-bogglingly daft responses. Potter has essentially taken a relegation-fighting team to perhaps mid-table in a short time. He is not a miracle worker, he is a manager who is building and competing with greater powers and doing so with a strong ideology and team focus. He is making the sum of their parts better by a long way.
Kim Vivian
143
Posted 03/12/2021 at 18:01:49
Derek
I have one, and it's good. Well it's my partner's car actually, but if you were to ask her what she drives she'd say "a blue one".
It's actually quite nice – a VW Polo clone, but a rose by any other name!
I remember following the RAC rally around North Wales and the Lakes back in the 70s and there were a few Skodas racing back then and they were solid, man. That is the era Danny was alluding to but the old Eastern European basic Skoda stigma jokes stick even these days.
Danny O'Neill
144
Posted 03/12/2021 at 18:12:12
As my father-in-law (far more savvy with cars than me) used to say about the VW & Skoda relationship: "When you buy a Skoda, they quote that it's pretty much a VW in all but name. When you go to sell it, it's a Skoda!"
Ted Donnelly
145
Posted 03/12/2021 at 18:38:18
Everyone saying wait till Calvert-Lewin gets back... he's not fuckin Dixie Dean, mate!
Sell him and Richarlison and start again!
Soren Moyer
146
Posted 03/12/2021 at 19:02:51
Agree, Ted. He is not exactly Lewandovski!!! Is he?
Rob Dolby
147
Posted 03/12/2021 at 19:18:27
Danny.
We all want what is best for the club and fans. Is Benitez what we need?
He is more divisive than big Sam.
When the club are united, from the boardroom to the fans, we will be competitive again.
Benitez, Brands, Barrett-Baxendale, Kenwright and Moshiri will all need to move on before we challenge for anything again.
The derby was an all-time low for many fans. Watching the shambles of a manager and board swan off like it was just another defeat.
Taking shit from the other shower for 90 mins. They didn't get out of 2nd gear and battered us.
The most vulnerable is Benitez. He has to go.
Frankly I would have anyone that can restore some pride.
Brent Stephens
148
Posted 03/12/2021 at 19:25:17
Rob #147 "He is more divisive than big Sam. When the club are united, from the boardroom to the fans, we will be competitive again."
Rob, I think that, logically, with a divided club and fans, then Rafa going wouldn't unite everybody.
And I think it's the other way around – when we are more competitive, then we'll all be more united.
Rob Dolby
149
Posted 03/12/2021 at 19:40:41
Brent. Whatever way you spin it, Benitez will not unite us and will not make us competitive.
Kenwright, Barrett-Baxendale, Brands and Moshiri have also proven that they incapable of making us competitive.
If Benitez went, it would be better than him staying, in my opinion.
Brent Stephens
150
Posted 03/12/2021 at 19:52:34
Rob - but you do see the logic, though, don't you? If we're divided about Rafa now, then we'll be divided if he goes. Having said that, I'm sure we'll all rally around the next version!
Rob Dolby
151
Posted 03/12/2021 at 20:04:02
Brent. I follow the logic.
Winning covers a multitude of sins.
Just by sacking him isn't going to bring everyone together but it will be a start.
The next guy will come under the same scrutiny with the same restrictions.
Brent Stephens
152
Posted 03/12/2021 at 20:10:32
Rob, a new guy might at least give us the "new manager boost", I suppose! Would love to hear names, though, as per my other post. That young Duncan Ferguson? Or the Unsworth kid?
Andrew Ellams
153
Posted 03/12/2021 at 20:10:38
A couple of places have reported that Kenwright has called an emergency board meeting over the weekend and Brands's neck is on the block.
Jay Harris
154
Posted 03/12/2021 at 20:13:05
The manager is the least of our worries – just ask 6 successive managers and I reference Ancelotti's quote about not being a magician.
There is something rotten at the core of the club and it isn't the manager.
Okay, Graham Potter is doing well at Brighton but the club is well run, knows where it wants to be, and is operating to a plan.
It wouldn't surprise me to find out that Everton's plan was written on a snotty hanky that is now down the back of Kenwright's sofa with the Arteta money.
Nick Page
155
Posted 03/12/2021 at 20:17:04
Brent Stephens
156
Posted 03/12/2021 at 20:19:31
Nick, he might have been told to call a meeting.
Don Alexander
157
Posted 03/12/2021 at 20:25:02
Do any of us have any confidence in whatever this owner and his boardroom do?
Andrew Ellams
158
Posted 03/12/2021 at 20:27:32
This could be it for Brands, I think. My only issue is that I think Moshiri will want to continue with the DoF model.
Derek Knox
159
Posted 03/12/2021 at 20:27:43
Don @ 157,
I can't speak for the others but it's a big resounding No from me. Get shut of the lot of them and start again, Kenwright first out, the big maggot / leech. We can't get any lower than the point we are at now.
Dale Self
160
Posted 03/12/2021 at 20:29:02
Ancelotti 2020: "I am not a magician."
Benitez 2021: "I am not a proctologist."
Sean Kelly
162
Posted 03/12/2021 at 20:32:59
Maybe it's a Christmas party for the luvvies. I doubt there will be blood spilled
Dale Self
163
Posted 03/12/2021 at 20:34:28
Paul, for that occasion I am totally fine with a 'what about the children' angle.
John Keating
164
Posted 03/12/2021 at 20:34:39
Kenwright calling a board meeting to possibly get rid of someone????
He must have some balls cos he's the first that should be going!
Mind you if it was to get rid of all the wasters at Finch Farm, then that would be fair enough.
I can see Moshiri calling the meeting hopefully to tell the lot of them they're out and announce a fit and proper and business experienced crew.
Barry Hesketh
165
Posted 03/12/2021 at 20:35:37
Probably right, Sean, whilst Brands is flying back from Holland with a new supply of cheese, flowers, and other famous Dutch smoky products. Could be one hell of a party!

Barry Rathbone
166
Posted 03/12/2021 at 20:35:50
I was thinking of the Benitez question earlier and realised he isn't far off my identikit Everton manager for the era we are in.
He's a bit of a twat seemingly not arsed about fans or players views and has previous for digging out owners — all of which is a prerequisite, imo. Martinez was the solution but, being young, hadn't learned the lyrics "You can't please everyone so you might as well please yourself" plus Moshiri's money wasn't available at the end of his first season.
The point is, this is no job for a nice young man. The example of Potter defies scrutiny. At the first loss, he would be eviscerated by this knee-jerking vitriolic fanbase that has seen them all off bar Carlo (savvy enough to see it coming).
This is a rat-infested sinking ship of long standing, needing a hard-nosed operator to turn it around. That's Benitez.
Tony Everan
167
Posted 03/12/2021 at 20:36:26
Everyone is guessing so here's my go ;
Big power struggle between Brands and Benitez?
Brands is saying I have done the preliminaries, spoke to agents, who have spoke to the players and I can bring in player x, y and z in January.
Benitez is replying thanks, but no, no and no. Don't fancy any of them three I don't think they'll cut the mustard.
The unsaid part is, 'I just don't trust your judgment Marcel, so as far as I am concerned you are redundant'.
Moshiri has just publicly backed Benitez so It could be P45 time for the DoF.
Sean Kelly
168
Posted 03/12/2021 at 20:37:28
Power struggle and Billy Bullshit is stirring the pot. I hope Moshiri is on a video link and tells them all they are sacked and a certain fat Russian is at the door to make sure no silverware is taken. Oh wait – that was pawned by that spawny prick Billy lad years ago.
Barry Hesketh
169
Posted 03/12/2021 at 20:42:32
Barry @166,
Martinez deserved the sack, whether the fans were calling for his head or not. Silva possibly should have been given longer. Koeman had no time for the club or the fans. Allardyce was possibly the worst ever appointment for Everton FC due to his previous dalliances in financial issues.
Ancelotti would have enjoyed his time a lot more at Everton had the ground been open to full houses.
Benitez was always going to polarise the fan base regardless. He was gaining support from the fans until the last 10 games or so. He still could turn it around, but I doubt we'll get enough points to give him that opportunity.
Wayne and Duncan is my bet, not my choice, just that would be so Everton.

Dale Self
170
Posted 03/12/2021 at 20:50:12
Barry 166 and Tony 167, I like the reasoning.
Danny Baily
171
Posted 03/12/2021 at 20:51:42
Barry, Silva should never have been appointed in the first place, let alone given more time. Allardyce deserved time more than Silva did.
Rob Dolby
172
Posted 03/12/2021 at 20:56:24
Bill Kenwright has called them into Finch Farm for an new film idea.
They are starring in 'Carry on Everton'
Moshiri is Sid James
Brands is Bernard Bresslaw
Barrett-Baxendale is Barbara Windsor
Kenwright is Kenneth Williams
Benitez is Peter Butterworth
Unsworth is Hatty Jacques
Ferguson is Charles Haughtry.
"Infamy, infamy, they all have it in for me."
Brian Murray
173
Posted 03/12/2021 at 21:00:26
Rob. I'd prefer it was Kill Bill, Volume 3.

Jay Wood
[BRZ]
174
Posted 03/12/2021 at 21:14:56
Goodness Conor @ 142. You are an inattentive reader – and that includes the recall of your own original post @ 64.
In that post you opened by expressing incredulity that fellow Blues have the temerity to hold different views to your own on their club. Two paragraphs on the shortcomings of select players as you see it. Another paragraph once again berating fellow Blues, concluding with the single extract I focused on in my post to you, namely:
'I haven't seen one performance all season where we have looked a decent, organised, well coached team even when everyone was fit.'
This was followed by you bigging up Brighton and Graeme Potter. I rather rudely pointed out a counter to that claim that Benitez and Everton totally schooled Brighton on their own patch, inflicting on them their first defeat of the season.
Now, you come back all indignant at such a 'mind bogglingly daft response.'
Care to explain why it is mind bogglingly daft? Or are you going to insist on your disproven claim that you 'haven't seen one performance all season where we have looked a decent, organised, well coached team even when everyone was fit' as was the case that day?
I actually spared you further ridicule Conor with regards to your criticisms of Digne and Allan as both were outstanding that day.
Note. I am not defending Benitez. I am not saying the performances and results in the last two months are acceptable. I am not claiming we can't do better than him, that nobody would take up the poisoned chalice of Everton. There would be DOZENS interested in the post if it became available. I haven't expressed any opinion on Graeme Potter, because I am totally neutral, indifferent to him.
I challenged you on one single claim you made Conor. I rather think that any fair-minded Blue would acknowledge that the win at Brighton was an extremely competent, professional and – yes – tactically astute performance. All of which you deny.
As for your latest post, I will point out that Potter's 'achievements' as you list them are hardly Herculian as you try to paint them. His 'record' PL points total of 41 beat Chris Hughton's best by one single point. You claim they never really diced with relegation last season when in truth they most certainly did, as the 2nd graph in this page shows.
All Clubs Weekly PL Position - 2020-21
Brighton's weekly position is represented by a sky blue line. For the entire season they bumped around in 15th, 16th and 17th position, just above the 18th and below relegation slots. They benefited in having three truly awful sides below them – Fulham, WBA and Sheffield United.
Some might conclude, then, that the claims you make about Potter and Brighton are not only selective, but also – what's an apt phrase? Mind bogglingly daft..?
Gary Smith
175
Posted 03/12/2021 at 22:04:25
If the situation about the emergency boardroom meeting is correct, then there's effectively a split in the camp steering the ship. Brands response to fan after the game was really interesting "you think it's just the players"?
He most likely meant Rafa, but could have been anything from whole club culture, to wider splits (Rafa camp vs the furniture?), a shot at development teams, or even a shot at Kenwright himself.
Worst outcome for us all is it's just brushed under carpet in the hope of a win Monday to take pressure off (most likely). Best outcome is Moshiri realises the split is irreversible and gets rid of at least 2 of Rafa, Brands and Kenwright. Well, best outcome is all 3 are jibbed, but probably more chance of finding unicorn shit.
Unfortunately, I think the carpet brushing is most likely, and first of January we'll be bottom 3, getting rid of the disaster in managers chair, then seeing the internal 3 way power battle mess it up again with another 'save us please!' appointment. My bets Nuno after "how much he impressed us in the summer".
27 minutes for 27 years? I won't be walking out the game after 27 minutes, but I'd happily stand and turn my back towards the directors box. If we allow the status quo too, we are as bad as they are.

Danny O'Neill
176
Posted 03/12/2021 at 22:12:26
Definitely a split in the camp Gary Smith.
In my opinion, you can't have a DoF who is basically handicapped because he's been operating recently with 2 "Alpha" male managers in Ancelotti and now Benitez. Manager who won't listen to anyone else because they want control. Moyes was and would be the same for those craving his return.
Brands would work or would have worked better with a younger coach focussed on the the first team. A true DoF model that Rangnick is about to implement at Manchester United.
Interesting couple of days ahead, but from what I'm reading, someone is going and I'd take a punt it won't be the Manager.
I'm not turning my back on them. I don't know how to. And I won't. I never will.
Dale Self
177
Posted 03/12/2021 at 22:19:45
I'm beginning to think that Brands saying that signals that he suspects his time is up. It is not a professional reaction is it?
Gary Smith
178
Posted 03/12/2021 at 22:51:42
Good post Danny, at least until that last paragraph. I've been shell shocked into apathy since Wednesday. Have just felt numb, I won't conflate those who currently run our club as being the club itself. Big difference when thinking of turning your back imho.
Mike Keating
179
Posted 04/12/2021 at 00:11:44
I see that the great soothsayer Berbatov is shoving Rooney into the frame for the hot seat at Goodison.
What bollocks.
David Connor
180
Posted 04/12/2021 at 13:17:12
Benitez needs sacking just for bringing Rondon into a squad already full of duds. We don't need anymore. Could do us a bit of a favour if he is out for a while.
I can't see him or Rafa being here much longer if results don't improve from Monday.
Alan J Thompson
181
Posted 04/12/2021 at 16:19:53
Did any of the "Top 6" come in for Potter?
About the same number that came in for Benitez!
Bill Gall
182
Posted 04/12/2021 at 16:45:04
Danny #176,
I agree with your assessment on a DoF. The problem Brands has faced is this is the third manager he has worked with since he was hired in 2019 that, so far as being able to organize anything, has been unworkable.
If Moshiri wants to have the club run with a DoF, he'd better have the DoF and the manager get together and get them to work in tandem; if not, one of them has to go.
At the moment, I believe Brands wants to lower the age of players but, because of the situation we are in, Benitez wants more older and experienced players. It may take a few more seasons to see if it can be successful.
Anthony Doran
183
Posted 04/12/2021 at 17:07:10
When Brands was confronted at full-time after the derby about whether he recruited those players. He replied, "Is it just the players?" What did he mean by this?
My belief is it is the coaching side of the club that is the biggest mess. We are the only team in the Premier League that can't keep possession or look comfortable on the ball.
This has a lot to do with each player's technical ability but mainly down to coaching. Players need to constantly be looking for space to receive a pass.
Brands knows a lot of what goes on in the club and I'd love to hear the full story.
Christy Ring
184
Posted 04/12/2021 at 17:13:28
Typical Kenwright trying to take the flak away from himself again, both should be kicked into touch.
---
Add Your Comments
In order to post a comment, you need to be logged in as a registered user of the site.
Or Sign up as a ToffeeWeb Member — it's free, takes just a few minutes and will allow you to post your comments on articles and Talking Points submissions across the site.