Duncan Ferguson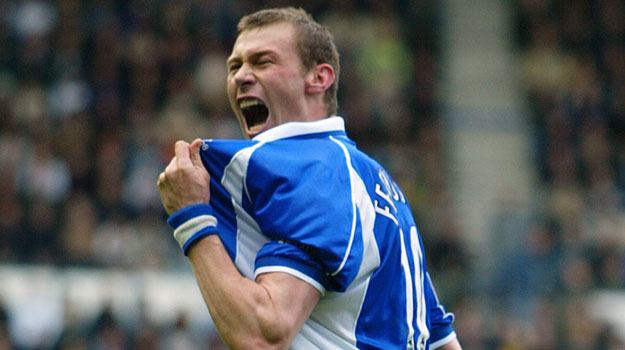 When a desperate Mike Walker recruited two Rangers players for a month's loan in October 1994 in a bid to arrest an alarming run of games without a win that had sent Everton tumbling to the bottom of the Premiership, most Evertonians knew more about midfielder Ian Durrant than towering striker Duncan Ferguson.

However, a month later, after Walker had been sent packing and Joe Royle had assumed control of the Goodison hotseat, it was Ferguson to whom the new manager turned to form the bedrock of his fledgling tenure. The 6' 4" Scot was signed for £4m and Everton folklore was about to be augmented by the Duncan Ferguson saga.

Having started his career at Carse Thistle, Ferguson broke into the Dundee United team at the age of 18. A call up to the Scotland U-21s was followed in 1992 with a summons to the full national side for the game against the United States. Still relatively unproven at the higher levels, Dundee United received, and turned down, £3m bids from Bayern Munich, Leeds United and Chelsea before Walter Smith decided to break the then British transfer record and bring Ferguson to Ibrox Park for £4m.

A torrid spell of suspensions and injuries restricted Ferguson to just 14 appearances and 2 goals before he was loaned to Walker's struggling Everton in the autumn of 1994 along with team-mate Durrant. Neither player had much of an impact on the Toffeemen's fortunes and Walker was dismissed that November, but Royle had clearly seen something in him and decided that Ferguson was worth keeping and snapped him up for £4.4m.

Ferguson's impact was immediate; on his full debut he scored the first goal in a now-famous 2-0 home win over Liverpool that kick-started a three-game winning streak and set the Blues on their way to safety from relegation and an FA Cup the following May. 8 goals that season, scored in just 23 appearances, turned "Big Dunc" into a Goodison idol as he helped the Blues to the semi-finals of the FA Cup. The rest of the squad took over from there, setting up a substitute's appearance for an unfit Ferguson in the triumphant final against Manchester United, the team Ferguson had consigned to defeat earlier in the season with a fine headed goal that typified his style.

The 1995-96 season started full of promise for Everton with the arrival of Andrei Kanchelskis signalling the beginning of a mouth-watering partnership with Ferguson. However, a dislocated shoulder forced the flying Ukrainian onto the sidelines and when he returned Ferguson was either injured with a prolonged hernia problem or in prison and suspended for the head butting of Raith Rovers' John McStay in April 1994. Royle claimed that, had he had Ferguson and Kanchelskis playing together for the full season, Everton would definitely have achieved European qualification at least. As it was, a goal by Dennis Bergkamp 6 minutes from time against relegated Bolton meant that Arsenal took the final UEFA Cup place on the last day of that season.

The 1996-97 campaign started well for Ferguson who was raring to go. Three phenomenal performances in the opening games of the season, the 2-2 draw at Old Trafford in particular when Duncan blasted Everton into a 2-0 lead, were unfortunately followed by a troublesome knee injury that required keyhole surgery and restricted him to the sidelines. Nevertheless he returned to help the club avoid the spectre of relegation after Joe Royle resigned in March 1997.

After the farcical search for Royle's successor in the summer of 1997, it appeared as though Duncan had been struck by the disappointment the fans had been enduring in recent months. The form and maturity he showed for the first half of the season demonstrated a will to repay the adulation of the Everton faithful under the fresh start offered by Howard Kendall's return to the Goodison hotseat. By Christmas, Ferguson had been handed the captaincy and as the team slid back into relegation danger, his worth to the team was emphasised beyond doubt when he was suspended for three games in February and March 1998. A team stripped of his inspiration and talismanic leadership looked hopelessly bereft of direction.

International honours would be the natural progression for any other player but in 1997, Duncan Ferguson informed the Scottish FA that he would no longer be representing his country at international level, a gesture of defiance at his treatment by the SFA in 1996 when they upheld a 12-match ban on top of his prison sentence.

Having led Everton to the brink of relegation in 1997-98, Kendall was forced out by then chairman Peter Johnson and Ferguson's former boss Walter Smith was appointed as his successor. His arrival and Johnson's promise of cash for player reinforcements heralded the opportunity for a new start at Goodison. Scrapping for Premiership survival was no longer satisfactory but Ferguson's towering presence and effectiveness in the air meant the team still relied on him as the number one outlet from defence.

With the likes of midfield playmakers like Nick Barmby, John Collins and Don Hutchison being by-passed by the route-one tactics and opposition defences having learned how to deal with Ferguson, the Blues' results suffered; discontent set in. That disquiet intensified in a 3rd Round League Cup penalty shoot-out with First Division Sunderland when Captain Ferguson refused to take a spot-kick. Everton crashed out of the competition and a week later, Ferguson was gone.

In an effort to appease the bankers, Ferguson was sold by Johnson — right from under the feet of manager Walter Smith. Behind the scenes at an evening game with Newcastle United, negotiations were held with the same club to transfer Duncan to St James' Park for £8m. The shockwaves from the reaction from the supporters — they were furious, not so much with the fact that Ferguson that he had been sold but more with the manner of his sale — forced Johnson to finally see sense and step down as chairman, while the cash raised from the deal went straight into easing the club's overdraft. An era had ended.

Despite his imperfections, his horrendous injury record and the volatile streak that reared its ugly head all too often, his proud record against Liverpool and his commitment beyond the call of duty at times ensured that the man with the famous Everton tattoo would go down in Everton folklore. The supporters were probably content to close that chapter in Everton's history, but Ferguson was back at Goodison in August 2000.

After two injury-ravaged years at Newcastle and with Everton facing the prospect of being without goalscoring hero Kevin Campbell for the first few months of the 2000-01 season, Ferguson was re-signed by Everton, this time by new owner Bill Kenwright. While many understood the romantic sentiment of bringing the "talisman" home, it seemed as though only a minority of fans actually agreed that bringing Ferguson's injury problems back was a good idea, not least because of the effect it might have on Everton's style of play. Worse, it later transpired that the £3.75m Everton paid Newcastle for his services was gambled on the successful conclusion of a media deal with NTL that was never signed.

The irony of re-signing a player known for his injury problems to replace another injured player was seemingly lost on Messrs Kenwright and Smith. Ferguson was duly injured in only the second appearance of his return spell with the Blues. He was in and out of the team that season with recurrent injury problems that required surgery, but he still managed to weigh in with 6 goals in 13 appearances to help Everton stave off the the threat of relegation once more.

Ferguson, much like his pigeon-fancying off-the-field persona, remained a frustrating enigma. While he gradually curtailed the wilder side of his nature that attracted regular attention from referees, he seemed to have lost much of his motivation, mobility and hunger for the Everton cause. After more fitful attempts to regain full fitness, however, the cause of the "Big Yin's" chronic injury problems was finally identified: a compressed sciatic nerve, a condition that the Everton physio surmised he had probably struggled through for four years with pain manifesting itself in the leg, back, pelvis or groin and was, therefore, very hard to diagnose.

Ferguson eventually regained reasonable match fitness and began to score goals again in 2003-04, many from the penalty spot but his infamous red mist descended again in a niggly game at Leicester when as he was sent off for two yellows, and, in an enduring image, he proceeded to strangle Steffen Freund in frustration.

In the summer of 2004, Everton tried to buy off the last year of his contract — about £2m in salary — for a paltry £½m. Big Dunc, as you'd expect, turned it down and adopted a new role as a substitute to sustain David Moyes's assault on the top of the Premiership. It was enough to earn him a contract extension the following summer but his final season was largely disappointing, soured by the controversial decision by Pierlugi Collini to disallow a goal at Villarreal that might have sent the Toffees into the Champions League. The now 34 year-old Ferguson avoided the unwanted destinction of becoming the first Everton No.9 not to score in a season when he netted a late penalty against West Bromwich Albion on his final appearance in May 2006.
Ferguson's legacy at Goodison Park is something that has occupied Evertonians for years and the debate over his status as an Everton Legend has never truly been settled. His occasionally costly ill-discipline, his recurrent injuries, patchy appearance record and that infamous rejection of responsibility in the League Cup against Sunderland in 1998 have all been used in the case against him as a true club legend worthy of Gwladys Street's Hall of Fame.
He unquestionably had an idol-like status at the club, though, during some of its darkest days. He was instrumental in the season under Royle in which Everton were transformed from relegation certainties to mid-table safety and also in the FA Cup run that took the Blues to the semi-finals against Leeds before injury prevented him from taking part in two of the club's more famous days since the formation of the Premier League.
As a symbol of the club's defiance in the face of its decline in the 1990s, Ferguson will always remain close to the hearts of Evertonians and his return from self-imposed exile from the game to take up a coaching role at Finch Farm cemented his credentials as a man for whom nothing was ever the same once Everton touched him. With ambitions to one day become a manager, the door remains open for "Big Dunc" to finally fit that title of Legend without any doubt.
FactFile
| | |
| --- | --- |
| Squad number | 9 |
| Position | Striker |
| Nationality | Scottish |
| Date of birth | 27 December 1971 |
| Height | 6' 4" |
Joined
November 1994
Joined from
Rangers
Signed by
Joe Royle
Transfer fee
£4.4m
Left Everton
November 1998
Destination
Newcastle United, £8m
Re-joined
August 2000
Joined from
Newcastle United
Signed by
Walter Smith
Transfer fee
£3.75m
Full debut
v Portsmouth (a)
5 October 1994
2nd debut (as sub)
v Leeds United (a)
19 August 2000
2nd full debut
v Coventry City (h),
26 December 2000
Finale
v West Brom (H)
7 May 2006
Left Everton
Released 2006
Previous Clubs
Dundee United
Rangers
Newcastle United
Everton Career
| Season | Squad No. | League Apps (sub) | League Goals | Cup Apps (sub) | Cup Goals | Total Apps (sub) | Total Goals |
| --- | --- | --- | --- | --- | --- | --- | --- |
| 1994-95 | 9 | 22 (1) | 7 | 4 (1) | 1 | 26 (2) | 8 |
| 1995-96 | 9 | 16 (2) | 5 | 2 (0) | 2 | 18 (2) | 7 |
| 1996-97 | 9 | 31 (2) | 10 | 3 (0) | 1 | 34 (2) | 11 |
| 1997-98 | 9 | 28 (1) | 11 | 3 (0) | 0 | 31 (1) | 11 |
| 1998-99 | 9 | 13 (0) | 4 | 4 (0) | 1 | 17 (0) | 5 |
| 2000-01 | 24 | 9 (3) | 6 | 1 (0) | 0 | 10 (3) | 6 |
| 2001-02 | 10 | 17 (5) | 6 | 3 (0) | 2 | 20 (5) | 8 |
| 2002-03 | 10 | 0 (7) | 0 | 0 (1) | 0 | 0 (8) | 0 |
| 2003-04 | 10 | 13 (7) | 5 | 4 (0) | 4 | 17 (7) | 9 |
| 2004-05 | 10 | 6 (29) | 5 | 2 (0) | 1 | 8 (29) | 6 |
| 2005-06 | 9 | 7 (19) | 1 | 3 (3) | 0 | 10 (22) | 1 |
| | Totals | 162 (76) | 60 | 29 (5) | 12 | 191 (81) | 72 |
Previous Career
| Season | Team | Appearances (sub) | Goals |
| --- | --- | --- | --- |
| 1988-1992 | Dundee United | 75(2) & 8(1) | 28 & 6 |
| 1992-1994 | Glasgow Rangers | 8(6) & 3(5) | 2 & 0 |
| 1998-2000 | Newcastle United | 24(6) & 8(3) | 8 & 4 |