Catholic or Protestant?
Is there any truth to the assertion that supporting Everton is related to one's religious background or up-bringing?
ARE EVERTONIANS CATHOLIC OR PROTESTANT?
Seeking a balanced view, by Michael Kenrick, ToffeeWeb Editor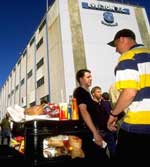 For many of us, supporting Everton becomes a religion expressed through adulation, dedication, and undying allegiance. In the good old days (before Sky TV), regular attendance at the holy ground on the Sabbath was a sacrament that brought with it the gamut of religious experience, from depression and despair to sheer ecstasy. And with Everton some of these aspects remain unchanged despite the ructions of recent years.

Human nature will cause some to blur the distinction between football, the one true religion, and other religions that may be more widely recognized as such. Thus, it is no surprise that many have wondered over the years whether Everton drew its support more from the Catholic or Protestant side of the City of Liverpool. And once you ask this question, it follows that the other lot must therefore support Liverpool FC... Wrong!

Everton Football Club started life as St Domingo's Boys Club: cricket in the summer, and football in the winter. Despite the distinctly Latin flavour of the name, St Domingo's was a Methodist church in the Everton district of Liverpool. The football club was what might now be termed an outreach programme for the strapping youths of that parish. In this respect, Everton shared an initial religious connection with many of the other new clubs that were to form the Football League back in 1888.

Sam Johnstone of the Football Research Unit at Liverpool University says those speculating on the origins of the Liverpool-Everton, Protestant-Catholic thing are talking nonsense. "Both clubs were founded by the same people (essentially the wealthy, protestant middle classes of 19th-century Liverpool) from the same church (St Domingo's, a protestant church)," he says.

"The story of Liverpool's formation is familiar to all. Everton were formed in 1878, team falls out with John Houlding (the guy who owns Anfield), Houlding forms Liverpool FC in 1892, the rest we know about. What is more interesting is the involvement of the Masons. The guys who formed LFC and EFC were wealthy, middle class, protestant, businessmen and, importantly, pillars of the political and religious establishment (Houlding went on to become Lord Mayor of Liverpool). Freemasonry attracted these very people (for many reasons) and it is known that Houlding and his friend W Barclay were in the Lodge.

"And, of course, this was repeated nationwide. For those teams that didn't come specifically from the Catholic church (Glasgow Celtic), it was likely that the factory and mill owners were involved in charitable organisations, religion and politics (all masonic activities). It is no coincidence that the meeting that led to the formation of the FA took place in a pub called the Freemason's Tavern. Or am I just a conspiracy theorist?"

Whatever religious connection there might have been originally, it seems to have faded fast as the popular appeal of football grew and the name changed within a year to Everton Football Club. None of the early characters involved in establishing the club appeared to have expressed any religious position regarding the club, apart from a mild objection that early meetings were held in the public rooms of Houlding's Queens Head Hotel — within smelling distance of the evil alcohol that would have been anathema to the teetotal Methodists of St Domingo's.

There appears to be little real evidence to suggest any strong relationship between support of Everton and adherence to either the Catholic or Protestant faiths. Parental family ties appear to have been much stronger, with many current Evertonians citing fathers or grandfathers (of either religion) who were true blue, through and through.

On an individual basis, it must have been comforting for some to draw a parallel between allegiance to the club, and faith in God. But on a larger perspective, it seems that many families united by their religious origins include both true blues and other misguided souls who are seduced by the red devils from hell, aka Liverpool FC.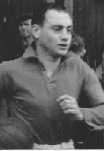 The possibility of a religious connection may be relatively recent and purely accidental. Through the 1950s, the Everton team took on a distinctly Irish flavour, with the likes of Peter Farrell and Tommy Eglington becoming big crowd favourites. This brought about a significant influx of Irish fans, and may have been responsible for suggesting a Catholic flavour. Prior to this, there may have been a majority of Orangemen with a history of family support for the club from the early part of the century. Either way, it probably matters very little today, to all except a few zealots and fundamentalists.
Other subtle clues help only to cloud the issue, such as an indefinable link (in the minds of some supporters) between Everton and Glasgow Celtic, rather than Glasgow Rangers — the Bears being more readily tied with Liverpool FC.
The religious division between the two Glasgow rivals is a very real factor that bears no comparison on Merseyside, where the two clubs grew from the same root. However, this last factor is immortalized in the words of one Goodison anthem that had its origin in the 1960s, when the historic internecine rivalry between Shankly's Liverpool and Catterick's Everton reached new heights:
Oh we hate Bill Shankly, and we hate St John
But most of all, we hate Big Ron
And we'll hang the Kopites one by one
On the banks of the Royal Blue Mersey

So to hell with Liverpool and Rangers too
We'll drown them all in the Mersey
And we'll fight, fight, fight with all our might
For the lads in the Royal Blue Jersey.
Conspiracy theorists will suggest that his thread underlies the incomprehensible treatment (directed at Glasgow Rangers) handed down to Everton's Nineties cult-hero, Duncan Ferguson, by a Scottish hierarchy steeped in religious bigotry that has no place in football. However, as far as Everton FC are concerned, the links with the two Glasgow clubs seem relatively evenly balanced.
The record books show that transfers of players from both the Glasgow clubs have occurred consistently since the earliest years of EFC. And recent ties, such as the loans of Ian Durrant and Duncan Ferguson from Rangers in 1994, and Dave Watson's Testimonial against Rangers in 1997-98 — contrasted with Neville Southall's testimonial opponents Celtic a couple of years earlier — must demonstrate that no such preferential or religious connection exists in practice. The mix continued with ex-Rangers manager, Walter Smith, bringing in ex-Celtic midfielder John Collins. Richard Gough and Paul Gascoigne both played for Rangers; David Moyes and Alan Stubbs both played for Celtic.
In this day and age, when religion lies at the heart of so much pain and suffering, it would pay us to distance ourselves from this divisive issue. Of course, that will not stop the more boisterous young supporters looking for any issue to polarise on. But to deny its existence would be to ignore or implicitly rewrite an aspect of the unique history and culture that surrounds and sustains supporters of Everton Football Club.
"EVERTONIAN ARE THE PROTESTANT TEAM..."
The Guardian gets it woefully wrong
In October 2004, The Guardian published this piece about Boris Johnson visiting Liverpool to make amends for his ill-advised comments about mawkish sentimentality following the hideous beheading of Ken Bigely by terrorists in Baghdad. The writer, Geoffrey Wheatcroft, stuck his own foot well in with this amazing paragraph:
An echo of sectarian divisions can still be heard in football, so try not to confuse the two teams (as Michael Howard did at the beginning of his career). Liverpool are the Catholic team and play in red at Anfield. Mention Xabi Alonso, maybe with knowing raised eyebrows; don't mention Michael Owen except with a knowing sneer. Everton are the Protestant team and play in blue at Goodison Park. Mention Dixie Dean, not Wayne Rooney.
We received a number of letters sent to the ignorant journalist at The Guardian:
Dear Mr Wheatcroft,
You refer to Liverpool FC as the Catholic team and Everton FC as protestant. Where did you get that from?
Today the sectarian divide between the teams no longer exists except as a memory. But when it did exist Everton was always seen as the catholic team and Liverpool as the protestant team.
The origins of Everton's catholic support lie in the late 19th century when Dr Baxter, a prominent Catholic doctor and a leading light in the catholic community, joined the Everton board. He brought with him the thousands of Irish Catholic families from the Scotland Road area who duly became Everton supporters, despite Everton's origins as a Methodist team (the old St Domingo's).
The Catholic dimension was maintained in various ways at Everton, not least in the 1950s when the core of the Everton team hailed from the Republic of Ireland.
This is what led the Labour MP for Walton, the late Eric Heffer, to explain in his biography Never a Yes Man that he was obliged to lean towards Everton because as the catholic team it was closer to his own High Anglicanism than the more orange-tinged Protestantism of Liverpool FC.
I came from a large Catholic family and was educated at Catholic schools. Support for Everton was instilled in me by family and school alike (including via the priests and Christian Brothers). Indeed when I first started attending games (and was taken to both grounds) I observed that while nuns took charitable collections at the Gwladys Street, it was Salvation Army members who did this at the Kop.
The two most recent examples of the divide I personally witnessed were:
● At a derby game in 1986 when Everton supporters were allocated a third of the kop. I was at the very edge of the Everton section and was greeted by Liverpool supporters holding up banners and placards and waving them at us. The legend on these placards was "Ulster says no" – the protestant slogan at the time of the Anglo-Irish Agreement. Amongst the Everton supporters there were more than a few Irish tricolours waved back at the protesting Liverpool fans;
● At Dave Watson's testimonial match (late 1990s), Everton versus Rangers, a huge mob of Rangers fans stormed up Goodison Road attacking Everton fans and screaming at them "fenian bastards".
I would like to stress that I regard the sectarian divide as a bad thing and I am glad that it has faded so much from the scene in football. You should take note of that yourself – the religious division between the teams no longer exists in any meaningful sense and it is wrong to suggest, as you do in the article, that it does. I have long since ceased to be a catholic myself, though I remain a devout Evertonian.
However, since you do mention it in your article you ought to have gotten it right in the interests of historical accuracy.
I would be grateful to hear your views on this. Perhaps you have information that I don't have and my understanding of the history of the teams is and always has been wrong (though that will not cause me to change my allegiance today!!!).
Regards, from an ex-catholic but forever an Evertonian.

Mark Hoskisson (20 October 2004)
---
Geoffrey,
in your attempts to offer advice on how to negotiate the minutiae of Liverpool culture (http://politics.guardian.co.uk/comment/story/0,9115,1331351,00.html) you will have, uniquely in my memory, managed to equally offend both Catholics and Protestants, Evertonians and Liverpudlians.
Here's how it actually is...
To paraphrase a popular Goodison chant (a chant shared with Catholic Celtic fans, incidentally), "if you knew yer 'istory" you would know full well that both Everton and Liverpool owe their existence to the efforts of socially reformist Methodists during the late 19th century. Therefore, if we were to be purists about this, then the only people eligible to support either team would be temperant non-conformists, with an active concern for the plight of the needy.
My own predominantly Catholic family has always been split between red and blue. Likewise, there are plenty of big Protestant families who are similarly divided in their support for the two clubs. One of the reasons that Everton and Liverpool have, mercifully, been able to maintain a relatively healthy, and for the most part friendly, rivalry is precisely because – unlike Glasgow – our footballing allegiances are in no way rooted in divisive sectarian religious differences.
No doubt, in order to add an extra dimension to their fandom, fans on both sides have from time to time sought to claim a religious divide. Such bigoted behaviour is not only unwelcome to the vast majority of scouse football fans, but also historically and culturally groundless.
Personally, I'm now free of Rome's clutches, although residual sense of guilt and neurosis alas remains, much of which I channel into my often agonised following of EFC. For future reference, I would offer you the same advice as I would Boris Johnson - do your research.
You could do worse than to start here
Take care
Steve Rooney (20 October 2004)
ps: Which denomination do you imagine erstwhile lifelong Evertonian Wayne Rooney belongs to?
---
Dear Sir,
PLEASE Please please correct the uncorroborated statement in your article claiming that Liverpool and Everton have religious allegiances. They don't, either deliberate, historical or accidental. End of story.
Merseyside Derbies have been famously trouble free due to the fact that there are no common divides between the 2 clubs, not geographic, social religious. There isn't even a division by family with hardened Evertonian families having reds amongst them and vice versa.
One of my first memories of going to Everton as a youth in the early '70s was the chant of "Celtic/Rangers, Celtic/Rangers", where you chanted the name of the Glasgow team that you supported (ie, declaring your religion), and it was always a 50:50 split. I understand the same happened at Anfield.
To my knowledge, there is no evidence whatsoever for the statement you made, and you should retract it. It might seem a minor point, but for the uneducated it starts a myth. Liverpool might have its faults but mindless religious bigotry attached to its two great football teams isn't one of them.
Your sincerely

Paul Tollet (21 October 2004)